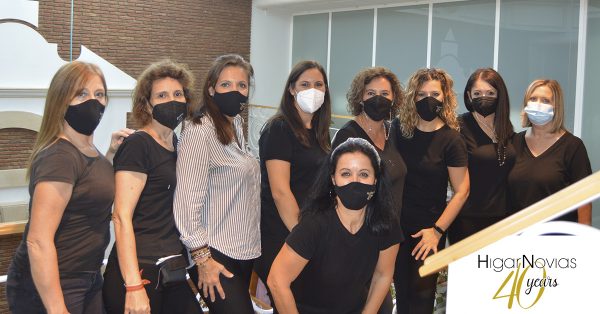 2021 has been the year of the new normality, and although we are still in the pandemic, and we cannot forget that fact, we have learned to live with it.
Weddings and events have been held again, with a mask, safety distance and reduced capacity. Celebrations that have been enjoyed in a special way and with more intensity, because we have learned to value even more the special moments of our lives.
In the HigarNovias Group it has been an intense year, in which we began to notice the growth of weddings, that were postponed in 2020. The brides have come to our stores with great enthusiasm and with the dream of finding their ideal wedding dress. This year we have presented the new bridal collections, Amazónica by Valerio Luna and Brisa by Manu García, in which the evocation of nature is the protagonist.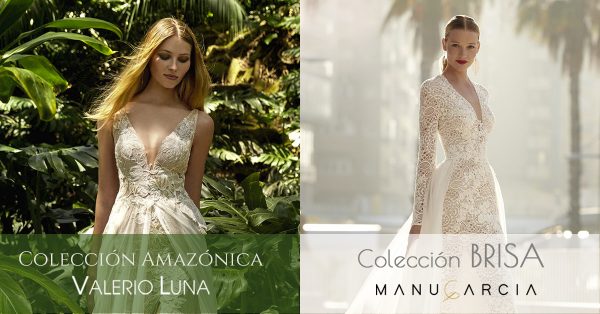 In the month of March, welcoming the spring, we catwalked in the first fashion event with public of 2021, the 15th Fashion Week, combining the designs of the great Andalusian firms and the commitment to young creators.
HigarNovias paraded in the archaeological site of Itálica, in Santiponce (Seville). A very special day, because we were once again parading with an audience, in a place full of history. There we presented wedding dresses from the special 40th anniversary collection and Manu García's creations from the Legacy collection, with which we paid tribute to our most emblematic patterns. Enjoy this catwalk with our entry:
In April, our Fuente Palmera store receives the # WeddingAwards2021 from bodas.net. Being one more year among the most recommended stores. All this, thanks to the great team of professionals who are at the helm of this great family that is HigarNovias every day.
Ver esta publicación en Instagram
In May, we joined the international Fashion Revolution campaign. It advocates for sustainable fashion and a safe, fair, transparent and responsible industry, with which our company has fully identified itself since we began this journey 40 years ago. A challenge was launched on Social Networks: to encourage users to ask the brands a question "Who made my clothes?", with the aim of reflecting on how the clothes we wear are produced. The HigarNovias team joined the challenge, answering that question posed by the public. Thus, we photographed ourselves with T-shirts that were flashing messages such as "I made your hat", "I made your clothes".
If you want to know more about this initiative, we will tell you about it in this blog post:
June has been the month of television reports. Andalucía Directo visited our facilities in Fuente Palmera, to see how little by little we were returning to normality. Weddings were back and with them all our enthusiasm to make the bride and groom, bridesmaids and guests happy! Here we remind you of that visit:
A few days later we opened the doors of our workshop and store to Espejo Público, showing that we were almost at full capacity.
Another great challenge that we've set for ourselves last year was to attend the main fair of the bridal sector in Italy, "Sí SposaItalia Collezioni", that was held in Milan. There we have presented the new bridal and occasion wear collections, Brisa and Amazónica.
HigarNovias at the Milan Wedding fair, «Si SposaItalia Collezioni»
In July, España Directo visited Fuente Palmera, "the town of brides", and of course it visited our headquarters. One of our brides said that she had to postpone her wedding, but finally she made her dreams come true. We remember the report in this link:
Ver esta publicación en Instagram

September has been a month of novelties. We launched a new website, more dynamic, attractive and with the novelty of the online store, where you can buy cocktail dresses from the collections Esperanza by Manu García and Ángela by Valerio Luna, as well as accessories, designed and manufactured in our workshop by hand.
In addition, this month, the new collections by Manu García and Valerio Luna have been protagonists in Noivas de Portugal, the leading magazine and reference for Portuguese brides and grooms.
Ver esta publicación en Instagram
In the month of October, we celebrated the 14th edition of the Wedding Fair in Fuente Palmera, a great attendance success. In some intense and happy days, the entire HigarNovias team lived unforgettable moments: we returned to see our Fuente Palmera store full, with brides eager to see our designs by Valerio Luna and Manu García, we catwalked with our 2022 bridal and occasion wear collection. The model and actress Arantxa del Sol, member of jury of the 5th Young Designers Contest, looked spectacular with one of our styles.
The last event we have participated in was the 16th Andalusian Fashion Week, catwalking alongside other new and established designers in Andalusian and Cordovan fashion, showing the talent that exists in our land. The chosen place has been the wonderful courtyard of the Delegation of Culture, a unique environment.
Valerio Luna and his Amazonica collection at the XVI Andalusian Fashion Week
And so, we come to the end of the year in which we hope that this pandemic comes to an end, so that we can return to total normality. Meanwhile, let's be prudent, respecting sanitary measures, and keeping the joy of living.
Our entire team awaits you to advise you and help you in what you are looking for, and to make your visit as safe, as it is special and unforgettable. Always committed to your health and to your dreams.
We toast with you to a 2022 full of unique moments and a lot of happiness.
Because, as we always say, "love has no limits."