How beautiful we see the churches decorated with flowers when weddings are celebrated. Choosing the type of flowers and decorations is an organizational task that the couple must exercise for their wedding day, just as the bride selects the most suitable flowers for her bridal bouquet.
Today we show you inspiration on this matter and we give you some advice.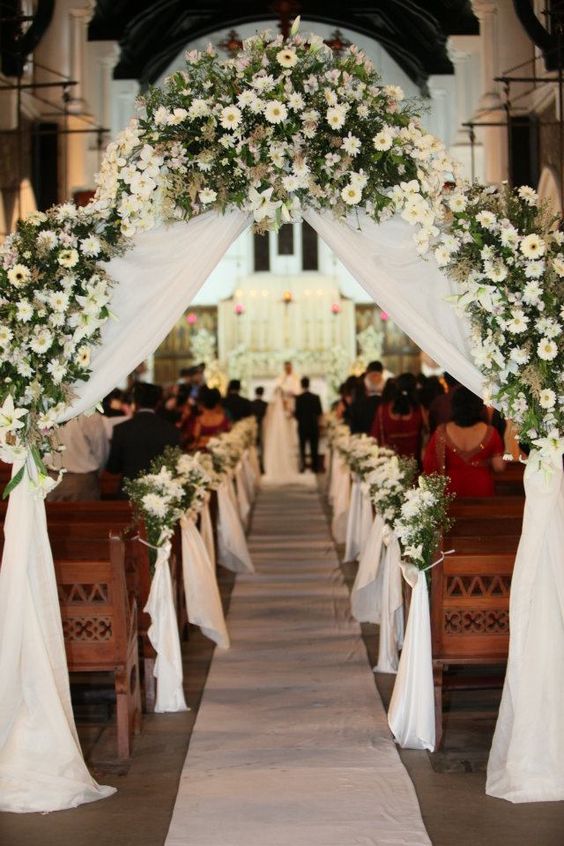 The decoration of the Church, although it is still important, it is advisable to be practical when choosing the type of flowers if we want to save some euros, and also get a nice visual effect. To do this, use seasonal flowers, that will lower costs.
If the Church is very dark, use white flowers or pastel shades. On the contrary, if the Church has a lot of light, you have the option of resorting to any flower, of any color. Following the clear tone will always be very elegant.
If you marry at Christmas, give prominence to the flower of Easter so typical in those dates and so colorful.
If you celebrate an afternoon wedding, it will be very appropriate to use candles or crystal lanterns as you can see in some of the photos that we show you below.
The paniculata is very fashionable, it is economical and does not spoil easily, it can be beautiful as a decoration for the ceremony.
The use of white fabrics brings an original touch that you can use mixing it with the flowers.
Fill yourself with inspiration by recreating yourself in these photos.
Happy Tuesday