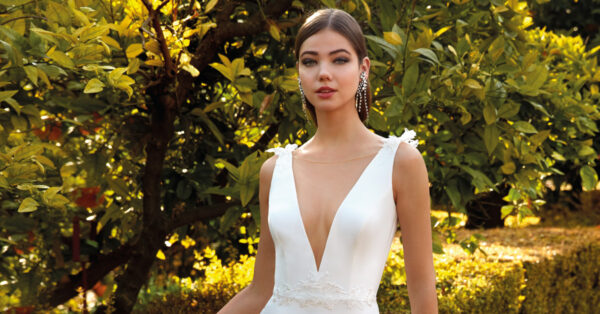 Sensuality is a natural quality in women, each one develops it up to certain extent, in function of her personality. It is the ability to stimulate the emotional attraction of other people towards ourselves.
There are times when that sensuality comes to the fore, and we want to show it to our partner, in order to maintain that spark that we fell in love with. What better day for this than your wedding day? If you are a flirtatious bride, go for a wedding dress with a neckline, sensual and very feminine.
On that special day you will be the absolute protagonist, so you must feel radiant and beautiful.
When choosing your wedding dress, think that both the neckline and the cut of the design will mark the personality of the model and will reflect yours at the same time.
The necklines that present the designs of Manu García and Valerio Luna that we highlight, in addition to showing your sensuality, will lengthen your neck, making it slimmer, and will mark your features. As you will see, the sensual necklines in wedding dresses combine with any silhouette and design.
We start with a transgressive and contemporary model, Damasco by Valerio Luna, a comfortable trouser dress for those daring and different brides who seek to impress. Its wide neckline is perfectly balanced with the exquisite bodice that features lace straps. The waist is defined by an original pleated sash, from which a spectacular overlay starts, also adding a glamorous point to this avant-garde design.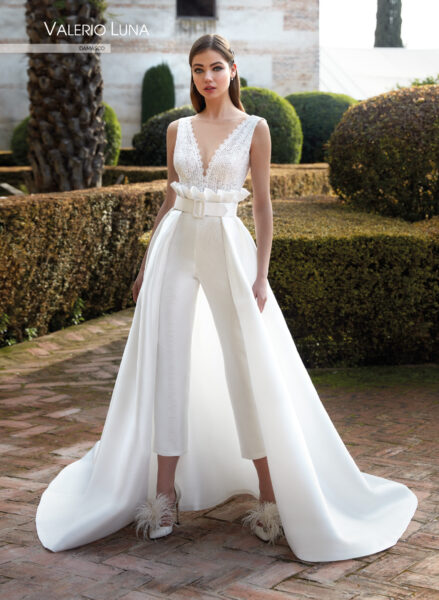 Let's change the style with the Perfume model by Manu García, a fairy tale wedding dress, with an infinite deep plunge neckline, which will hint at your figure both in front and in the back. The length of her sensual necklines are enhanced by the design's princess cut and her tulle and glitter skirt, which will give you lightness and movement when you walk.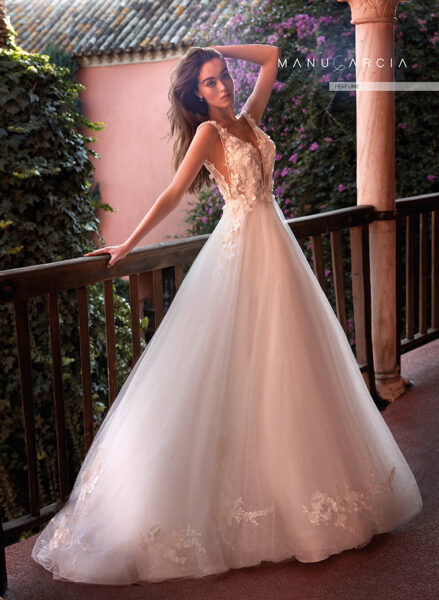 And since classicism is not at odds with sensuality, we bring you the Dulce Model by Valerio Luna, a princess-silhouette wedding dress, made in crepe and tulle, designed to live the great moments. The center of attention is in its V-neckline, that combines wonderfully with the voluminous skirt, adorned with guipure appliqués. The open back of this model, that marks your waist, will give you both sensuality and femininity.
The Palmar Model by Manu García radiates sensuality both through its neckline and its mermaid silhouette. A bohemian wedding dress, that enhances feminine beauty thanks to the embroidered tulle in champagne tone, of which it is made. A wonderful design for a unique and spiritual bride.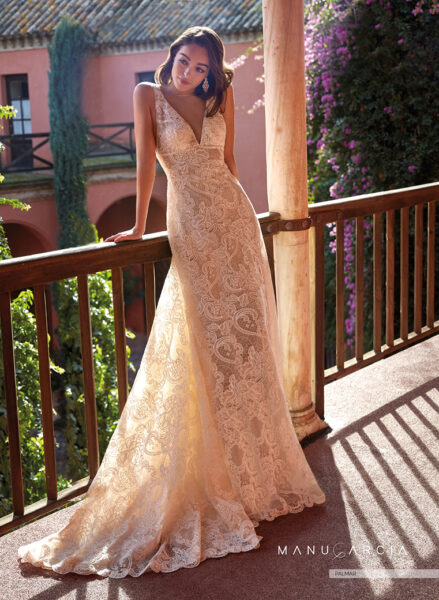 At HigarNovias we ensure your comfort, that nothing worries you on such a happy day, so in wedding dresses with deep cleavage we add a transparent mesh, barely perceptible, to make you feel comfortable.
If you would like to know what type of neckline suits you the most, take a tour of our entry dedicated to them.
Make your appointment at HigarNovias, we listen to you to make your dream wedding dress come true. You give us your ideas, we give you our experience.
We are waiting for you!
HIGARNOVIAS
www.higarnovias.com/es/
C/ Portales Nr. 4. Fuente Palmera
Phone. 957 63 86 88
Whatsapp 673 329 646
info@higarnovias.com
VALERIO LUNA
www.valerioluna.es
BARCELONA 932 922 451
MADRID 672 220 576
MÁLAGA 952 213 833
VALENCIA 963 943 672
MANU GARCÍA
www.manugarciacostura.com
BARCELONA 932 922 451
MADRID 91 366 28 80
OVIEDO 98 523 17 20
VALENCIA 963 529 706