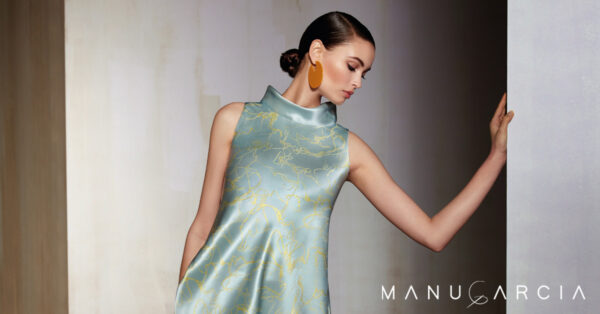 For any couple a wedding is always a unique event. It is also a very special moment for the family members, as well as for the closest friends.
When she, your best friend, tells you excitedly that she is getting married, the joy that floods you is immense and, also, the nerve surge. It will be a wedding in which you will actively participate, helping the couple in whatever they require, and you will be by her side, witnessing very happy moments that you will always remember.
As a result of it all, you begin to think about that original cocktail dress for the modern woman that you are, because you would like to look splendid and radiant.
We propose you four modern cocktail dresses from the Legacy collection by Manu García that will make you fall in love with, and you will want to be seen in one of them.
The striking print of the MG3207 Model is as original as it is flattering. In addition, its halter neckline and the draped bodice that molds the torso and hugs your waist make it ideal if you want to define your silhouette. A sensual design, thanks to the gathered skirt with a large opening and the exposed back. A modern and trendy look, with which you will be the sensation of the wedding.
No less elegant and original is the MG3206 Model, a youthful two-piece set made of printed satin. It consists of slim fit trousers and a light, sleeveless turtleneck jacket that falls in the back like a train, resembling an amazon. Who said that it is not sophisticated to wear trousers for a wedding? Comfortable, modern and ideal, a perfect outfit for the best friend of the bride.
The MG3203 Model will captivate you through the combination of beautiful turquoise with white, serene and emotional colors, as is your friendship with the bride. Made in a soft printed mikado, this cocktail dress with flared design will enhance your figure in a very feminine way, thanks to the belt that adorns the waist. The flared skirt, with a very natural movement, is reminiscent of those that became fashionable in the 1950s.
The MG3238 Model is a mermaid-silhouette cocktail dress that favors all modern women, due to its bateau neckline and its bloated bodice, that undulates elegantly above the waist. Because of its intense blue color and the fine rhinestones that adorn it, this cocktail dress will be a very wise choice for that long-awaited and wonderful wedding.
What do you think of these modern and original cocktail dresses to wear at your best friend's wedding?
Remember that at HigarNovias we advise and help you in everything you need: if you want to modify something in your cocktail dress or choose the accessories so that your look is ideal.
Make an appointment at our cocktail dress store in Fuente Palmera, at Manu García stores of the HigarNovias Group or at authorized points of sale.
HIGARNOVIAS
www.higarnovias.com/es/
C/ Portales Nr. 4. Fuente Palmera
Phone. 957 63 86 88
Whatsapp 673 329 646
info@higarnovias.com
MANU GARCÍA
www.manugarciacostura.com
BARCELONA 932 922 451
MADRID 91 366 28 80
OVIEDO 98 523 17 20
VALENCIA 963 529 706