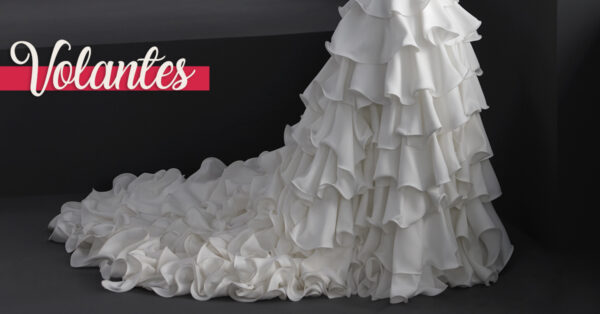 If you are a bride who likes flamenco and all its art, you would have dreamed of marrying in a wedding dress with ruffles and that has an Andalusian air, yes? On top of that, since we have not enjoyed the fairs and parties where we usually wear our flamenco dresses for two years, now is an ideal time to try one of these styles on.
Thinking of you, today we show you the wedding dresses of Manu García and Valerio Luna with that flamenco air that you like so much. One of the characteristics of our wedding dresses with ruffles is that they adapt to the feminine silhouette, thanks to the mermaid cut that is so fashionable today.
There exists a wide variety of types of ruffles, made with different fabrics, such as tulle or satin. In the flamenco wedding dresses of the HigarNovias Group you will find them mainly in the lower part of the skirt, giving them a romantic and very feminine touch.
We start with the Piedad Model from the Legacy collection by Manu García. It is a dress made in crepe and organza, for a modern bride looking for seductive shapes. Another of its originalities is the floral ornament with fringes on one shoulder, adding a special charm to this design.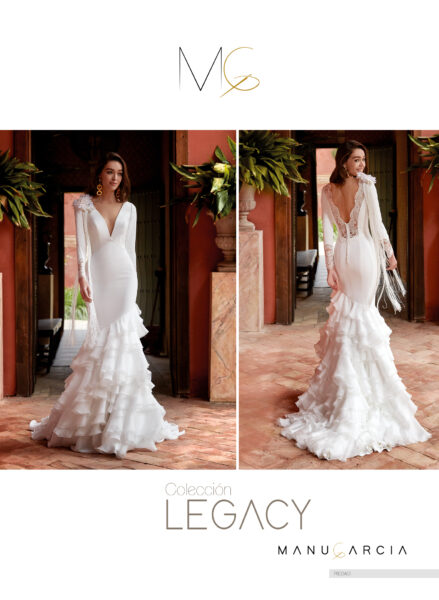 The Decano Model from the Atlantis collection by Valerio Luna is a dress for a modern bride, with an elegant fall around the body that accentuates the figure, as well as its sensual high V-neckline and its beautiful buttoning. You will also fall in love with its delicate round illusion back.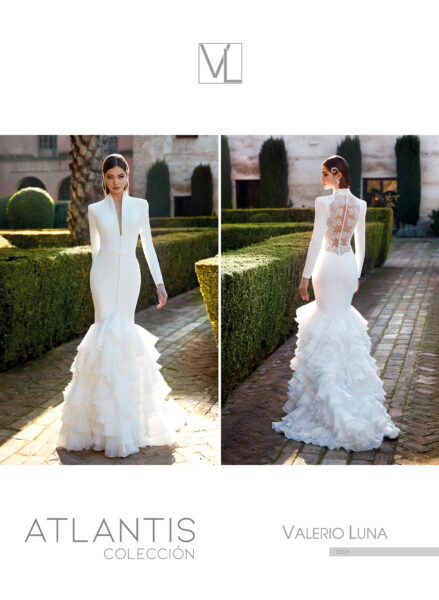 The Olvido Model from the Love Sewing collection by Manu García is made of crepe and features a wide V-shaped neckline and dropped shoulders. Its cut under the chest, adorned with flowers in the same fabric, will enhance your figure in an exquisite way.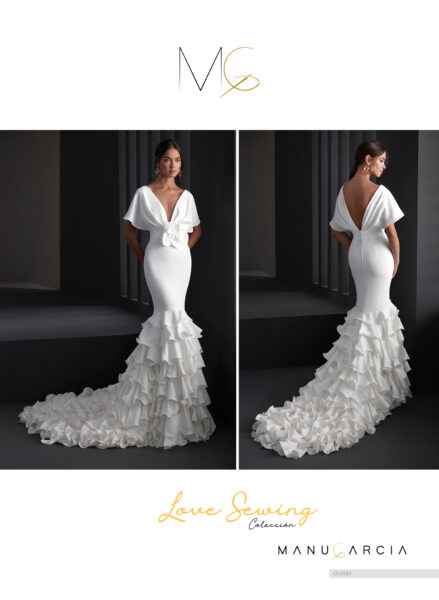 And we finish with the Celia Model from the Mimí collection by Valerio Luna, a sexy, modern and romantic design. A wedding dress with an imposing skirt, with volume based on tulle and handmade organza stars. Although they are not ruffles, like the rest of the proposals that we bring you today, they do simulate them and we are convinced that with them you will impress all your guests, feeling like the most special bride.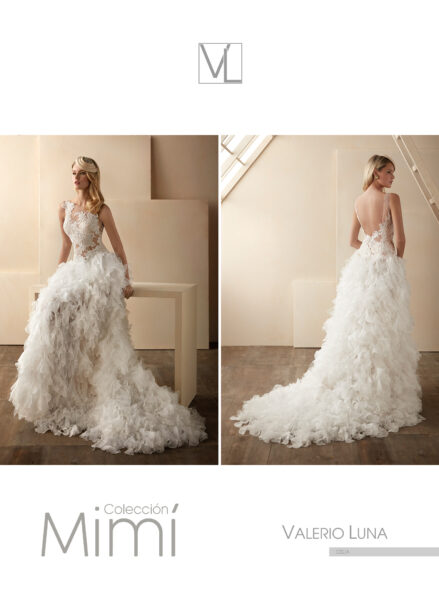 At HigarNovias we stand out, because any of our models are customizable to create your dream wedding dress, exclusive and unique for you.
Ask for your safe appointment at any of our stores and at authorized points of sale:
Customer service telephone numbers:
HIGARNOVIAS
www.higarnovias.com/es/
C/ Portales Nr. 4. Fuente Palmera
Phone 957 63 86 88
Whatsapp 673 329 646
info@higarnovias.com
MANU GARCÍA
www.manugarciacostura.com
BARCELONA 932 922 451
MADRID 91 366 28 80
OVIEDO 98 523 17 20
VALENCIA 963 529 706
VALERIO LUNA
www.valerioluna.es
BARCELONA 932 922 451
MADRID 672 220 576
MÁLAGA 952 213 833
VALENCIA 963 943 672