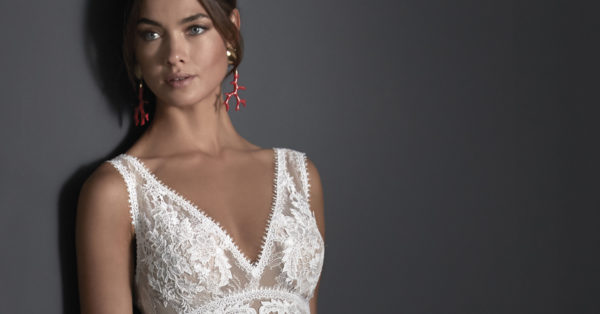 A wedding dress with a well-chosen neckline for your silhouette, will make you feel the most radiant and natural bride
One of the greatest excitements of a bride is to choose her ideal wedding dress. For this, it is essential to know yourself inside out. Being aware of our physique is very important in order to choose, what we want to highlight about our figure. One of the most characteristic elements of the wedding dress for this purpose is the neckline.
Three things to keep in mind: the length of your neck, the width of your back and the size of your chest. If you allow yourself to be advised by our experts and professionals, you will choose the neckline that favors you most. You will further highlight your natural beauty, because on that special day you deserve to look radiant.
We show you the main types of neckline of wedding dresses, and what body shape they fit best. Remember, it is very important!
The sweetheart neckline wedding dress has the most romantic neckline. It will frame and enhance your chest with a push-up effect. And if you have a wide back, this is your cleavage. It will give you the feeling that you are thinner on the shoulders, since the focus is on the waist. Proof of this are our models Caleta by Valerio Luna, Oneida by Manu García and Tívoli by Hannibal Laguna Atelier.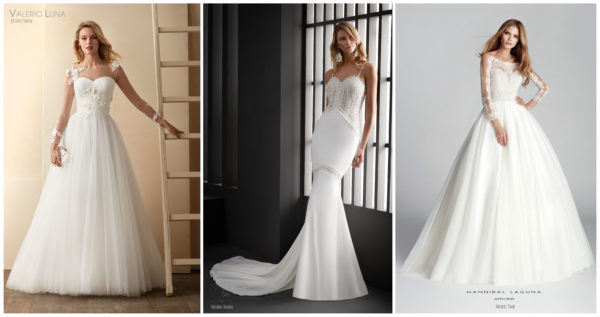 The wedding dress with a v-shaped neckline is one of the trends of this winter 2020. It is one of the necklines that gives you most style, as it lengthens the neck and balances the width of the shoulders with the waist. And if you have a small breast, this neckline will favor you. It will enhance your shape, as well as awaken your sensuality and unique elegance. It is a neckline, that fits perfectly to any type of cut and design – from the most classic wedding dresses, to the most modern or even romantic and bohemian. The good examples are wedding dresses Oasis by Manu García, Tréboli by Hannibal Laguna Atelier and Caribe by Valerio Luna.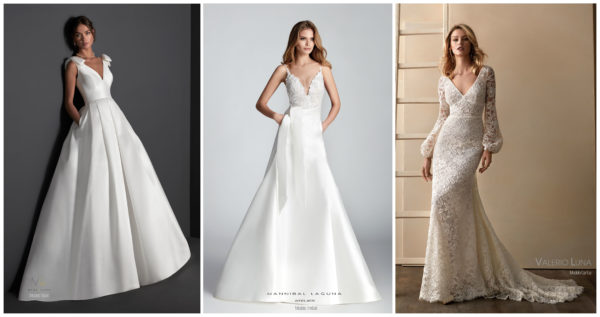 The wedding dresses with a square or French neckline are classic. It is a safe bet, being a timeless neckline. It is very comfortable and a very versatile neckline for wedding dresses, since it combines perfectly with any type of silhouette and sleeve. It is very popular among the brides. It enhances the shoulders, and is very elegant. It is a neckline with right angles, and combines perfectly with the empire-silhouette wedding dresses. It will look great on you, if you are narrow-shouldered and small-breasted. Get inspired by our models Olmo by Manu García and Croatia by Valerio Luna.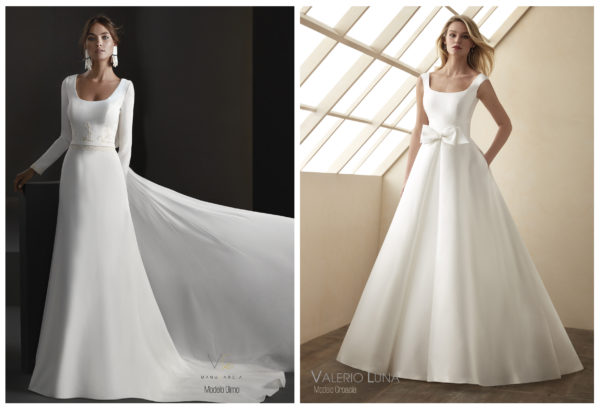 One of the most iconic necklines, and that will mark the style of your wedding dress is the halter neckline. Sleeveless, fastened around the neck, it leaves the back, shoulders and arms exposed. The chest is in the background, giving all the prominence to the shoulders. If you are tall, and your shoulders are sagging or straight, this neckline is the most flattering, as in our wedding dresses Tunis by Hannibal Laguna Atelier, Camino by Valerio Luna and Olaya by Manu García.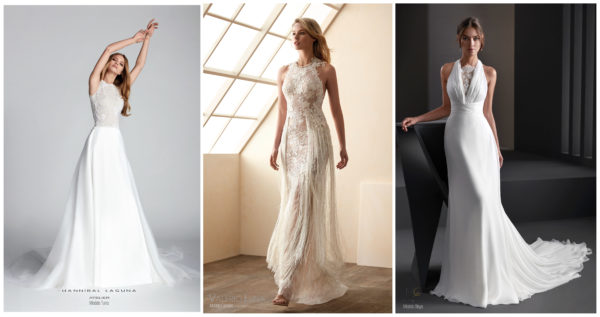 If you do not have too much breast, you are risky, and you want to show your most sensual side, the wedding dress with a deep-lounge cleavage is for you. It accentuates curves, lengthens the neck, and stylizes the upper part of the torso, like our models Órbita by Manu García and Califa by Valerio Luna, that insinuate without showing.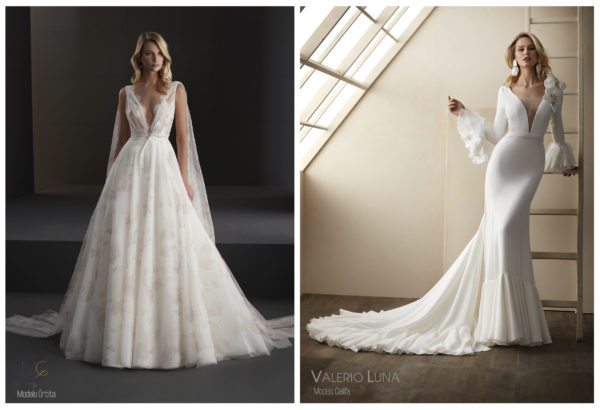 One of the most discreet and elegant necklines in wedding dresses, is the boat neckline. It draws a symmetrical line from shoulder to shoulder, that shows the neck completely, and makes the shoulders much more seductive. A comfortable and easy to combine neckline that highlights the torso. Depending on whether it is more or less open and curved, it will give great prominence to your waist. If you have fine features, and you want your dress to highlight your chest, shoulders and waist, this is your ideal neckline. You can get an idea with the proposals of Hannibal Laguna Atelier in Templum, Camile by Valerio Luna and Odalis by Manu García.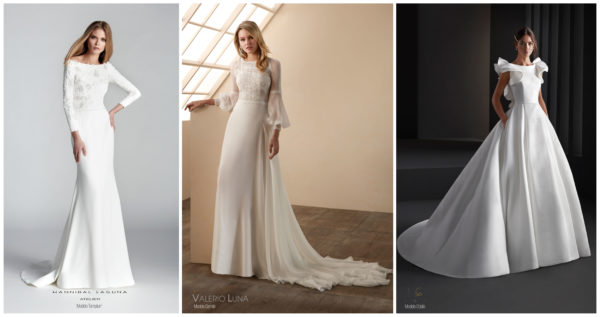 The wedding dress with a plunging neckline gives elegance and sophistication to the ensemble. It can take multiple shapes such as round, boat or V shape, and can be finished with lace or embroidery. We propose you the model Oxford by Manu García.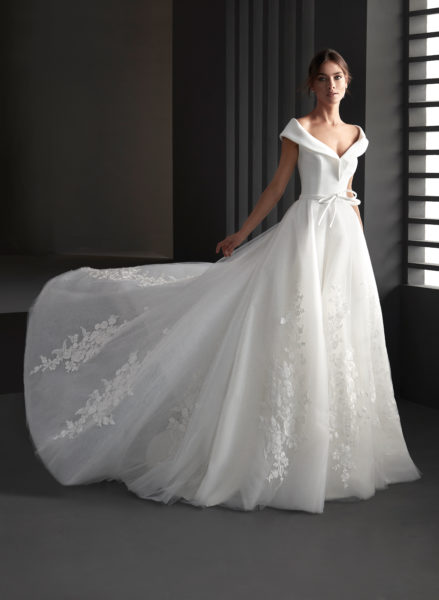 If you are a modern bride who likes to innovate, a good choice for you is the wedding dress with fantasy neckline or tattoo effect neckline. These are two necklines in one, where they combine perfectly transparent fabrics such as tulle, with embroidery or floral lace, that covers the cleavage, reaching to the neck. If you have an elongated neck or narrow shoulders, it will especially favor you, like our wedding dresses Calma by Valerio Luna, or Turandot by Hannibal Laguna Atelier.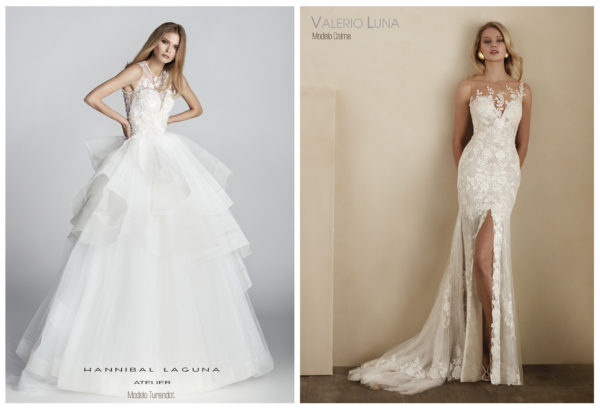 As you can see, each neckline stands out for something in particular. Think that when you have decided on the one that most favors you, you have to choose which design is the one that best combines to enhance your figure, and thus achieve the perfect combination.
Come visit us at Higar Novias in C / Portales, 4, Fuente Palmera. Our experts await you to advise you with the wide variety of necklines of Valerio Luna, Manu García and Hannibal Laguna Atelier, so that you can find yours. Choose the one that makes you feel most comfortable, and be yourself.
And after reading our post about which neckline favors you the most, which one would you choose?