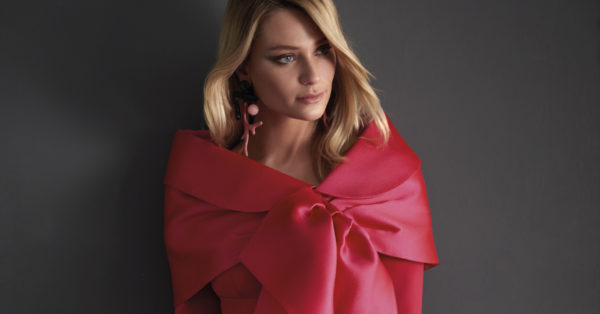 We wish you a Happy Valentine's Day with the most striking proposals in cocktail dresses in Fuente Palmera.
Each color is said to convey a mood. Today is St. Valentine's Day, the day of love and affection. It is the day of the red color, that is linked to passion, energy and emotion. Wear red color and shout to the world that you are in love!
And to celebrate it, we propose several models of cocktail dresses in different shades of red from the Manu García brand.
We start with two models in Chilli Pepper Red, a trend color for this winter 2020. An intense red, very vibrant and suggestive. The MG3107 model is a dress made in mikado, together with a tulle bodice, embroidered with matching rhinestones. The interlaced lorzas stand out at the waist, ending with a lacing that highlights the waist. A spectacular design, that will make you fall in love with it. Another dress that will not leave you indifferent is the MG3108 model, an original cocktail dress with a captivating v-neckline made of tulle, embroidered with rhinestones and 3d flowers, with semi-transparent sleeves in the same fabric. The skirt, made of silk mikado, shows off asymmetrical lorzas from the waist, from which a cascade of ruffles originates, that gives dynamism and elegance to the ensemble.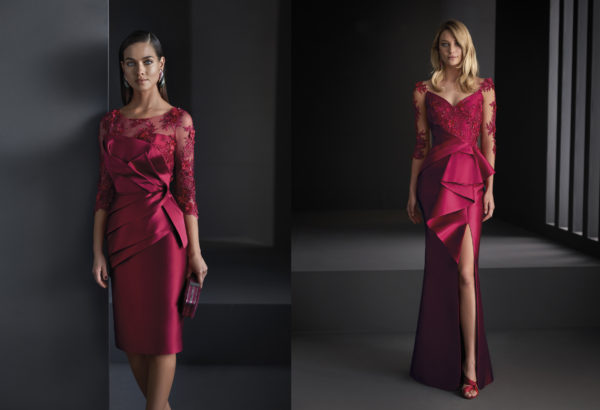 Manu García surrenders to red in these two proposals. Give your look a vintage touch to celebrate St. Valentine's Day with the model MG3110. It is a short red dress made of silk piqué, with a tube skirt and asymmetric plank peplum, and a bodice with a seductive v-shaped neckline, adorned with flowers in 3d in the same color as the dress. The MG3109 model is a design that shines for its romanticism. A dress with a mermaid skirt made in crepe, a suggestive draped v-shaped neckline that adapts to the body, with small straps of flowers with rhinestones. You will surprise your partner, and will cause the sensation at celebration.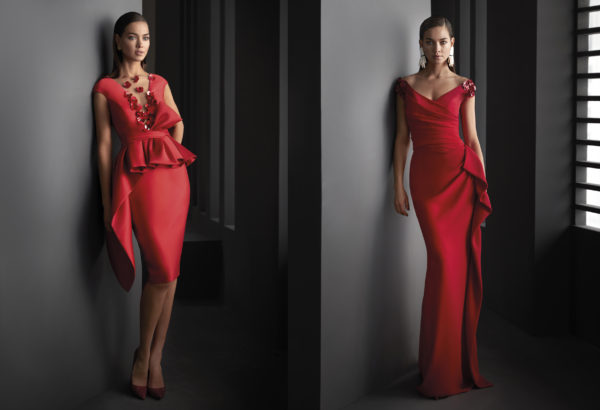 Ruby red is an elegant color on its own, and even more so in the model MG3124. It is a spectacular dress made of crepe, with a tulle bodice embroidered with rhinestones, and surprising and innovative cape-like sleeves, that come out from the shoulder with which you will seduce your partner. And finally, we bring you the MG3146 model, a timeless printed midi dress, in silk tulle full of mobility and lightness, and with a minimalist aesthetic. Comfortable and very flattering to celebrate a very romantic night.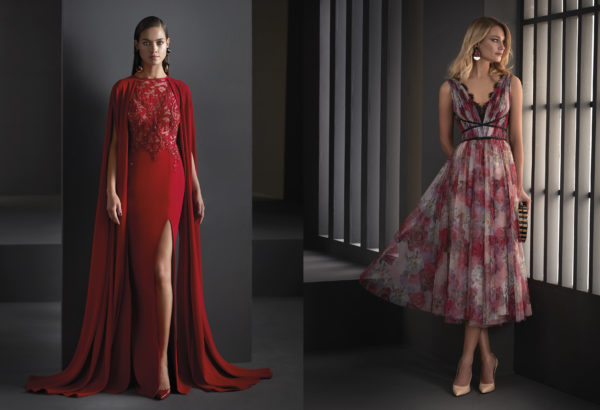 We wish you a happy St. Valentine's celebration!
Remember that the new collection of cocktail dresses by Manu García is available at Higar Novias in Fuente Palmera, Calle Portales, 4. Come visit us and let yourself fall in love with our most sensual models!