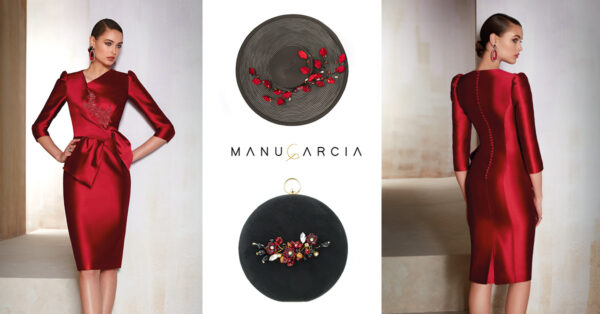 When we decide for a short cocktail dress for that long-awaited morning wedding, we feel happy because we look spectacular with it, and for our look to be perfect, choosing the ideal accessories is essential.
This task is sometimes not easy at all, so we give you some recommendations on the accessories that currently are a trend and that combine best with your cocktail dress.
The first thing to keep in mind is that the fabric and the colors of the accessories must be in complete harmony with the party dress. At HigarNovias we have it crystal clear, and with that philosophy in mind we create cocktail accessories that combine wonderfully with the designs of Manu García and Valerio Luna.
Like these accessories that we show you for the Model MG3205 by Manu García, a design made of jaquard organza, whose tubed line will enhance your silhouette. A short cocktail dress, that combined with this majestic headband, decorated with feathers, and accompanied by this original clutch, in which the fringes are the protagonists, becomes very special garment.
We present Valerio Luna's VL5114 Model, a short cocktail dress that highlights the embroidered applications along the piqué skirt, that we have also used to make the headdress, in which a delicate rose is the protagonist. We complement it with a handbag with a geometric shape, very modern.
Go for a hairstyle that flatters you and complements the hair ornament that you have chosen. We advise you semi-collected look if you decide to wear a headdress, or choose the loose hair for headbands, hairpins or barrettes, so fashionable nowadays.
For the Model MG3225 by Manu García, a seductive and sophisticated cocktail dress with French sleeves, we have chosen a fine barrette made with small applications of rhinestones and a matching mini clutch, with very elegant floral details.
Bet on simple bags and headdresses, which do not attract excessively attention, but which do complement your look with elegance, but never go overboard with accessories.
The VL5115 Model  by Valerio Luna is a short cocktail dress, ideal for your little one's communion. We combine it with an elegant and simple headband and a handbag, adorned with two very trendy little flowers that are topped with feathers.
Short cocktail dresses are some of the most sophisticated, feminine and perfect garments to wear at a morning event, be it a wedding, a communion or other family celebration. Even more so now, with the good weather that we enjoy.
You can find these and many more combinations in our wedding and cocktail dresses store in Fuente Palmera, between Córdoba and Seville.
Do not hesitate to ask for your safe appointment, we are looking forward to assist you and to advise you. And if you would like to modify any of the accessories that you liked the most, we will customize them for you, so that they become unique and exclusive and, above all, adapted to your taste.
HIGARNOVIAS
www.higarnovias.com/es/
C/ Portales Nr. 4. Fuente Palmera
Phone: 957 63 86 88
Whatsapp 673 329 646
info@higarnovias.com