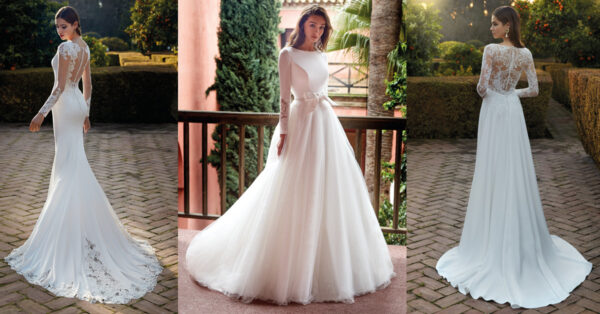 At HigarNovias Group, each season we present collections of wedding dresses by Manu García and Valerio Luna, in which we put all our experience, our know-how and always thinking about the contemporary bride.
Brides who opt for unique wedding dresses, that are adapted to their personality. Your wedding day will be the most special one that you have ever lived. You will be the protagonist, and that well deserves to wear the dream wedding dress. We will make it a reality, and thus fulfill your wishes.
Customized Wedding Dresses
We listen to your ideas, we advise you and we suggest you the wedding dresses that suit your tastes most, so that you can try them on. We adapt them to your silhouette, and if you like the bodice of one of them and the skirt of another, our expert hands will design it for you made-to-measure.
HigarNovias wedding dresses are designed and manufactured in Spain, in our Fuente Palmera factory. The production process is completely handmade, each garment is worked with caution and great care, emphasizing every detail, and always with the fabrics of the highest quality.
For us, every wedding dress is a work of art. Designs made of flowing tulle, glitter, crepes and lace, where textural contrasts and embossed applications predominate. Details that show an exquisite taste for bead and crystal embroidery. Silhouettes with very defined waists, very tight bodices and seductive necklines with transparencies.
A wide catalog of romantic, bohemian, classic and modern wedding dresses awaits you at HigarNovias, where we are sure that your dream wedding dress is waiting for you.
Our goal is to see you excited and radiant when you find your wedding dress, a unique moment that we live with you and that we love, because we put ourselves in your place to offer you the best personalized attention.
Do not hesitate to ask for your safe appointment, we are looking forward to assist and to advise you.
HIGARNOVIAS
www.higarnovias.com/es/
C/ Portales Nr. 4. Fuente Palmera
Phone 957 63 86 88
Whatsapp 673 329 646
info@higarnovias.com