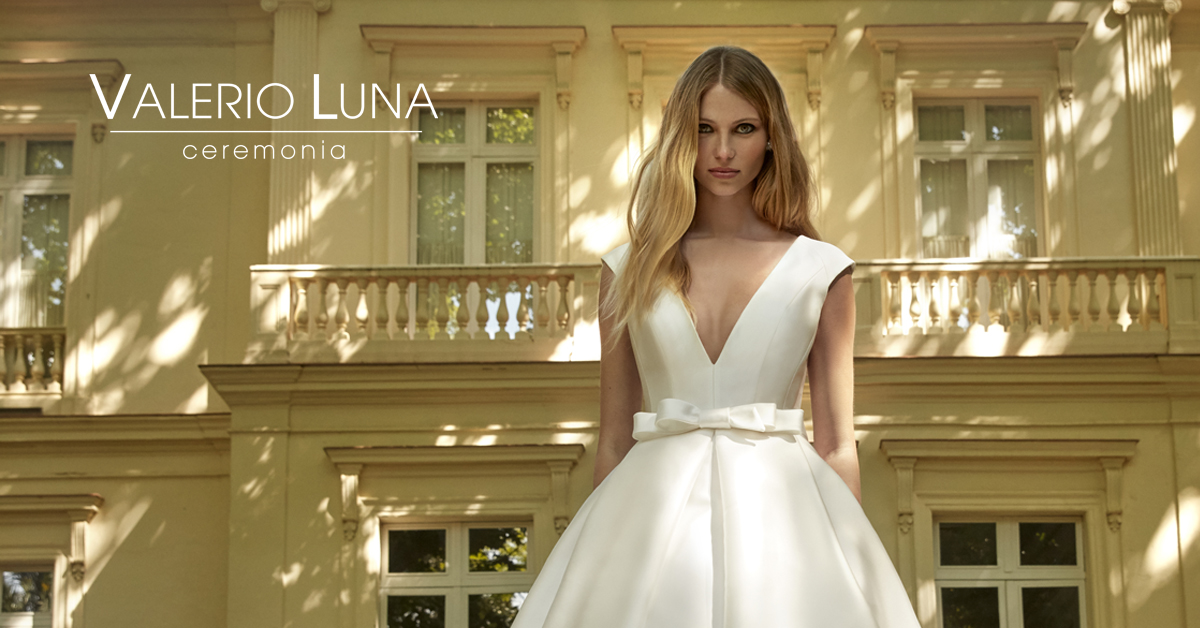 Few trends have taken as much weight in bridal fashion as bows have. On the back, on the waist, on the hair, on the neckline, on the shoulder… They are everywhere, and they have already become a fundamental accessory in wedding dresses.
The discreet but irresistible detail, capable of making the difference in the entire bridal look, is taking center stage, almost without us realizing it. Bows of all sizes, shapes, colors and types have managed to conquer the most romantic brides this season, and they decide to add them to their outfit, in a simple way or in style.
Although you may not believe it, there are a thousand and one different ways to add a bow to your ideal bridal look, the way it appears in your dreams. But if what you need is some inspiration, here are some ideas from our brand Valerio Luna, on how to wear beautiful bows on your wedding dress.
On the bodice
If what you want is to give all the prominence to this accessory, the perfect option is a bow on the bodice. In any size or color, adding a bow to the total look will transform the simplest dress into a stunning and chic piece. As it happens in our Fabiana Model, an elegant design in silk brocade with floral motifs. It is a classic cut dress, but with a beautiful bow at the waist, that closes a prominent V-neckline.
On the back
However, if you want to add bows to your wedding dress, but without overshadowing the rest of the look, an alternative is the bows on the back. Our Erika Model has a discreet bow at the rear, at the end of a spectacular open back. Let yourself be seduced by the delicacy of this model, in georgette fabric and short sleeves, and a silhouette to be the most sensual.
On asymmetrical sleeves
Leaving fashion and trends aside, in this new season, reigned by bows, one of the most daring and original ways to wear them is, without a doubt, on asymmetrical sleeves. As in the case of our elegant Fulco Model. An extraordinary design, made of crepe, in a classic style, but embellished on the shoulder with a bow, from where it falls along the back to the skirt.
On the waist
Wearing bows does not have to affect your look's sensuality. Another way to adopt this traditional accessory to your dress and adding that sexy touch you are looking for, is to place it at the waist. Mermaid cut designs, with pronounced necklines, princess style, with corsets… In any type of dress, the bow at the waist will be the key factor you were looking for. Our Evelyn Model, with an A-line and pleated skirt, shows off a beautiful waist with a bow, that captures all the eyes.
As you can see, wearing bows is synonymous with romanticism, sensuality, and elegance. Whatever is the model you are looking for, there is an ideal one waiting for you at HigarNovias. We are sure that some of these ideas have conquered you, so do not hesitate to make an appointment with us. Let yourself fall in love!
HIGARNOVIAS
www.higarnovias.com/es
C/ Portales núm. 4. Fuente Palmera
Tfno 957 63 86 88
Whatsapp 673 329 646
info@higarnovias.com
VALERIO LUNA
www.valerioluna.es
BARCELONA 932 922 451
MADRID 672 220 576
MÁLAGA 952 213 833