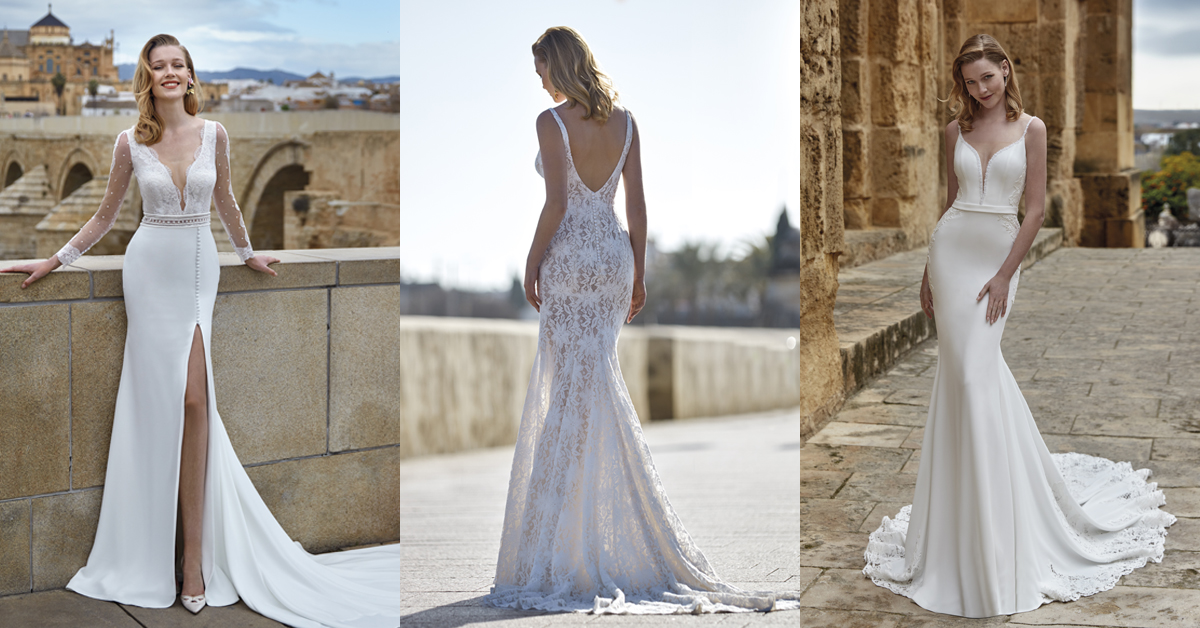 There are days when we like to feel a little more special and sexier, especially if one of those days is your wedding. One of the most emotional moments, and one that you will never be able to forget. So, how to feel the most sensual, without losing that elegant touch on your big day?
At HigarNovias everything is possible, and since we listen to you, advise you and try to attend to your needs to the letter, we have a perfect design for each type of bride, always depending on what you are looking for. Therefore, on this occasion, if what you want is to bring out your most feminine and sensual side, without losing elegance and that romantic touch, we show you some designs from the new Origen collection by Manu García, that will make it possible.
To be the sexiest and most captivating in the place? With the Suhan Model, without a doubt, you will be all that and much more. This is a dress for all those daring brides, who love to wrap their bodies in crepe. A design with completely uncovered back, featuring a V-shaped neckline that falls to the waist, adding glamor and mystery to the look. A sleeveless design with a smooth skirt, that will make you the most sophisticated and sensual bride.
However, if you are a somewhat simpler and more informal bride, but you do not want to give up feeling sensual on your big day, the Soria Model is the ideal dress for you. This bridal design, that combines the boho-chic style with an elegant mermaid cut, will be the center of attention. It presents an elaborate bodice with a sexy V-neckline, topped with lace, that enhances the bust and offers a truly daring touch.
Likewise, an ideal alternative to the more classic, sensual model can be the Sakura Model. A somewhat more modern and transgressive option, and that, of course, will not leave anyone indifferent. This dress outlines your figure and adapts perfectly to your body, thanks to its lace and mermaid cut. With it you will be the most sensual, thanks to the deep V-neckline and the side opening, that runs along the hip and flows to the floor, creating a romantic train.
After presenting you with the three most sensual designs by Manu García, we are sure that one of them has conquered you, because it is impossible to resist them. If you want to feel like the most sensual and most elegant bride, do not hesitate to make an appointment with us, and we will advise you on everything you need.
HIGARNOVIAS
www.higarnovias.com/es
C/ Portales núm. 4. Fuente Palmera
Tfno 957 63 86 88
Whatsapp 673 329 646
info@higarnovias.com
MANU GARCÍA
www.manugarciacostura.com
BARCELONA 932 922 451
MADRID 91 366 28 80
OVIEDO 98 523 17 20
VALENCIA 963 529 706