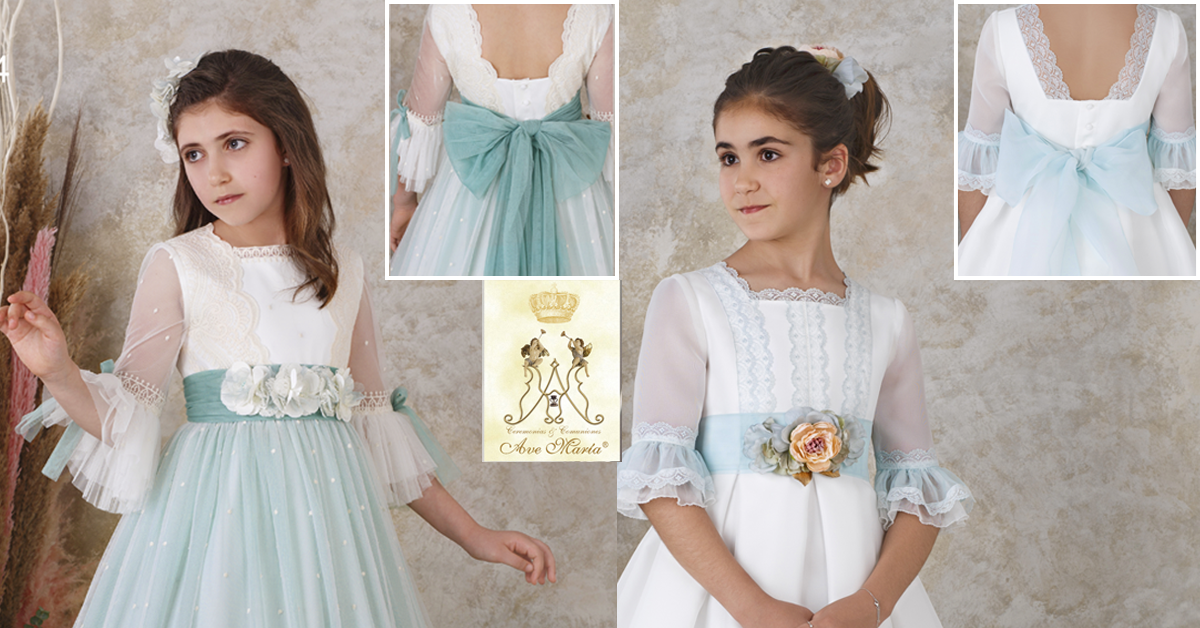 Does your little one have her First Communion this year? Surely you have already started organizing all the preparations for that big day and, most importantly, looking for the perfect dress for the princess of the house.
In five months that special day arrives, and in the communion section of our Fuente Palmera Flagship Store families begin to arrive, so that the little ones can find the dress of their dreams. On this occasion, we are talking about the new Communion 2023 collection from the brand Ave María, in which the classic style and youthful touch merge, to achieve these beautiful creations.
The Ave María label stands out especially for its original designs, all of them made by hand with the highest quality materials. Its main objective is to be able to offer our clients unique and special dresses, 100% Spanish made, and with which the protagonists will feel magical and special.
In its collection we find ranges of colors, ranging from nude to intense pink or aquamarine. Ivory and white also stand out and look wonderful, together with flower headbands, an accessory that cannot be missing in a communion.
Communion dresses with short or French sleeves, the latter option in polka dot tulle, and topped with soft ruffles, adding a more casual touch to the ensemble. Discreet details, such as the flower sashes and the embroidery on the sleeves, are the perfect finish for a dress, that will capture the attention of all the eyes.
In addition, at HigarNovias we always select the garments with our little clients in mind, taking particular care of their comfort and happiness on that special day. In this way, and keeping this brand philosophy in mind, we create ties with Ave Maria, with whom we are completely aligned.
And you, do you already have a scheduled date for your little girl's First Communion?
You can make your appointment with us, to choose your perfect Ave María communion dress, which you will find in our communion dress shop in Fuente Palmera, where you will feel at home, and you will be able to accompany her in an unforgettable and unrepeatable moment.
HIGARNOVIAS
www.higarnovias.com/es/
C/ Portales núm. 4. Fuente Palmera
Tfno 957 63 86 88
Whatsapp 673 329 646
info@higarnovias.com