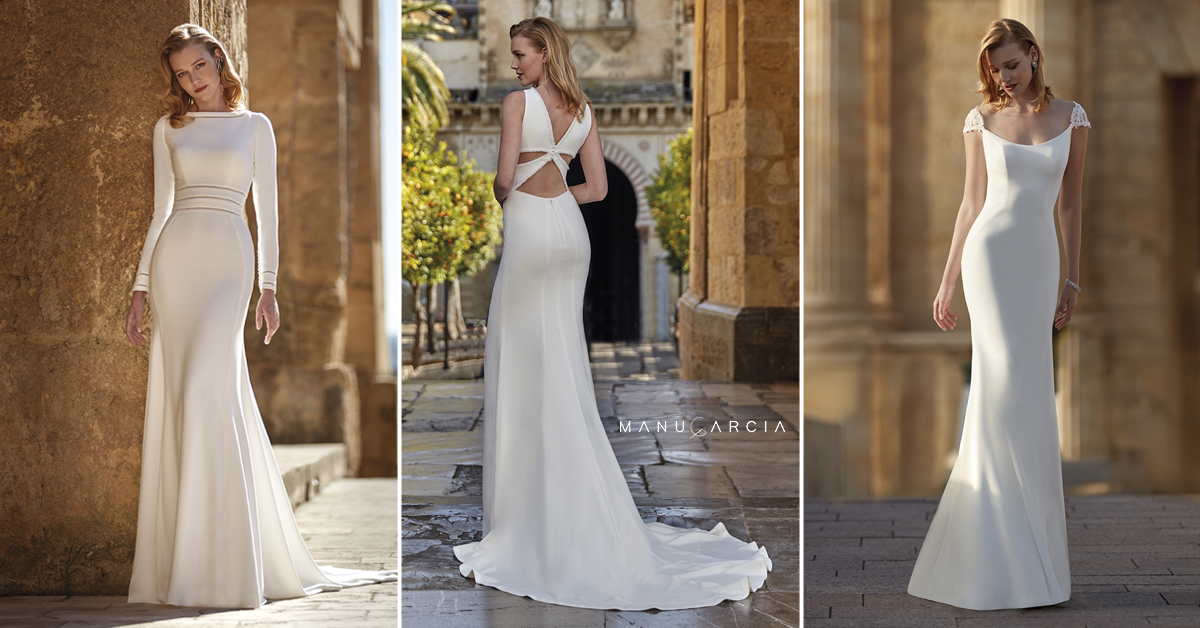 Trends come and go, but the style of wedding dresses, if you know how to choose well, never goes out of style. This is especially true for those simple and elegant designs, in which traditional white and classic shapes come together, to make you feel like a true queen on your wedding day. Coco Chanel already said it in her day, sometimes "less is more".
Choosing the perfect wedding dress is a difficult decision, but with a simple wedding dress, if it also has that chic touch that makes it unique, success will be guaranteed. Here we bring you three models from the Manu García's Origin collection, that are ideal to help you choose the perfect wedding dress.
We start with a wedding dress with a sophisticated cut and style like the Selena Model, the perfect option to bring out your most feminine side, that highlights your figure in a simple and elegant way. This dress is designed with a bateau neckline, that balances the waist, thanks to its open back and romantic and flowing finish.
Another option that you will be sure to hit with is the mermaid wedding dress. It always provides comfort and simplicity. In this case, the ideal gown for any body type is the Salma Model, which, made in crepe, offers a light and elegant touch. A design that, without ceasing to be classic, becomes a unique model, thanks to the decorations on the sleeves and, of course, its incredible open back, that fits the dress.
And, continuing with open backs, we present you the Silvana Model, accompanied, in addition, by magnificent rhinestones. This wedding dress perfectly combines simplicity and the most classic glamour. A mermaid line crepe fabric, that fits the body, providing sensuality and elegance. In short, a wedding dress with which you will be the center of attention.
What do you think of Manu García's designs? After this, we are sure that one of the options has stolen your heart. Now, the only problem will be deciding which one to keep.
Make your appointment at any of our Manu García stores of the HigarNovias Group, or at our authorized points of sale, and fall in love with all the designs of his new Origen bridal collection.
HIGARNOVIAS
www.higarnovias.com/es
C/ Portales núm. 4. Fuente Palmera
Tfno 957 63 86 88
Whatsapp 673 329 646
info@higarnovias.com
MANU GARCÍA
www.manugarciacostura.com
Barcelona 93 292 24 51 – 649 49 55 88
Madrid 91 366 28 80 – 648 739 571
Oviedo 985 231 720 – 615 33 91 79
Valencia 963 529 706- 637 669 141