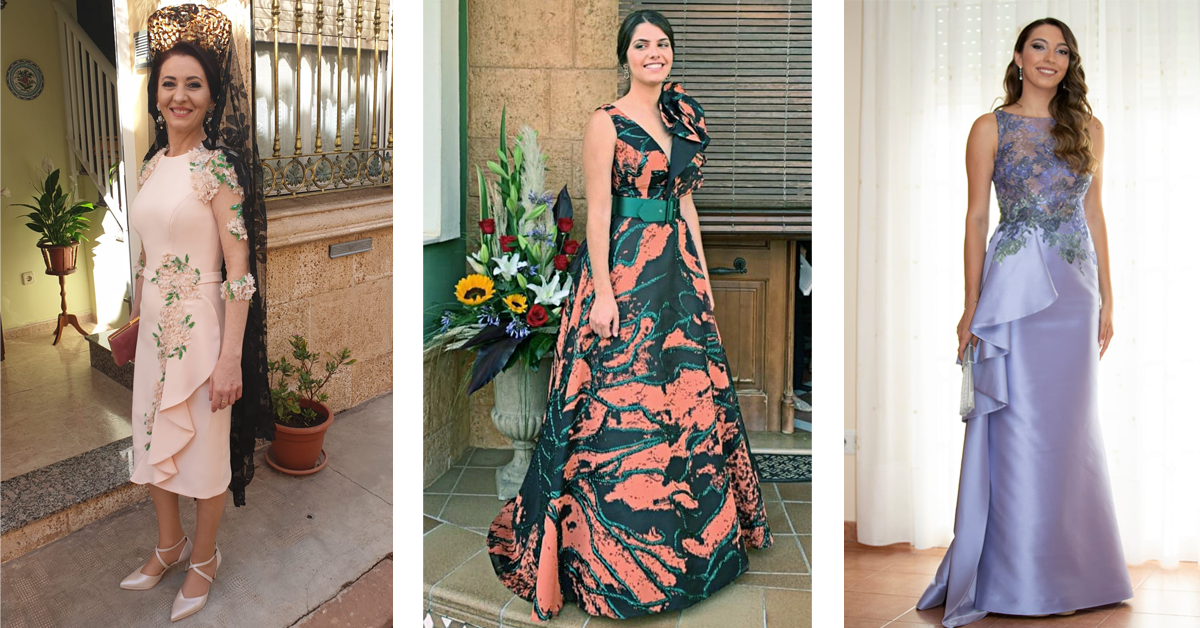 Being a party girl at the festival of the town, that saw you being borne, is very special for any Valencian woman. This is how we verified it in our Manu García store in Valencia.
Our clients arrive, full of enthusiasm, to find the design that suits them wonderfully for an event, that they look forward to with joy, since they will be the representatives of the parties during the days of the celebration.
Today we present to you three festive women, elegant and gorgeous.
Amparo Garrido is a party girl from Benissano. She wears the MG 3111 model from the Legacy collection. An original design with a midi cut and a tubed skirt, with a ruffle, adorned with embroidered flowers. This classic-cut cocktail dress, that stylizes Amparo's silhouette, stands out for its color, the 3D flower decorations on the shoulder pads and refined three-quarter raglan sleeves, made of nude tulle. A dress that evokes distinction, and with which Amparo is radiant.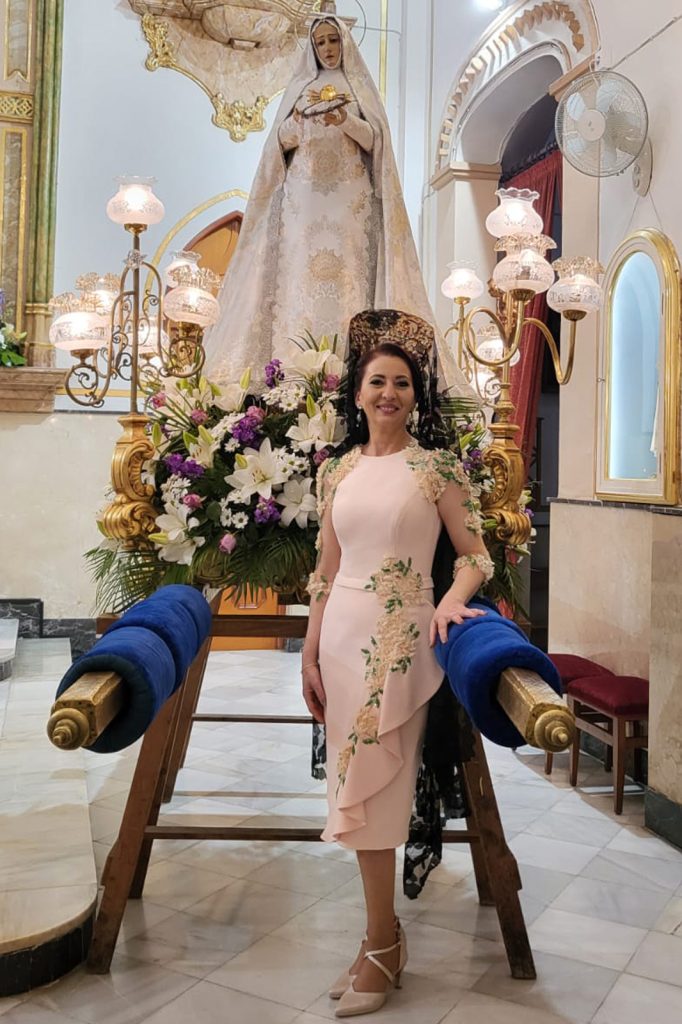 Carlota Llorens was at Rafelguaraf party this past July. For the occasion, she has chosen the MG 3316, a design that is part of the Brisa collection. An A-line cocktail dress, made of brocaded organza, very silky and soft to the touch. A model, original where they exist for any summer event, as is the case with Carlota. Its asymmetrical neckline, together with the large floral decoration on one of the shoulders, form a perfect combination. Its waist, finished off with a striking belt in a forest green tone, enhances its silhouette, as we can see in the photo. A wonderful design, with which we are sure she did not go unnoticed.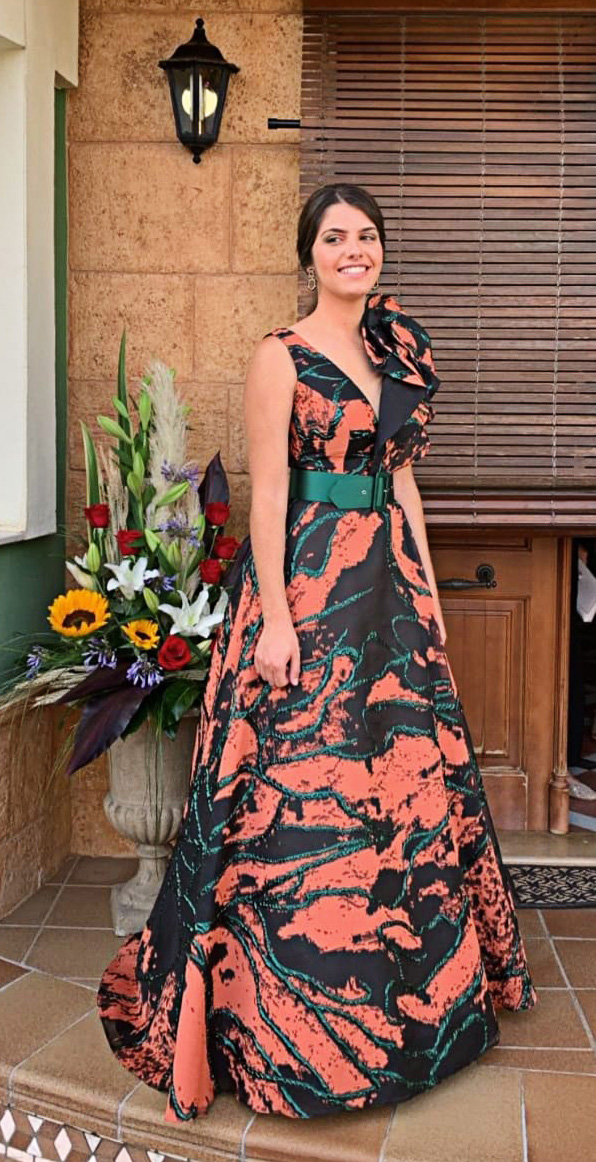 We finish our today's post with the beautiful Vanessa Domínguez, a party girl from Pedralba. She has chosen a model that suits her perfectly. It is the MG 3104 Model, from the Legacy collection. A dress in a Mayan blue hue, with an elegant, mermaid line skirt and asymmetrical overtail. The delicate bodice, with a semi-transparent bateau neckline, takes centre stage with superimposed embroidered flowers, reminiscent of spring, which in turn draw the waistline, disappearing into the skirt.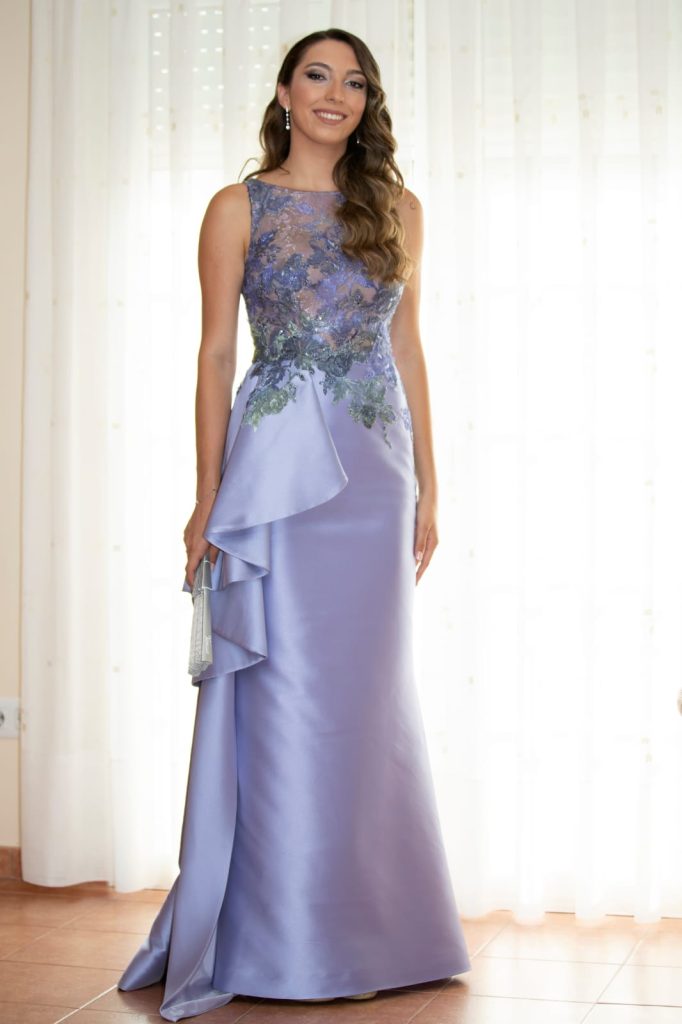 If you are going to be festive at the next celebration in your town, do not hesitate to visit our website. You will find a wide range of cocktail dresses. You can also do it, if you have been invited to an important event, and want to wear your best clothes.
You can make your appointment at our store in Valencia, which is located at Calle Sanz, 10.
HIGARNOVIAS
www.higarnovias.com/es
C/ Portales núm. 4. Fuente Palmera
Tfno 957 63 86 88
Whatsapp 673 329 646
info@higarnovias.com
MANU GARCÍA
www.manugarciacostura.com
Barcelona 93 292 24 51 – 649 49 55 88
Madrid 91 366 28 80 – 648 739 571
Oviedo 985 231 720 – 615 33 91 79
Valencia 963 529 706- 637 669 141