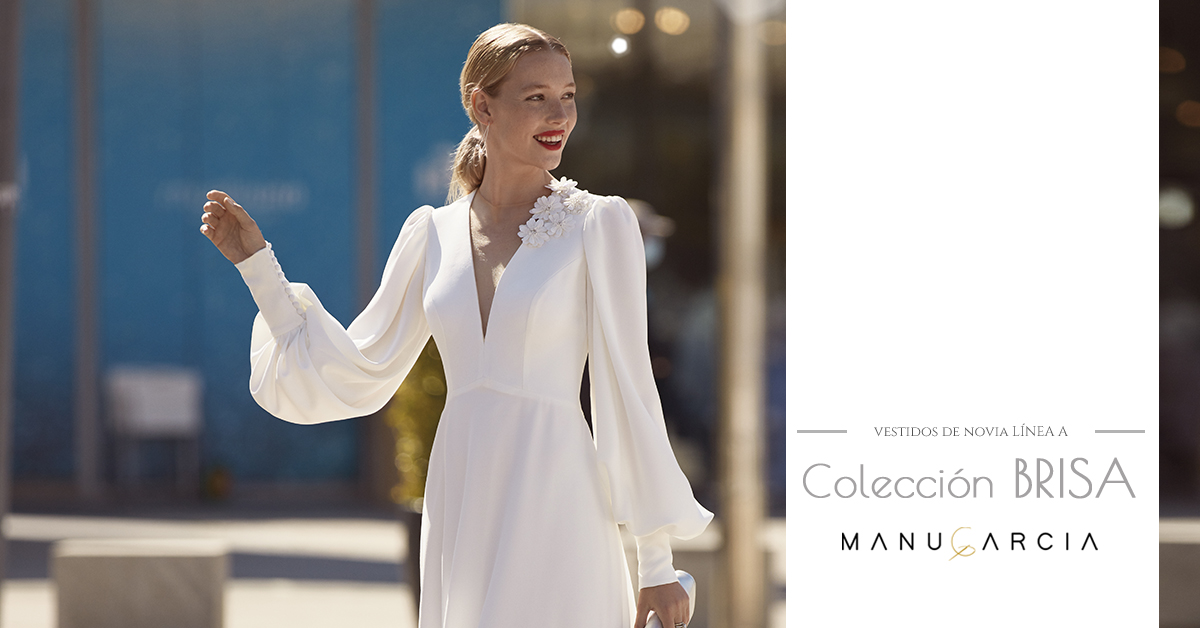 For such an important and special day in your life as your wedding, choosing the wedding dress can be an exciting or, on the contrary, a stressful task. The key lies in the personality of each woman.
If you are a determined bride with clear ideas, you will know what you want and you will search and search, until you find your dream design. If you are more indecisive, you will resort to the opinions of your relatives and you will also search and search, until you find those models that you like the most.
As you can see, in both cases you will be looking for the perfect wedding dress. Thus, today we propose 3 A-line wedding dresses, a really flattering silhouette for all types of women.
This type of wedding dress is characterized by being fitted to the waist. From there comes a skirt, that opens gently in the shape of a triangle, forming an A. It is perfect for all types of bodies because it creates a proportionate figure, camouflaging any imperfections of the lower part of the body.
We highlight 3 styles from Manu Garcia's Brisa bridal collection, that feature this romantic cut: Rabat, Reus and Rivera.
The Rabat Model is an impressive and modern wedding dress, that exudes style and elegance. It is made of a delicate crepe, that is very soft to the touch. Its lightness makes it ideal for any time of the year. Its seductive V neckline, adorned with lace, will enhance your silhouette. It presents an open back, and the waist is adorned with crystal details and transparent guipure. The A-line skirt and long train will make your movements natural and elegant.
The Reus Model is a wedding dress with simple lines. It is made of light crepe and is ideal for discreet bride. Its A-line will outline your figure with elegance and fluidity. It fits perfectly with its delicious, jewelled back in transparent rhinestones. The sleeves, slightly puffed at the shoulders, frame the round neckline and form an elegant line on the torso, creating an effect of broad shoulders. The perfect choice if you are a discreet and elegant bride.
Elegance is personified in the Rivera Model, a wedding dress with clean design and long train. Its fitted bodice and A-line skirt will enhance your bust, and together with the exquisite, puffed sleeves, will give you a very sophisticated air. Two exquisite details of this design are its Deep Plunge neckline and its open, teardrop-shaped back, powdered with rhinestones. We are sure that you will fall in love with it.
If you are looking for a special wedding dress, ask for your appointment at any of our Manu García stores of the HigarNovias Group, or at our authorized points of sale, and discover the extensive catalogue we have, so that you look spectacular on the most beautiful day of your life.
HIGARNOVIAS
www.higarnovias.com/es
C/ Portales núm. 4. Fuente Palmera
Tfno 957 63 86 88
Whatsapp 673 329 646
info@higarnovias.com
MANU GARCÍA
www.manugarciacostura.com
Barcelona 93 292 24 51 – 649 49 55 88
Madrid 91 366 28 80 – 648 739 571
Oviedo 985 231 720 – 615 33 91 79
Valencia 963 529 706- 637 669 141