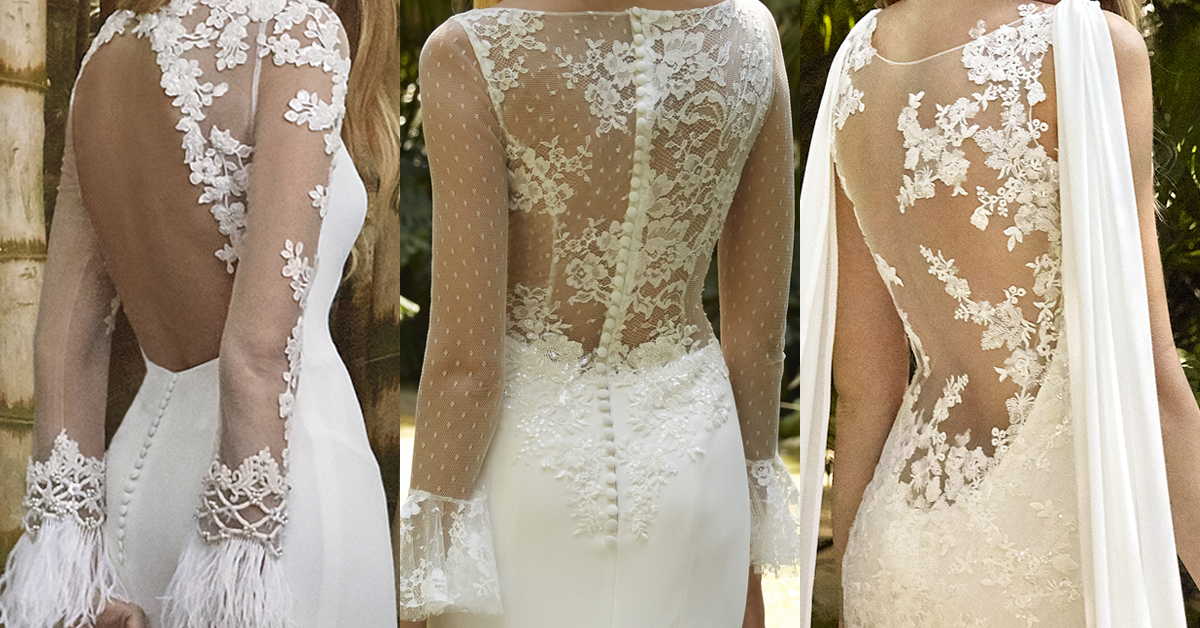 At HigarNovias we take care of every detail in all our wedding dresses. You should be aware that the front neckline is just as important as the design of the back, to create a perfect harmony, in which elegance will define the bride's style.
Today we have prepared a selection of the most spectacular bridal backs by Valerio Luna from his Amazonica collection. You will find rear necklines with a wonderful tattoo effect, seductive infinite backs, or backs with original geometric necklines.
Made with pleated tulle, crepes, and embroidered lace, with natural motifs that evoke a youthful freshness, they will make you feel like the most radiant bride on your wedding day.
If the Ebro Model stands out for any special detail, it does for its wonderful back, made entirely of embroidered tulle with appliqués, that extend to the end of its train, giving it a most romantic air. A wedding dress with simple lines, very feminine, thanks to its mermaid cut, that will define your silhouette. It is complemented by elegant chiffon falls, that emerge from the shoulders, making this design a wonderful choice.
The Erasmo Model is a very special wedding dress with a sublime back, open in the shape of a teardrop and made of tulle with appliqués. A design full of details, such as the definition of your silhouette, thanks to the crepe fabric and its mermaid cut, or the long sleeves in tulle with a feather decoration, that flows along the wrist or the wonderful back, that we have already told you about. You will be the most sensual and feminine bride of the moment.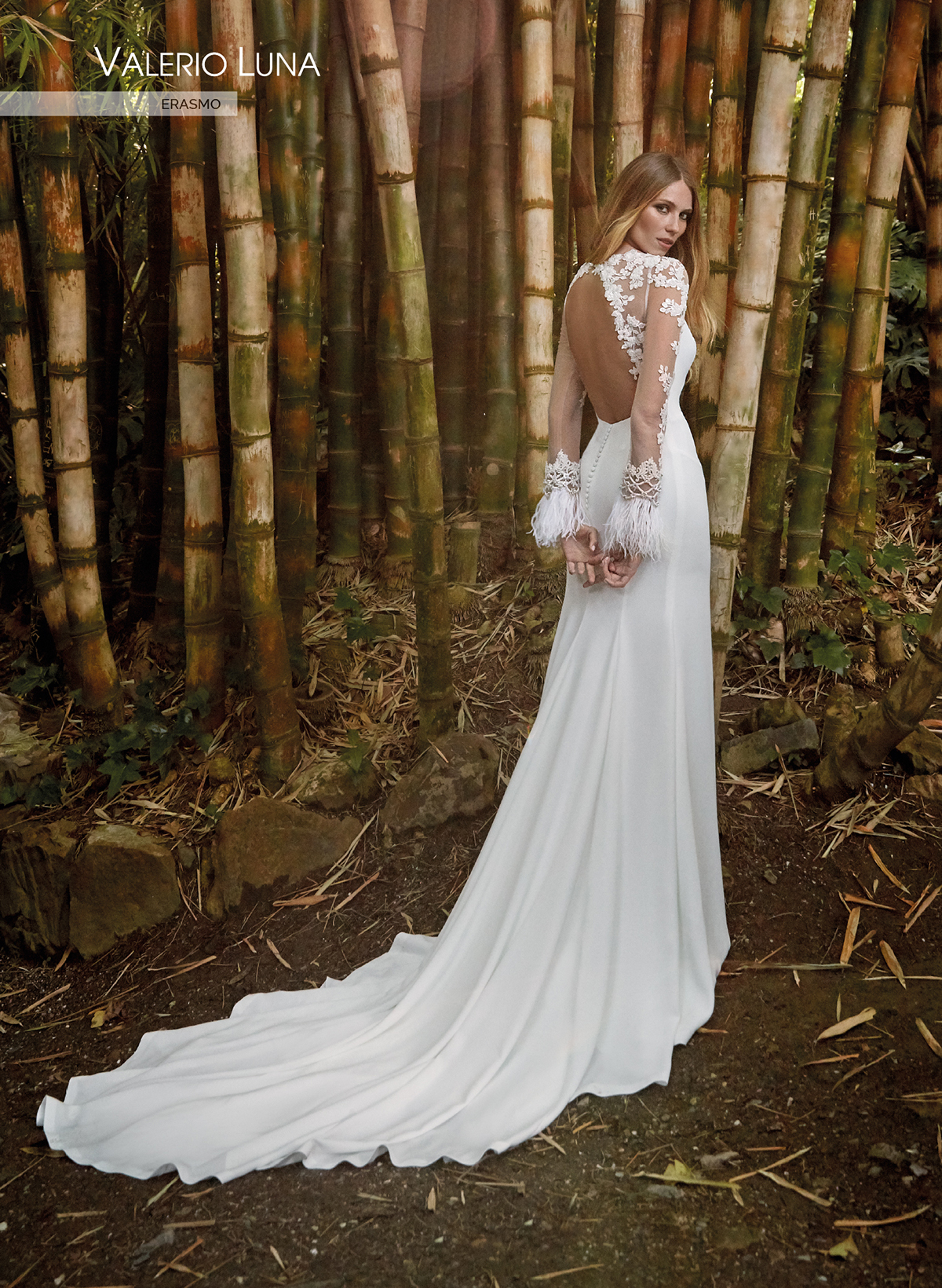 The Elton Model, glamorous and subtle in equal parts, is a straight-cut wedding dress with pure lines. A very elegant design, that highlights its fantasy back in chantilly and infinite V-neckline. Both openings are perfectly complemented by the romanticism of the French sleeves, made of polka dot fabric, and finished off with a double ruffle in tulle and chantilly. The soft crepe envelops its bodice, outlining the silhouette of that bride, who is as sensual as she is daring.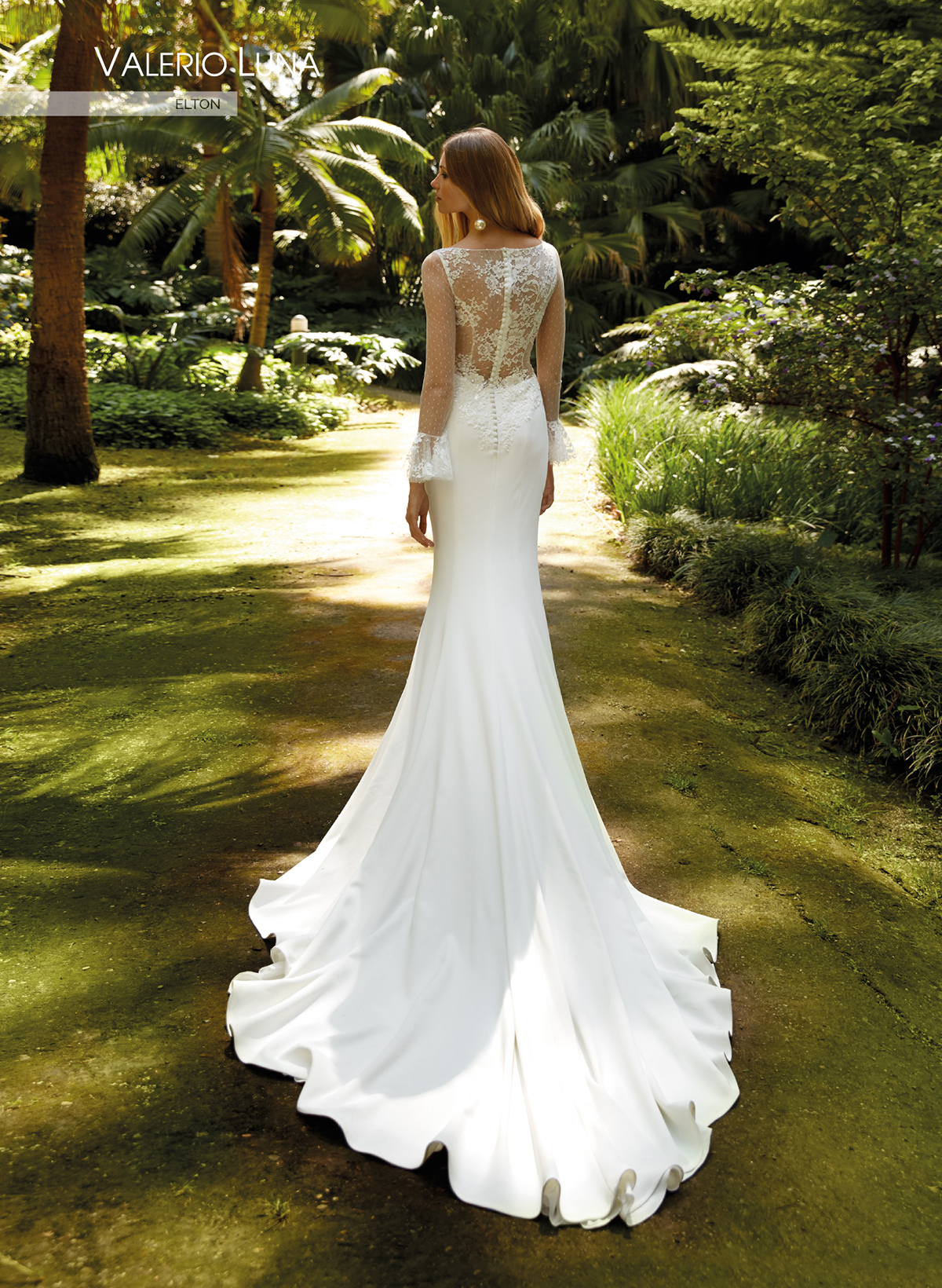 Have any of our most sensual backs made you fall in love with? Have you already started with the choice of your wedding dress?
Ask for your appointment at any of our Valerio Luna stores of the HigarNovias Group, or at our authorized points of sale, and discover the Amazonica collection with unique wedding dresses.
VALERIO LUNA
www.valerioluna.com