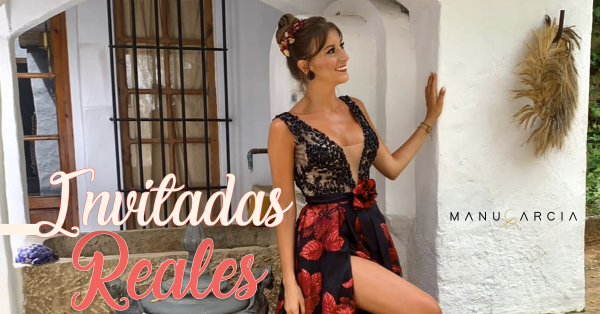 What the real guests by Manu García in today's post have in common, is that they, along with the bride and the groom, have been protagonists of the wedding they attended.
They are sisters and mothers of the bride and the groom who have chosen us to show off their best clothes on an intense day, full of nerves and excitement at the same time.
Women with an essential role on that wonderful day, who have chosen us to highlight their natural beauty and be the perfect guest. Each one with her own style, they radiate happiness and beauty, as you can see.
Dresses designed and made by hand, taking care of every detail, creating customized, personalized and original designs, always based on our own patterns.
We start with Ainara Tarrazo and her model MG3200. Her brother celebrated his wedding last August. Ainara was dazzling in this dress, with an evasé skirt in brocaded organza and a bodice made of beading. Its suggestive front and rear necklines, together with the infinite opening of its skirt, gave her an overwhelming sensuality. This design is complemented by a large bow that hugs her waist, extolling her figure. Extremely beautiful Ainara.
Lorena Roig chose the Model MG3137 for her sister's long-awaited wedding last October. An elegant and sophisticated midi cocktail dress, crafted in printed silk piqué. Highlights of this design include the original belt and the striking floral decoration on the bodice. Lorena was splendid and very flattering.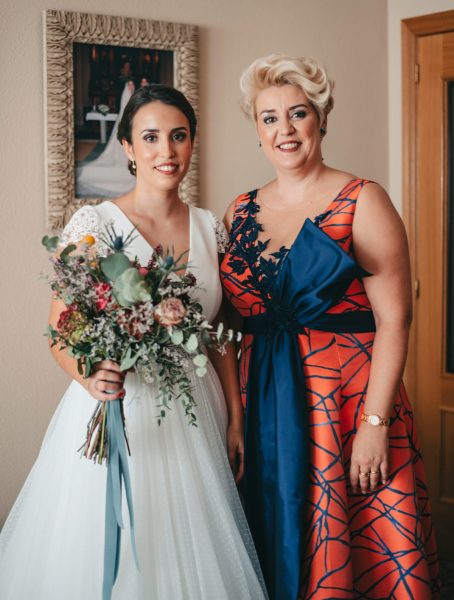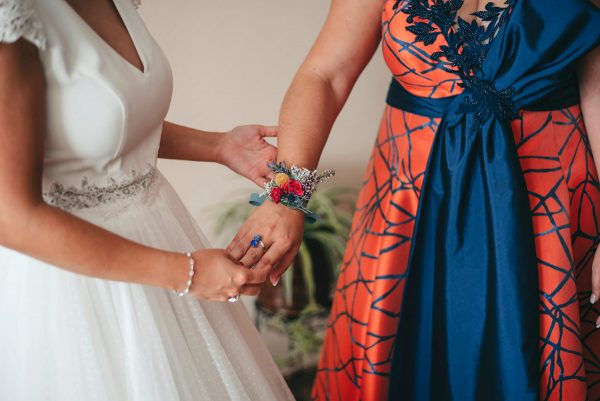 Antonia also chose us to dress as a bridesmaid at her son's wedding, and her sister Mª José as well. Both chose piped party dresses from the Esperanza collection by Manu García.
The elegant bridesmaid, Antonia, decided on Model E-1413, in a youthful purple color. A short cocktail dress made of mikado, adorned with a pretty belt, from which a double peplum in mikado and polka-dotted organza starts. For her part, her sister Mª José opted for Model E-1322, a piped cocktail dress with a striking floral print.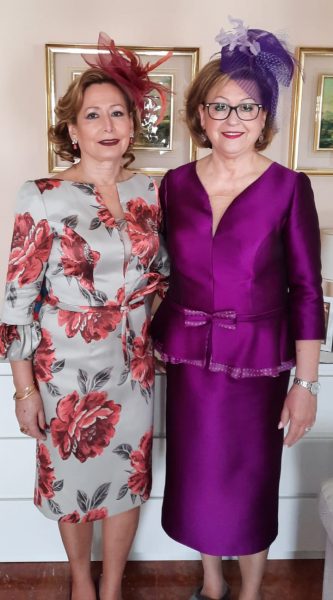 Four Manu García cocktail designs, with which our real guests looked splendid. Do you like any of these cocktail dresses?
Ask for your appointment at any of our Manu García stores of the HigarNovias Group and live with us the experience of choosing your dream cocktail dress for that special occasion.
HIGARNOVIAS
www.higarnovias.com/gb
C/ Portales Nr. 4. Fuente Palmera
Phone 957 63 86 88
Whatsapp 673 329 646
info@higarnovias.com
MANU GARCÍA
www.manugarciacostura.com
Barcelona 93 292 24 51 – 649 49 55 88
Madrid 91 366 28 80 – 648 739 571
Oviedo 985 231 720 – 615 33 91 79
Valencia 963 529 706- 637 669 141