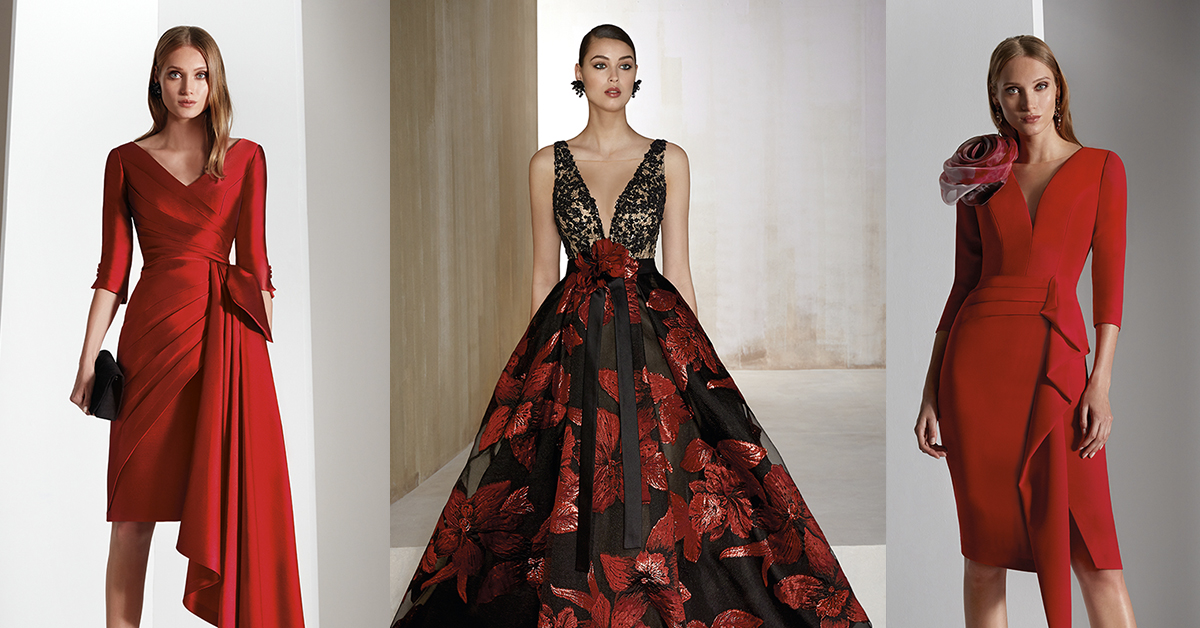 The red color is psychologically associated with passion, sensuality and love. It is the color of energy and daring… and it is also the quintessential Christmas hue.
If we are looking for cocktail dresses that combine these concepts, we show you three designs from the Manu García and Valerio Luna collections, that are ideal for these dates and that will enhance your most feminine side in the most elegant way.
Three very different options to adapt to the tastes of our customers, that will be a sure hit.
Our first proposal is the MG3200 Model from the Legacy Collection by Manu García. With this impressive cocktail dress in red and black tones you will not go unnoticed. The skirt is made of brocade organza, that is fitted at the waist with a black bow and gives way to the large flared skirt with a flower print.
But the most dazzling thing about this dress is undoubtedly the neckline. With a suggestive peak shape, both on the front and on the back, it stands out for being made of rhinestones. Its details make it the ideal choice for an evening event that will make you the perfect guest and will assure that all eyes are focused on you.
Are you one of those women who like to stand out by wearing daring clothes, but without losing elegance? The VL5119 model from Valerio Luna's Atlantis Collection is your star choice. Its midi cut and French sleeves make it perfect for both day and night. Its handmade pleats make the bodice melt into the skirt and adapt like a second skin to your figure.
The V-neckline will stylize your neck and mark the neckline in a natural way, for this reason it is one of the most used necklines. The special detail of this spectacular red cocktail dress is its oversized train, that starts from one side and continues lengthening the design to the bottom.
Finally, we propose the Model VL5134, also by Valerio Luna from the Atlantis Collection. It is a cocktail dress, with a pencil skirt, that makes it an impeccable dress, if what you want is something tight. Its French sleeve, made popular by Coco Chanel in the 1940s, will stylize your arms and enhance your figure. The drapes at its waist will mark it in a sexy but discreet way. This dress has a classic cut and is made of crepe. The neckline is in V, and its flower on the shoulder gives it the most feminine touch.
As you can see, any of these cocktail dresses for Christmas will make you shine these holidays, assuring that you stand out from the rest. Remember that they are available in our cocktail dresses store in Fuente Palmera and in authorized points of sale.
Tell us which one is your favorite!