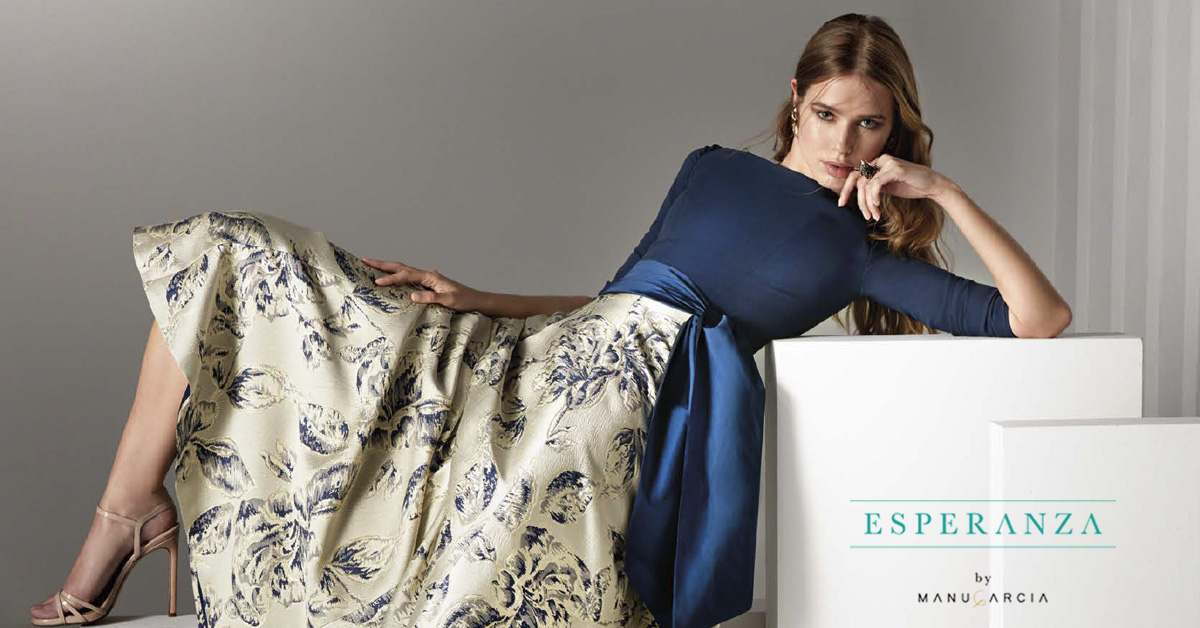 Today we want to talk to you about the cocktail dresses from the Esperanza collection by Manu García. A ready-to-wear collection from the HigarNovias Group, for day and night events, that will fascinate you.
It is a timeless, magical and very feminine collection, in which the woman is the main protagonist, wrapped in different simple lines. In it you will find the dress that most closely resembles your personality, for you to feel like the perfect guest.
You will discover a dynamic and vibrant collection, designed and manufactured 100% in Spain, and that you can purchase in our online store.
Print cocktail dresses, embroidered tulle and chantilly combine perfectly with others, such as crepe and mikado. With a wide palette of colors, the royal blue, bougainvillea, nude and emerald green tones stand out. You will find midi and long cocktail dresses, in which tubed skirts predominate.
Next, we show you some of the models in this Esperanza collection by Manu García and we indicate the sizes that we have available.
The Model E1423 is an original cocktail dress in crepe and brocade fabric, with a bateau neckline and elbow-length sleeves. The cut at the waist gives way to a very stylish voluminous skirt, with which you will feel like a princess. A perfect model, if you are the sister of the groom or the bride. It is available in size 42.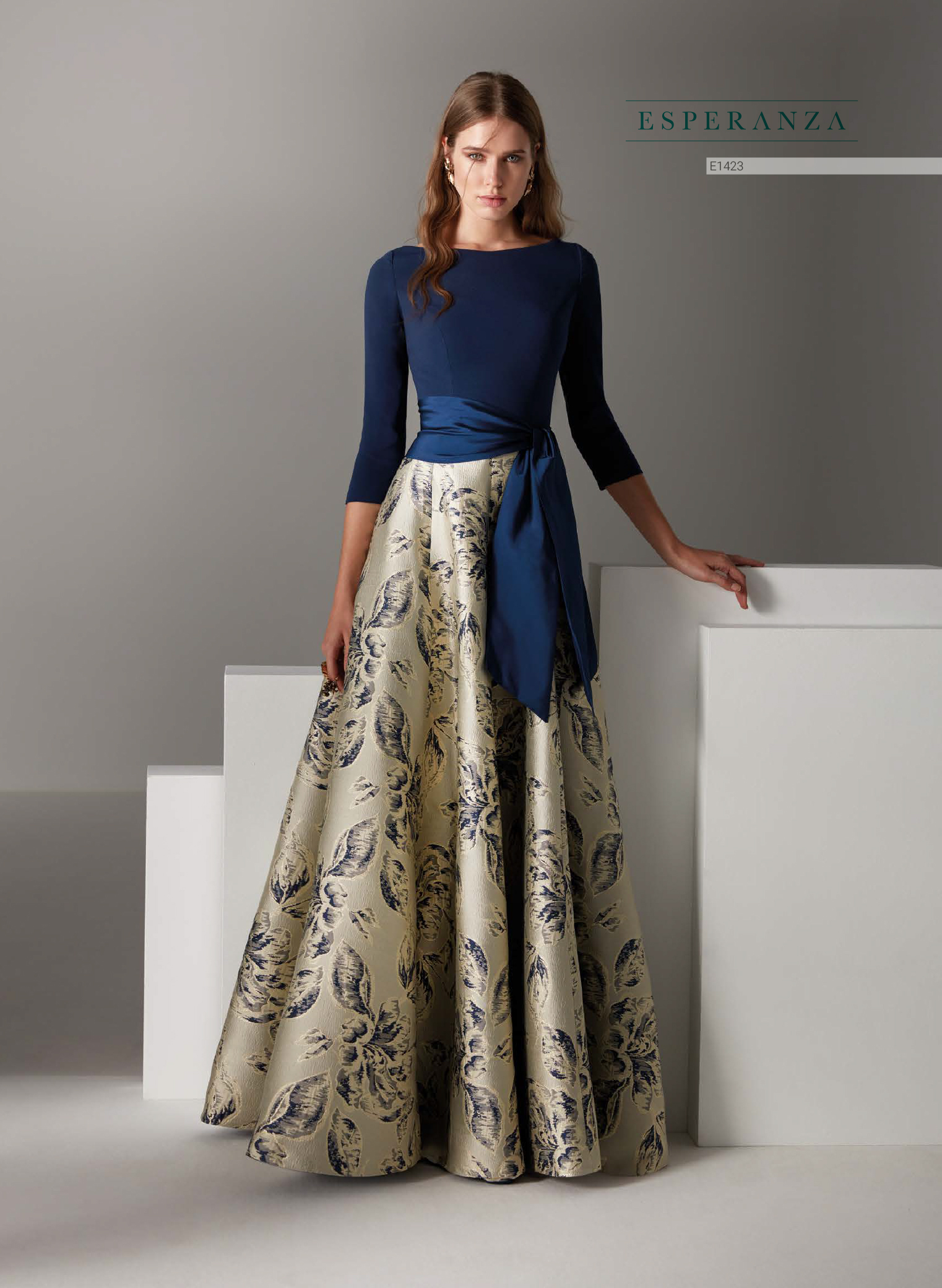 One color that we are in love with is the ultra violet of Model E1412, a midi cocktail dress made in mikado and lace. The bodice shows off a bateau neckline with a fine mikado belt and three-quarter sleeves in chantilly. Its skirt is adorned with a contrasting ruffle in a peach pink tone, that gives it that touch of originality for the mother-of-the-bride who chooses to go short. Without a doubt, it will allow you to dazzle on that day, that is special for you as well. Sizes 42, 46 and 50.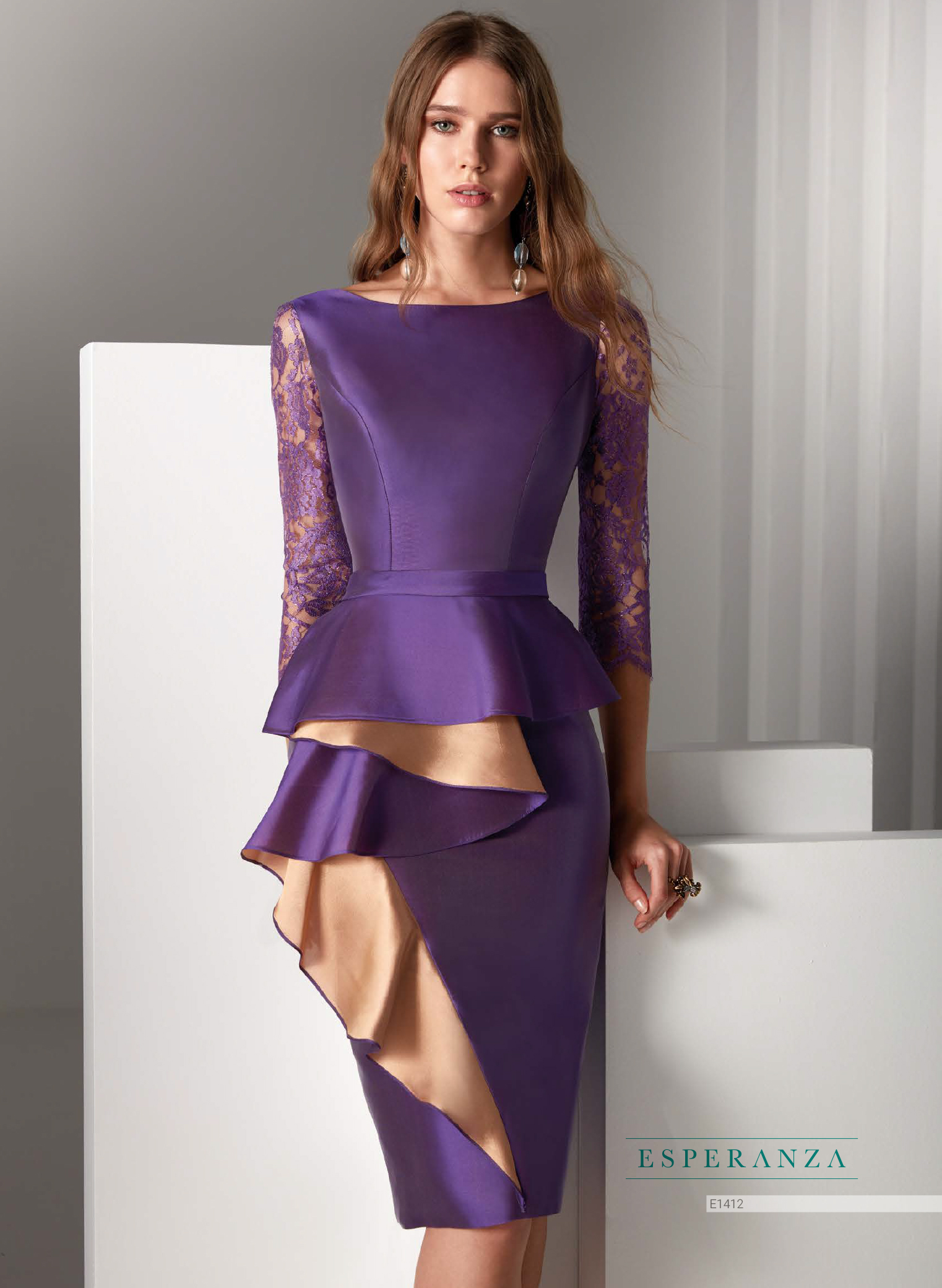 If you are a sister of the groom or the bride, and you like to surprise, we propose the original design of the Model E1416, made in patterned mikado, with length up to the knee, cut at the waist and highlighted with a sash, and featuring a round neckline. The dress stands out for that kind of puffed ruffle, that adapts to the waist of the skirt, forming a very particular and characteristic silhouette. A modern choice, with which you will not go unnoticed. Sizes 40 and 42.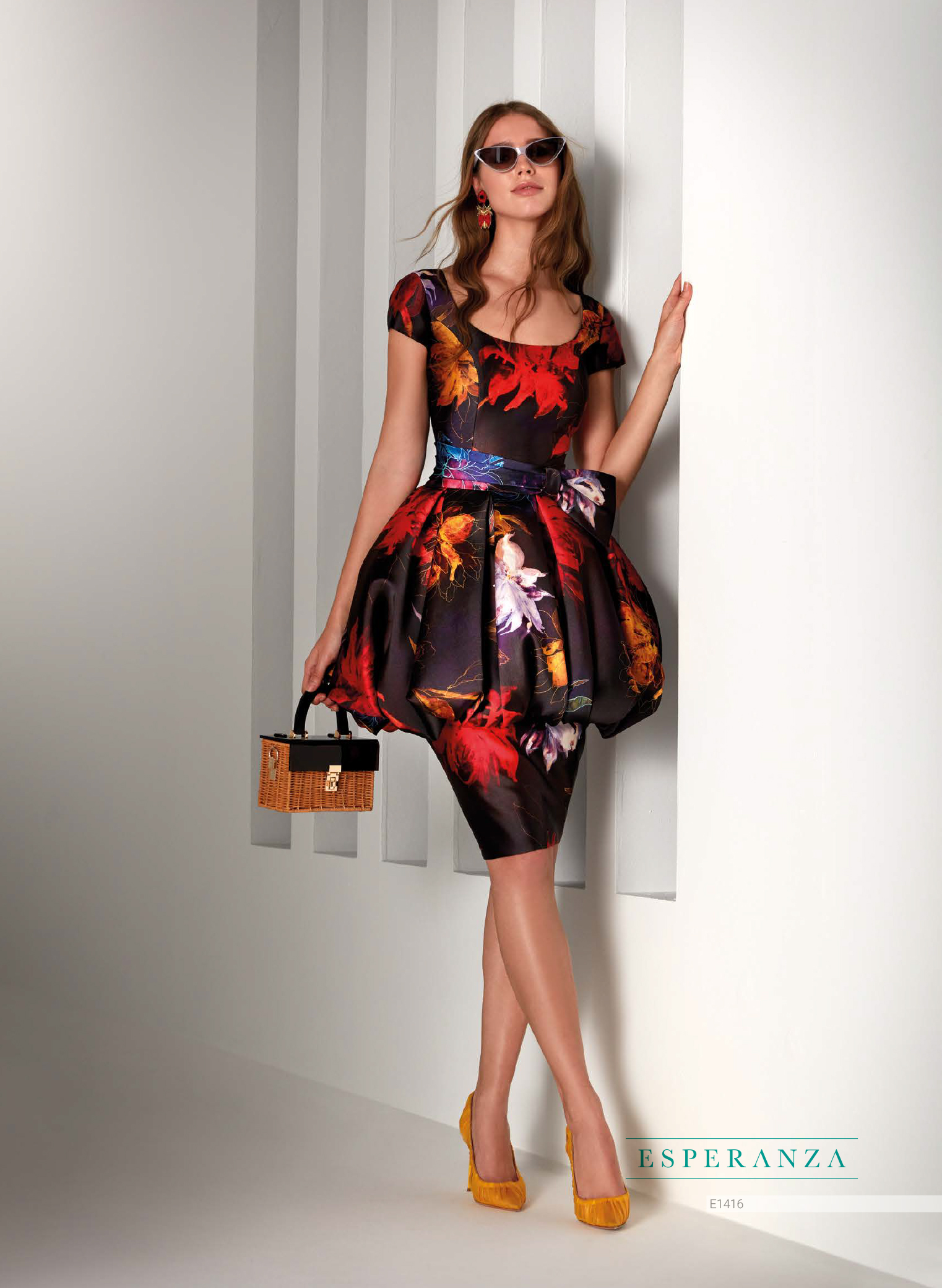 Looking for an elegant red cocktail dress? We suggest the Model E1409, a short cocktail dress made in crepe, with an original jewel-effect beaded waistline and a bodice with a bateau neckline, draped at the shoulder with a spectacular fall. It will be the sensation of the event. Size 44.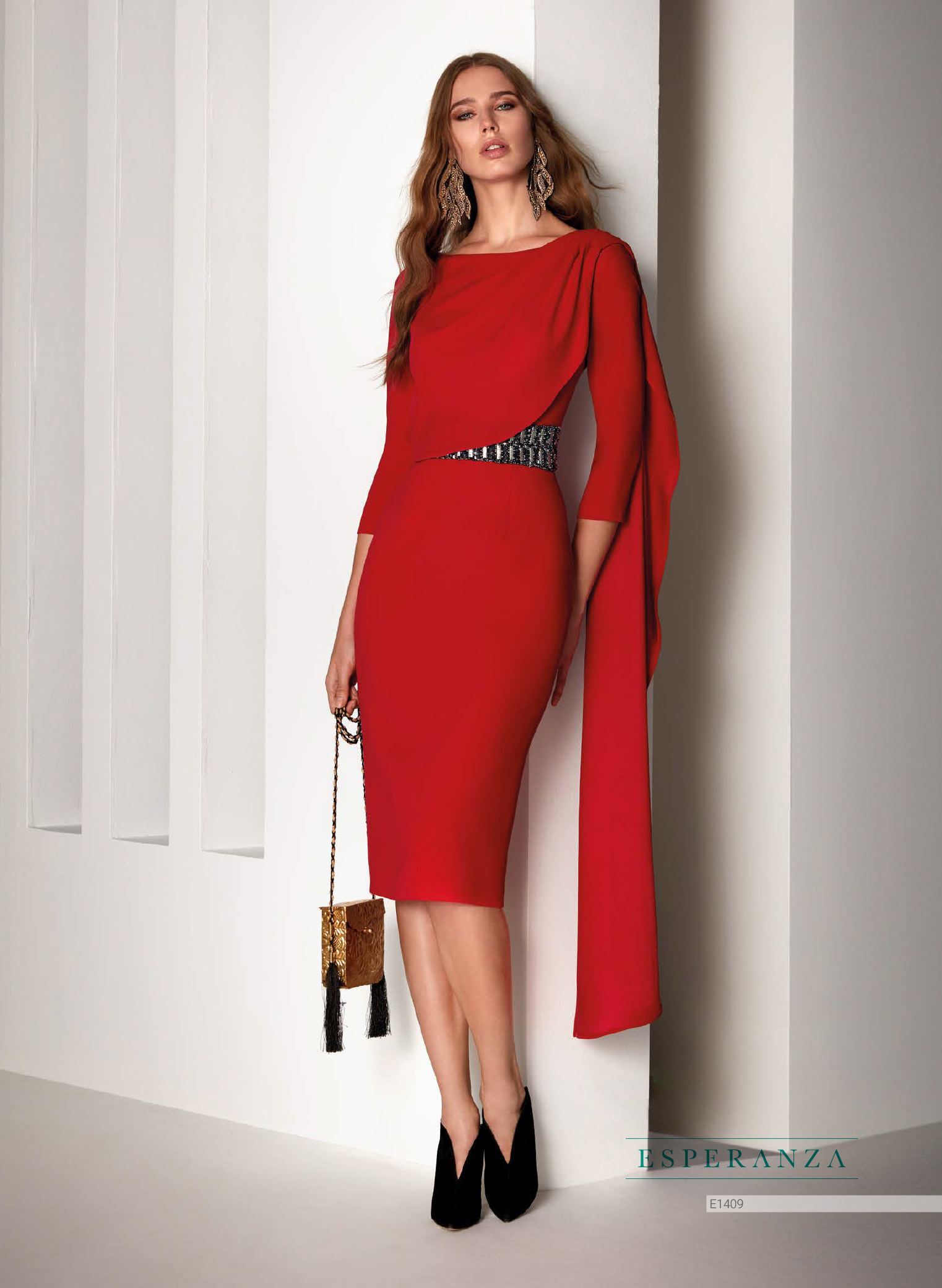 If you already know that you will be the mother-of-the-bride at that special wedding, of which you will also be the protagonist, we propose the Model E1407. A long mother-of-the-bride dress, with a mermaid silhouette, made in crepe and with French Chantilly sleeves, that combine with the ruffles that adorn the bodice. As sophisticated as it is flattering. Available in size 48.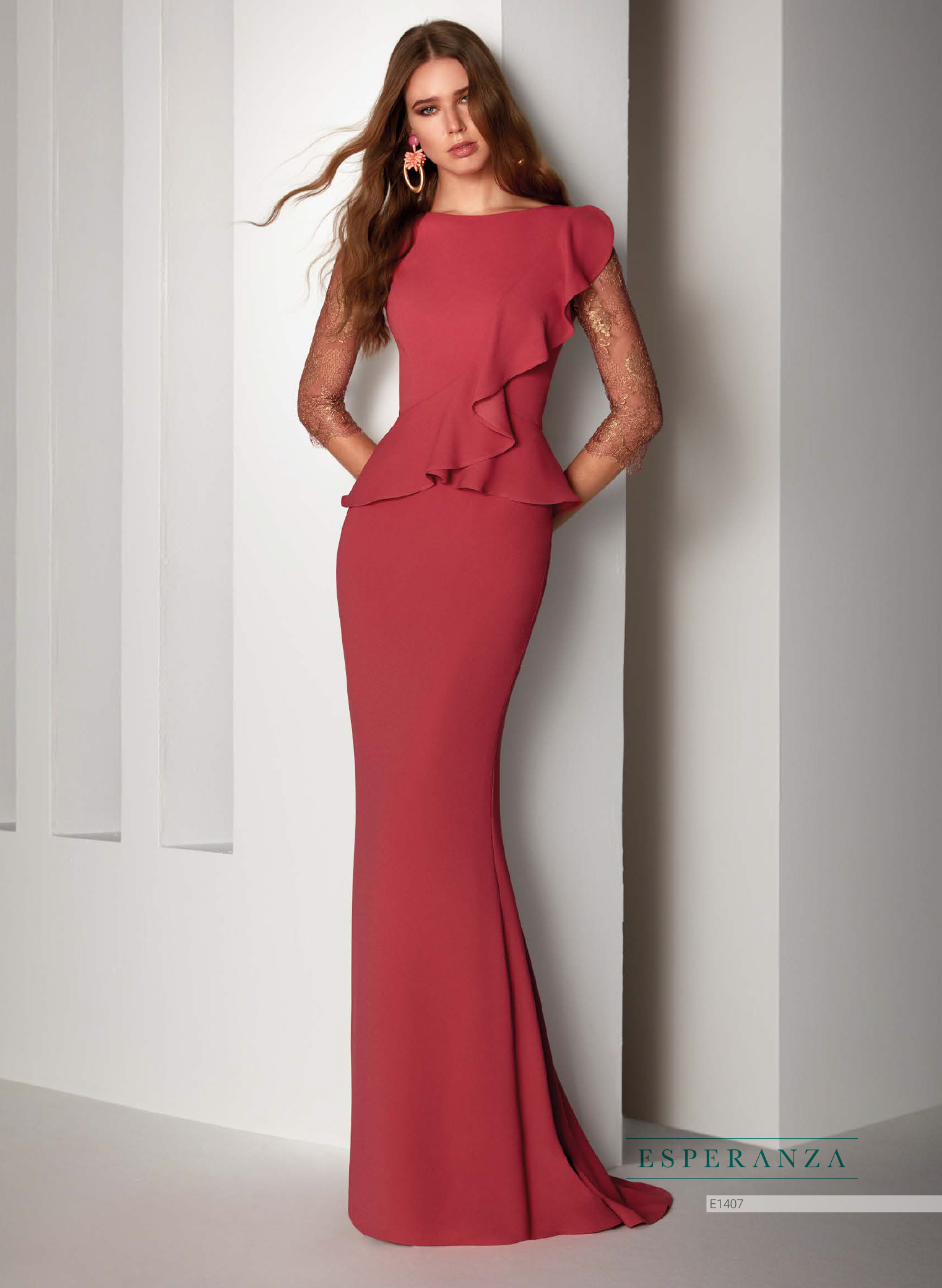 On our website you will find all the information regarding this collection. There you can purchase the one dress that you like the most. We leave you the link: higarnovias.com/gb/42-esperanza-by-manu-garcia