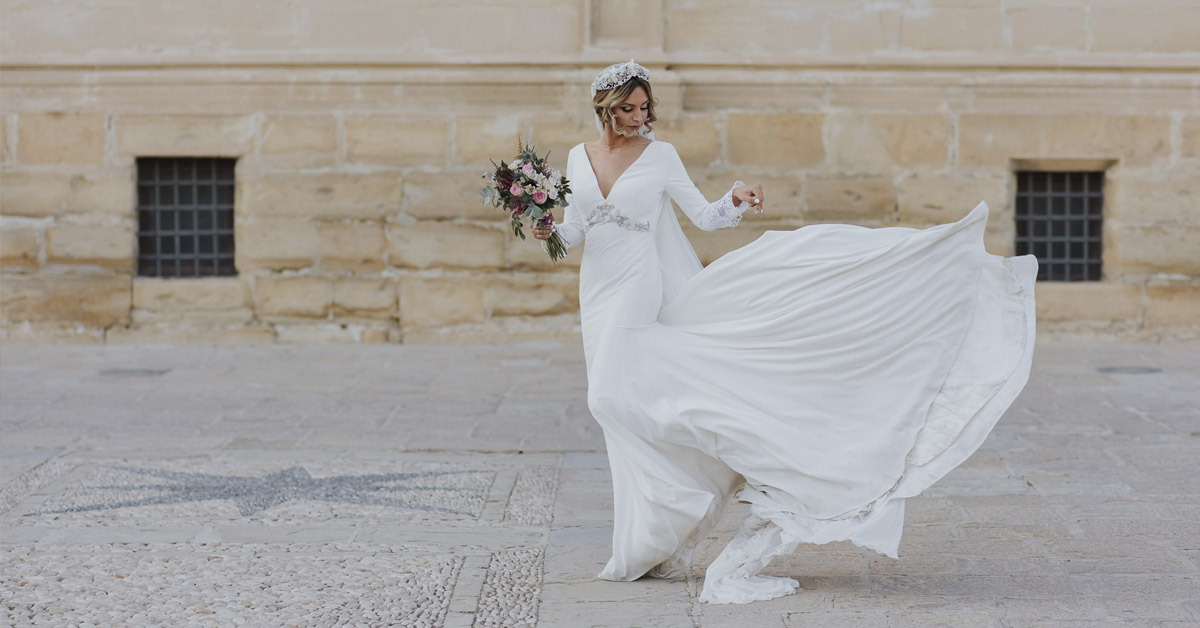 Monica has clear ideas, and here is her story. After having to postpone her wedding with Jose, her better half, due to the pandemic, finally on July 24, they said "Yes, I do" in Úbeda.
Monica, our new real bride, is a determined person, always with pretty clear ideas. She had in mind the style of the bride she wanted to be. A safe decision was who would accompany her to the choice of her wedding dress. Her mother, the most important woman in her life, with whom she is very connected. "Just by looking into each other's eyes we know if we have in front of us what we are looking for or not. We don't need anyone. We enjoy those moments together as if there is no tomorrow! ".
Thus, she only needed two models to try on, the ones she saw in Valerio Luna's catalog, to discover which one was to become "the wedding dress of her life." When she tried on the Cindy Model, a special climate was created, a wonderful and unique moment. When she looked up at the mirror, she saw herself reflected in it and she observed the look of emotion of her mother. "I felt what the girls who got married tell you… this is my wedding dress! It sounds very cliché when they tell you about it but… it happened to me. Cindy filled my senses. It was me, it was my model of the bride, I saw myself entering the Church dressed like this and in no other way ".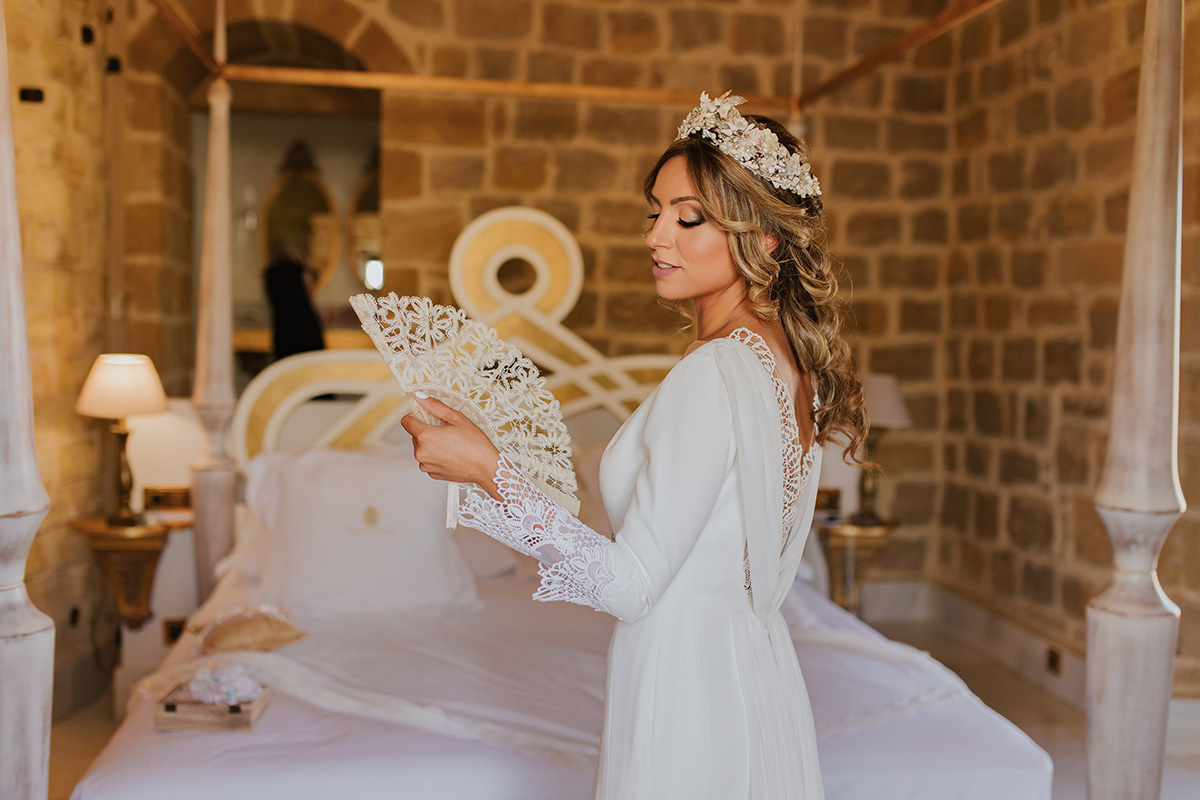 And it is so that the Cindy Model by Valerio Luna is a design that leaves you speechless. It draws a perfect and very feminine silhouette. Also stands out the infinite neckline on the back , delimited by delicate embroidery, that gives way to a spectacular train. Monica fell in love with its elegance, simplicity and at the same time the daring point of its "cool-classic" bride. "For the Church, she wanted to be a bride who would fill the altar with its stately train. Its fall gave a different touch to the traditional without diminishing the force with which it impacts".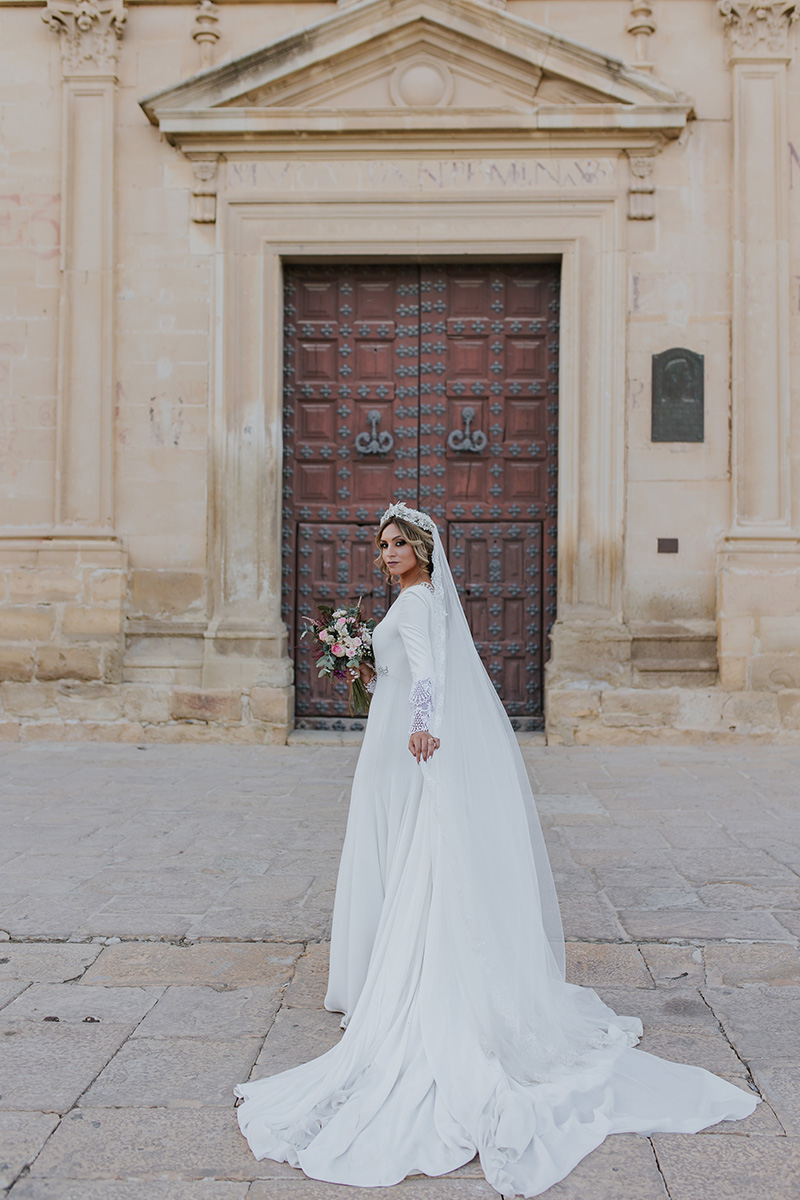 Captivated by her wedding dress, which she defines as "a delight", she cannot help but describe it: "the finish of the sleeves is pure magic, the matching veil, the front V-shaped neckline with the floral band under the chest, I still I remember the special feeling of the first day that I could try it on. In the blink of an eye I fell in love with the dress of my dreams ".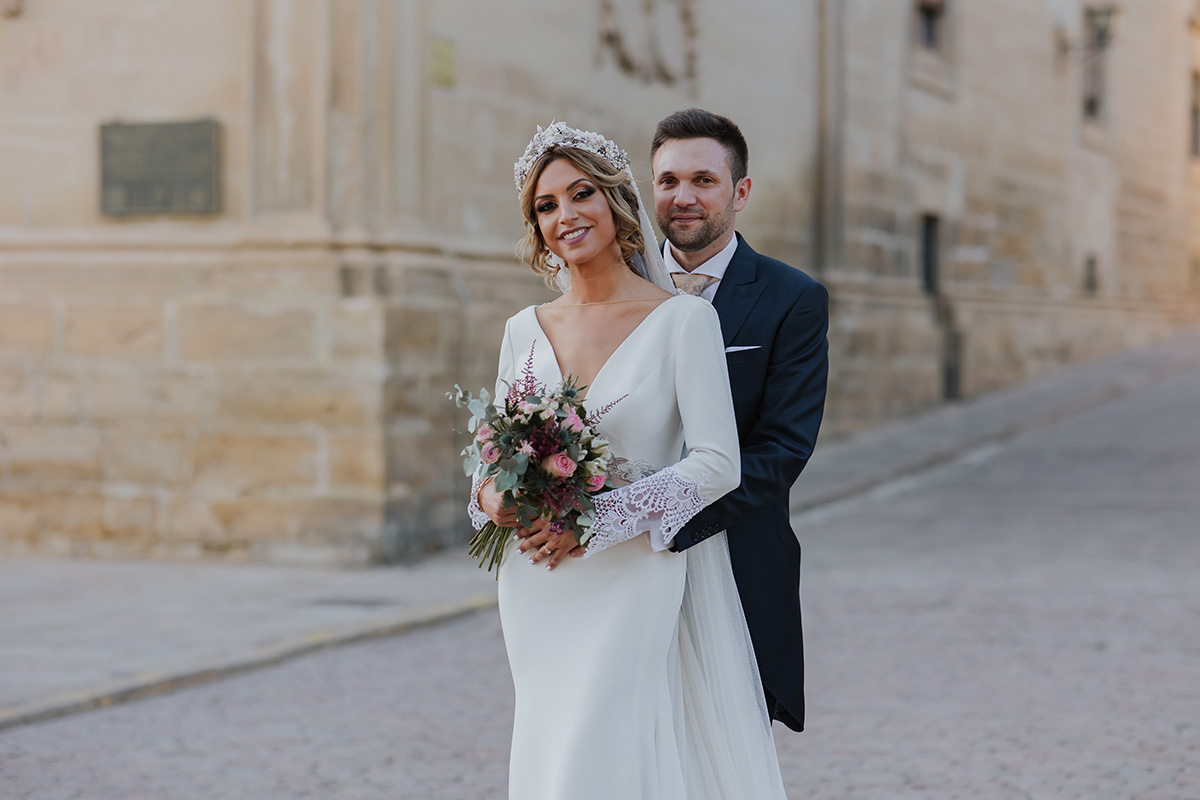 Later, and because they had to postpone the wedding several times, she decided to buy another wedding dress for the dance and the rest of the night. It was Valerio Luna's Carina Model, "a riskier design, and why not say it, more sexy! Its sensual back, its slit… Both dresses identified me 100%. And that July afternoon with Jose, there I found myself, it was me ".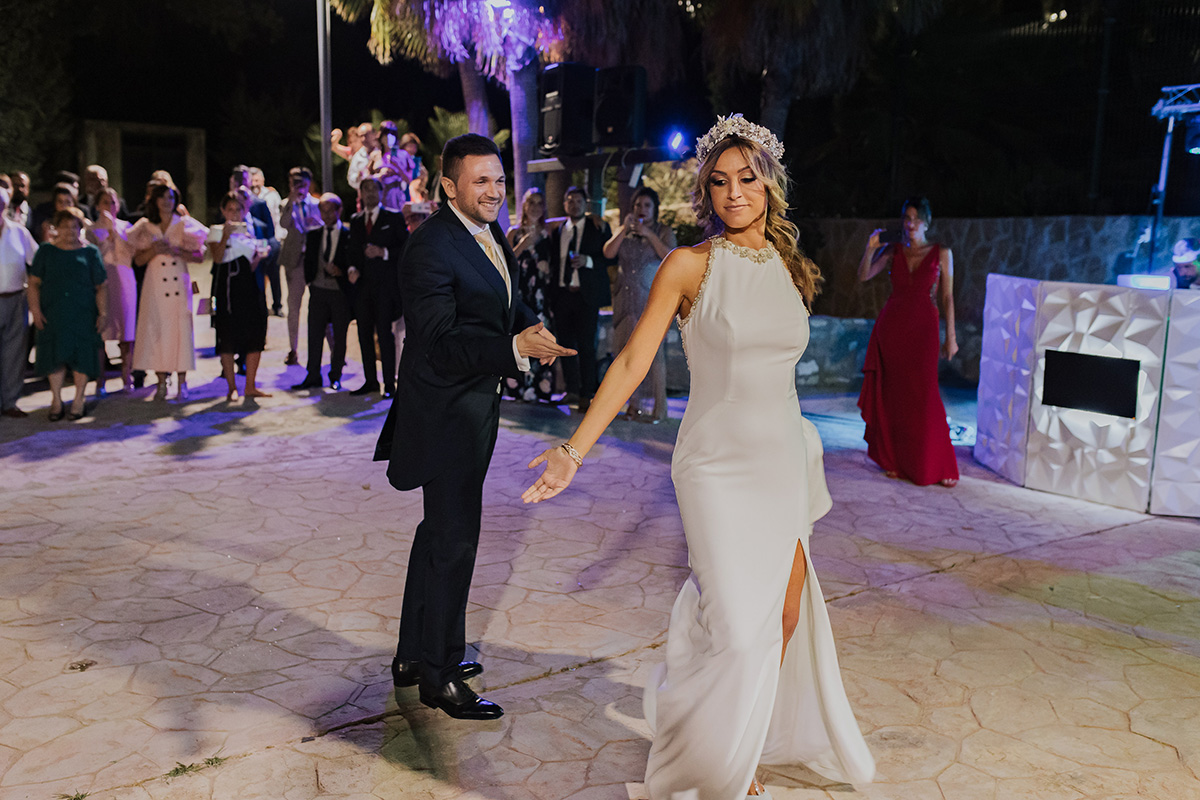 Monica remembers her wedding day exactly as it was in her dreams. A beautiful summer afternoon, with an ideal climate and surrounded by those who love her the most. "I felt comfortable, like on a cloud. I'm quite nervous, and until I saw myself holding Jose's hand at the altar, I didn't take a deep breath. I felt that the people who loved me that day demonstrated it with gestures of love, exaltation of emotions, which is not very typical in my family, since it is often difficult for us to verbally express that we adore each other ".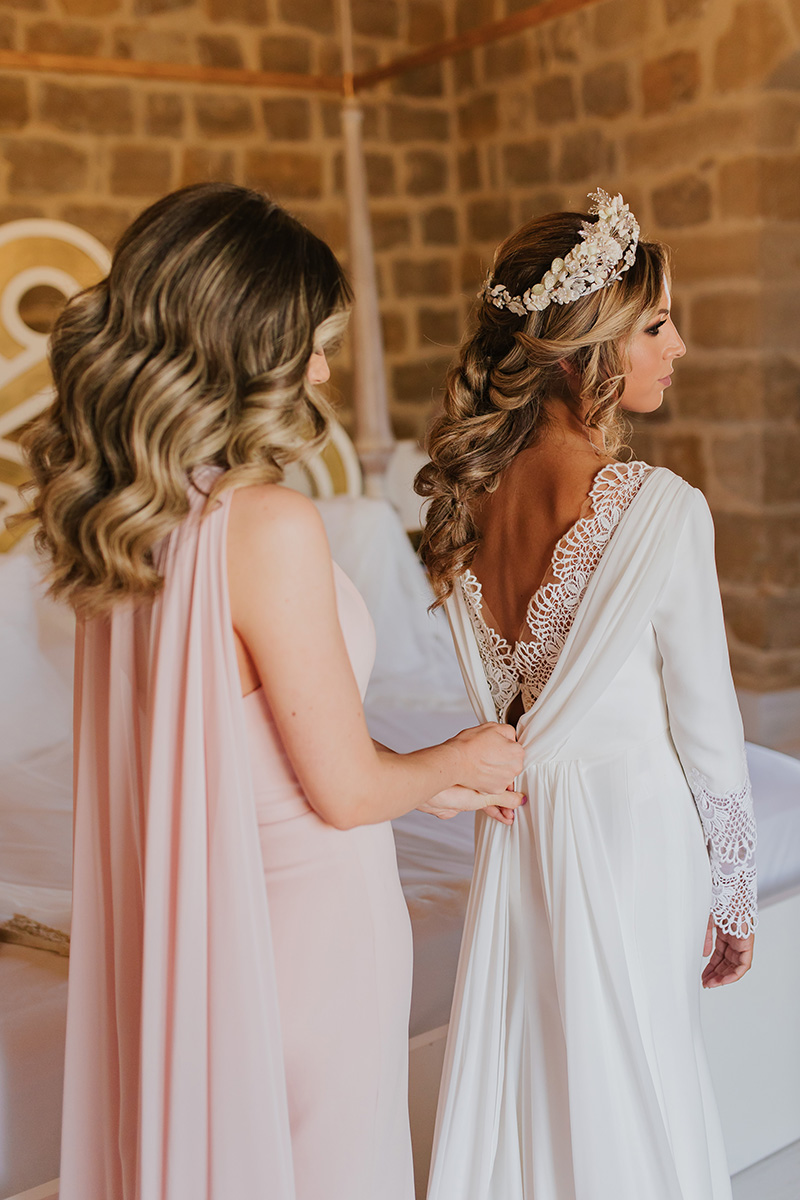 Happy and excited, she confesses that in her case it "was love almost at first sight, since we met in a work meeting, we began to know each other and from then until today. We have managed to form a beautiful family made up of two personalities".
Congratulations Mónica & Jose, may you be very happy forever.
Make-up artist: Alejandra Echevarria's armchair
Hairdresser: Carmen Torres Stylist
Photographer: Carlos Martín Photography