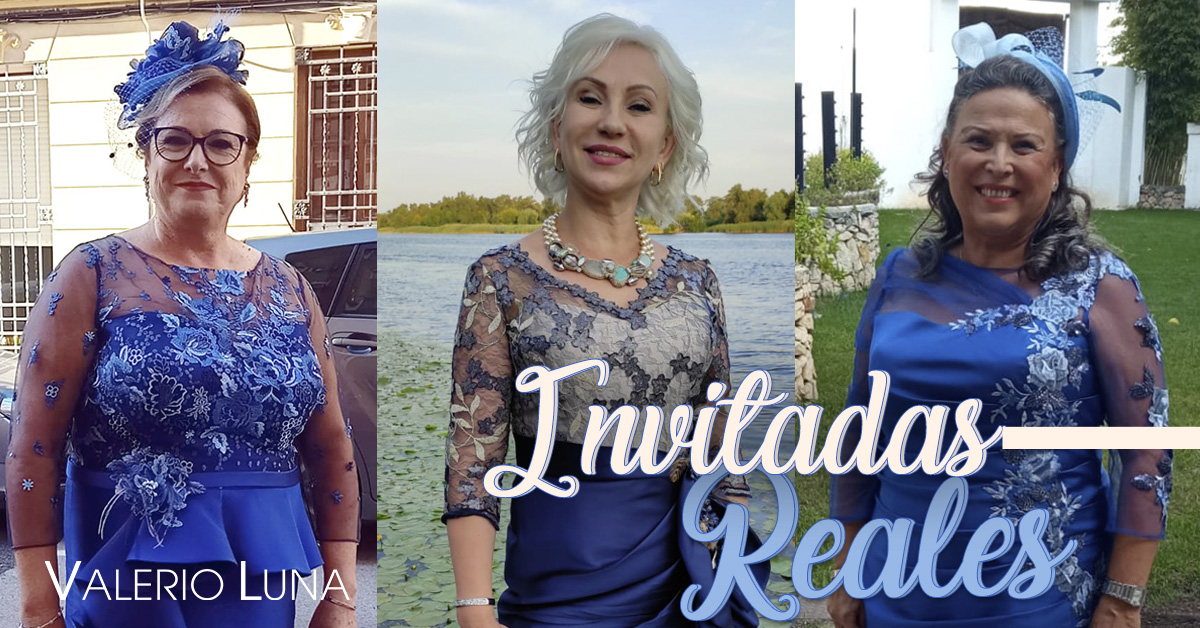 Valerio Luna's short cocktail dresses are ideal for a guest look for any type of wedding. Many of our clients choose them to show off at that long-awaited event, for which they have prepared so much.
What all the elegant real guests that we show you today have in common, is the choice of a blue cocktail-type party dress. A very flattering tone and always a successful one. We talked about this color in a previous post, entitled Blue cocktail dresses in the Valerio Luna collection.
Our client Fátima Castañer has chosen the Model VL5048, a short turquoise blue cocktail dress, made of silk pique, with a V-neckline and elegant French sleeves in illusion tulle and beading. To complement it, she chose a fine headdress, with which she achieved an ideal style.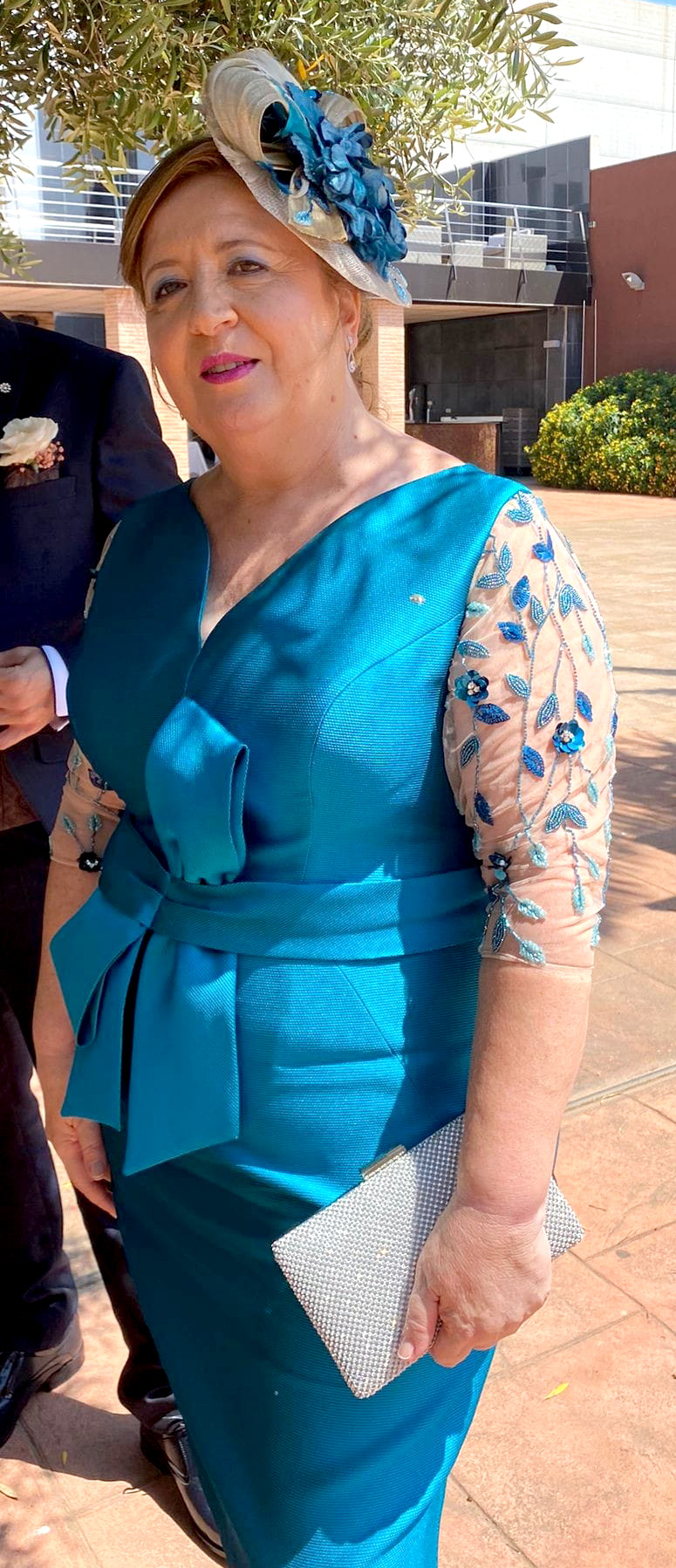 Luisa Martínez decided for the Model VL5111 for her daughter's wedding. A cocktail dress, made of silk piqué and embroidered tulle. Its embroidered bodice, with bateau neckline and French sleeves, enhances the waist. Luisa wears a very refined look, in which the fitted skirt creates an original pareo effect and is finished off with a ruffle in the same fabric. Stylish and timeless.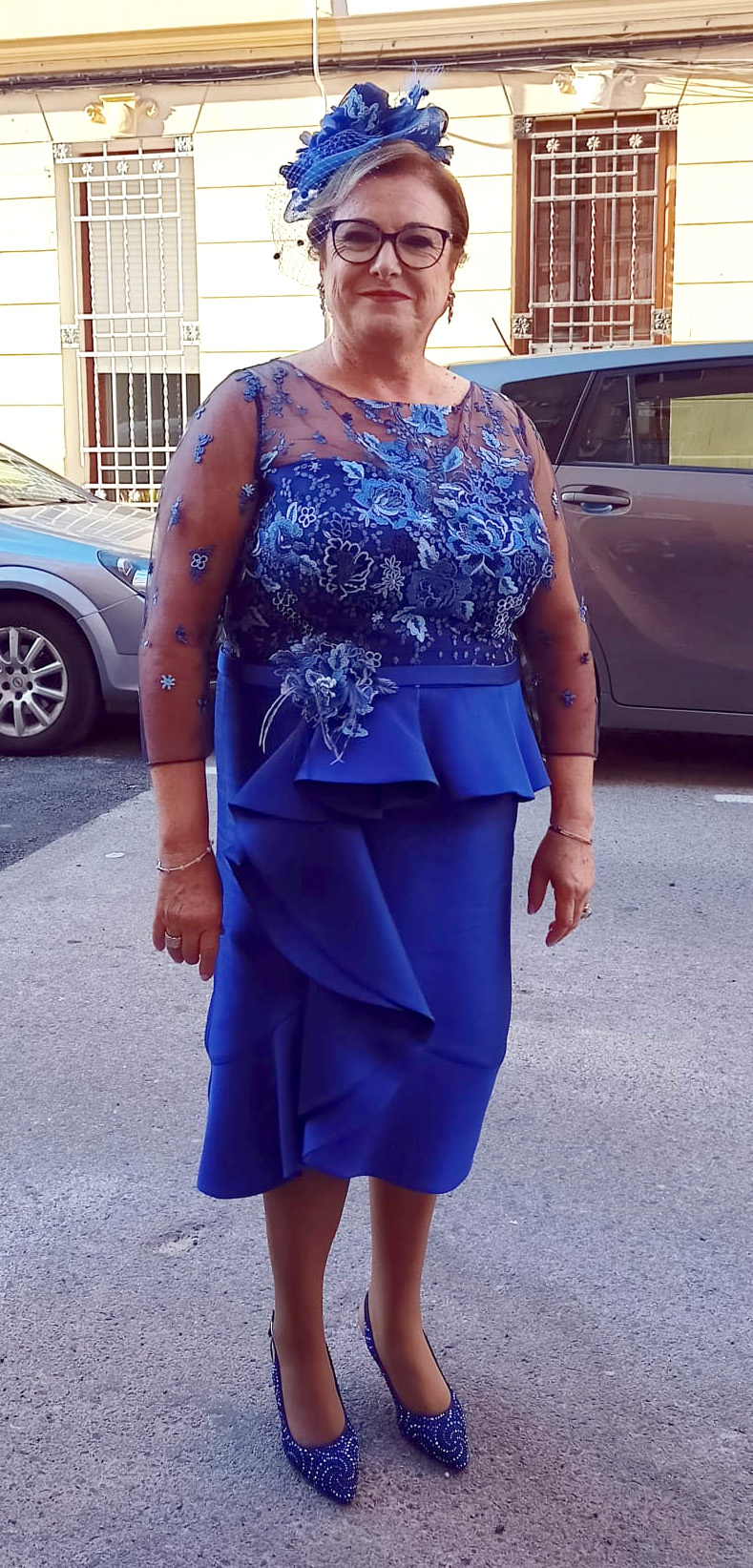 Mª José Díaz looks very elegant with Model VL5144, a short blue cocktail dress with a piped line, made of piqué. Its pleated bodice, with a V-neckline and transparent French sleeves in rhinestones, enhance the femininity of the design. Its lined belt, from which a pleated peplum is born, encircles the waist. In addition, Mª José decided to open the tubed skirt and to decorate it with a ruffle. Bold and flawless.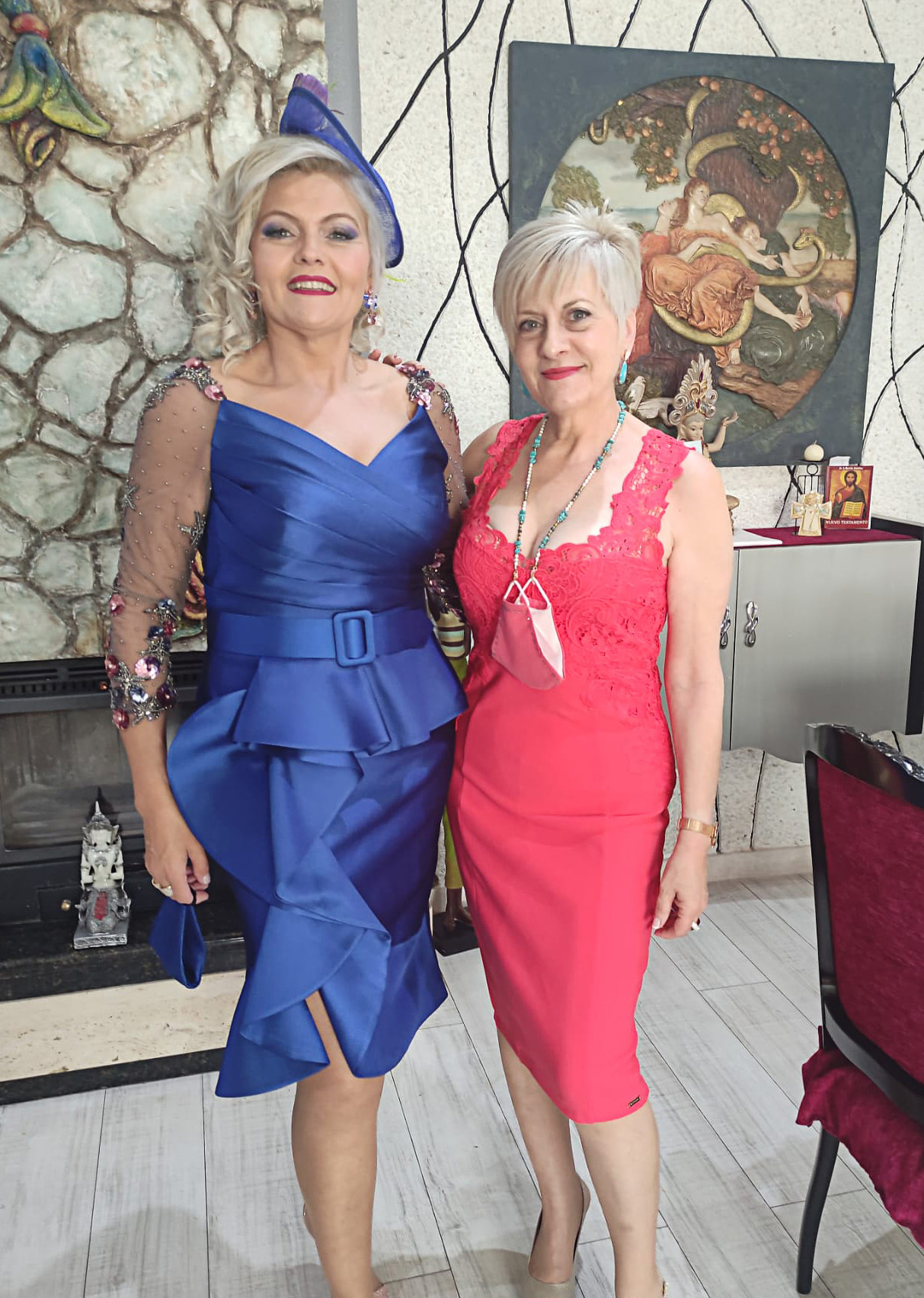 Pepa Durán, beautiful and smiling, shows us her guest look with Model VL5041. A tubed cocktail dress in royal blue, with floral-inspired embroidery on tulle, with metallic thread. On the front of the design, there is a fine floral embroidery, that runs through the fabric, which has very flattering pleats. We are sure that Pepa caused a sensation at the celebration.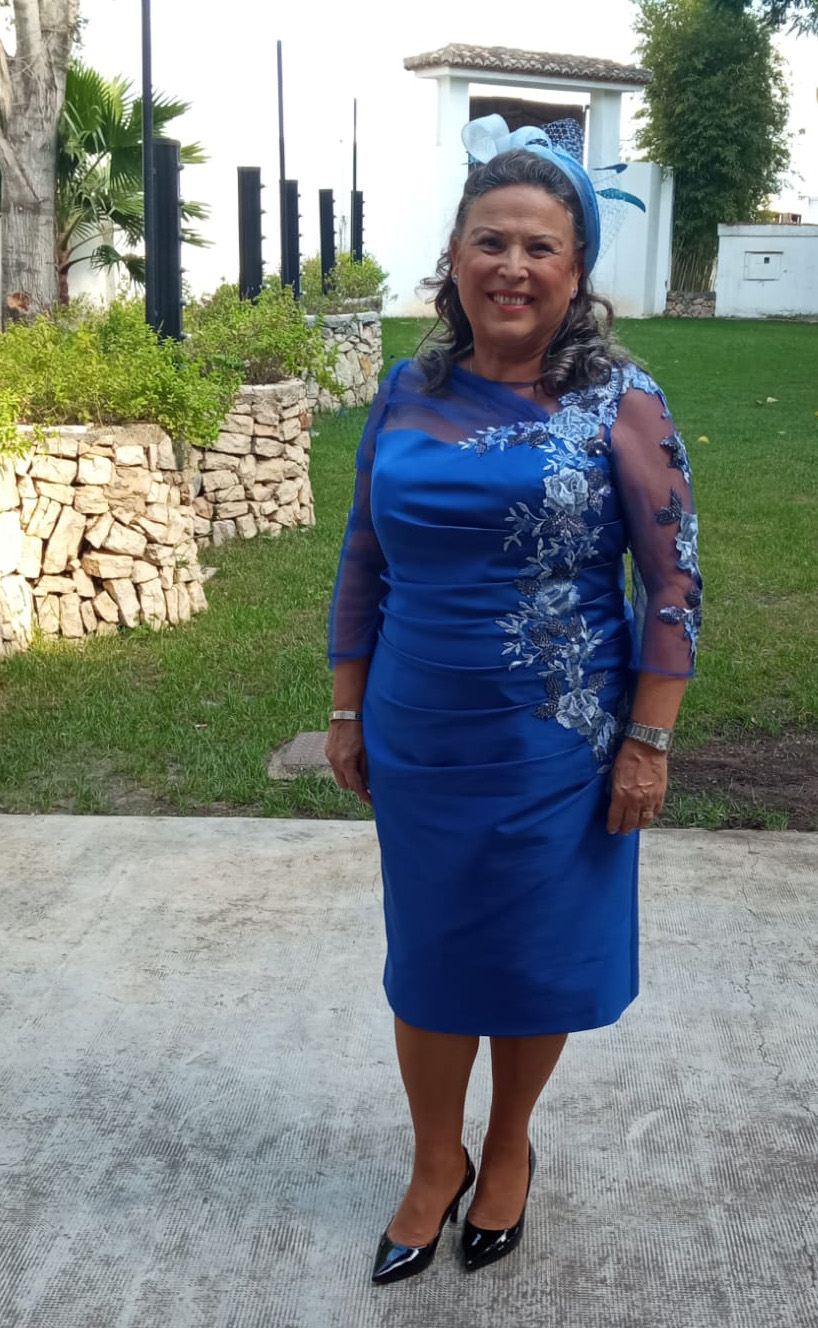 Vitalina shines splendidly in Model VL4924, a short cocktail dress with a pencil skirt in silk piqué. Stands out the original gathering in the form of a ruffle, that comes from the waist on one side. The dress features front V-neckline in embroidered tulle and a wide neckline at the back. Sophisticated and elegant.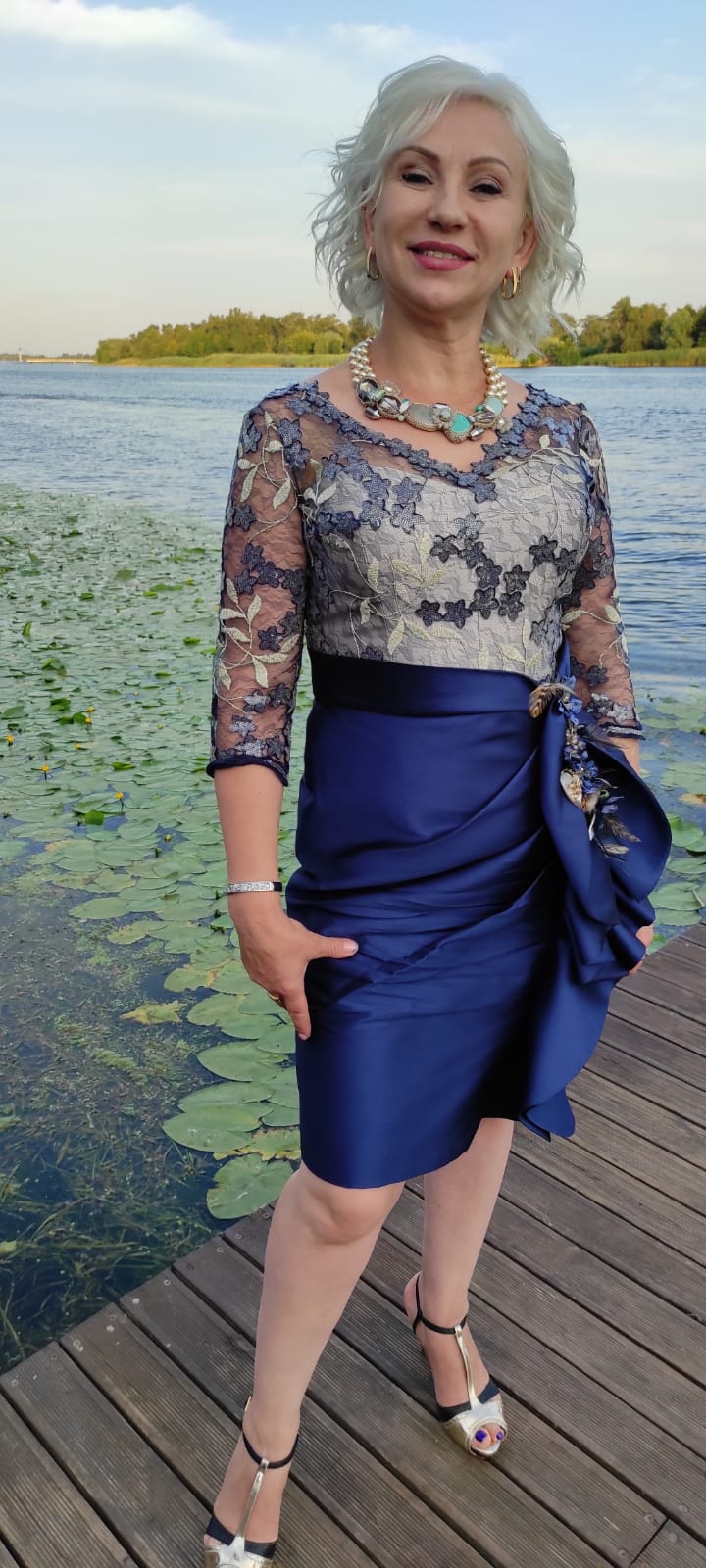 Have you fallen in love with any of these cocktail designs?
Make an appointment at any of our Valerio Luna stores of the HigarNovias Group and live with us the experience of choosing your dream cocktail dress.
HIGARNOVIAS
www.higarnovias.com/es/
C/ Portales Nr. 4. Fuente Palmera
Phone: 957 63 86 88
Whatsapp 673 329 646
info@higarnovias.com
VALERIO LUNA
www.valerioluna.es
BARCELONA 932 922 451
MADRID 672 220 576
MÁLAGA 952 213 833
VALENCIA 963 943 672