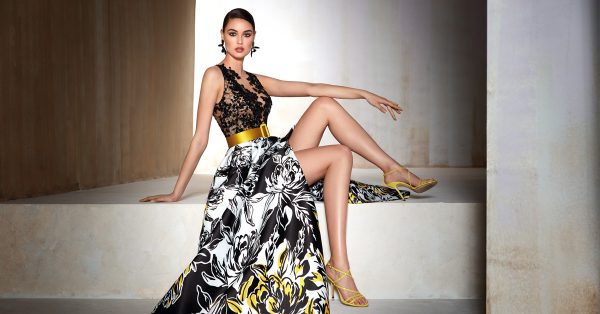 With spring and good weather the celebrations increase, so there is more and more need to find your ideal cocktail dress. It is the season of communions, and with good weather as well, more weddings and baptisms are celebrated.
We have adapted ourselves to a life with mask, social distance, hydroalcoholic gel, schedule changes, because we have to move on. We have resumed social relationships, always with caution and being responsible. Therefore, you are looking forward to attending that special event that you have been invited to and that you will enjoy more than ever.
Long or short cocktail dress? Now you have to look for that cocktail dress that favors you the most. Choosing a cocktail dress from a wide selection available is an arduous task, and can even be hard. You may not have a clear idea of ​​the dress that you would like to wear, that you have researched the web without too much success, however, you have found the style that you would like to try on.
At HigarNovias we advise you and we help you to choose it. In our stores you will find a wide variety of styles, fabrics and colors; our own and original handcrafted designs, in which we take care of every detail and employ the fabrics of the highest quality, creating designs for all types of women.
We listen to your ideas, your tastes, your favorite colors or that skirt silhouette, with which you would like to see yourself. We show you the designs that are most suitable for you, those that we think will favor you, and you try them on. It is possible that you have fallen in love with the skirt of one model, but the bodice of another feels better and the French sleeves of a particular design have you fascinated. Don't worry, because we personalize and design made-to-measure, so that the garment is perfectly adapted to your body, and so that you feel the perfect guest. Our goal is that you feel special with your exclusive cocktail dress personalized especially for you.
Designed and manufactured in Spain, our cocktail dresses are made with original patterns that combine avant-garde and tradition. Based on our extensive experience, and always thinking of you, we design models where the most important thing is elegance and comfort, since you will spend several hours with it, and the best is to enjoy your dress, in addition to looking radiant for the occasion.
In HigarNovias, we also complete your look with our headdresses and handbags, handmade with the same fabric as your cocktail dress, and incorporating details such as 3D flowers, feathers, fringes or rhinestones, following current trends.
At HigarNovias we offer you experience, technology, quality and 100% national manufacturing. We carry out the tests that are necessary to achieve a perfect result and we guarantee speed and punctuality in the shipment. So that you only have to worry about enjoying the event and spending an unforgettable day.
Do not hesitate to ask for your safe appointment, we are looking forward to assist you and to advise you.
HIGARNOVIAS
www.higarnovias.com/es/
C/ Portales Nr. 4. Fuente Palmera
Phone: 957 63 86 88
Whatsapp 673 329 646
info@higarnovias.com