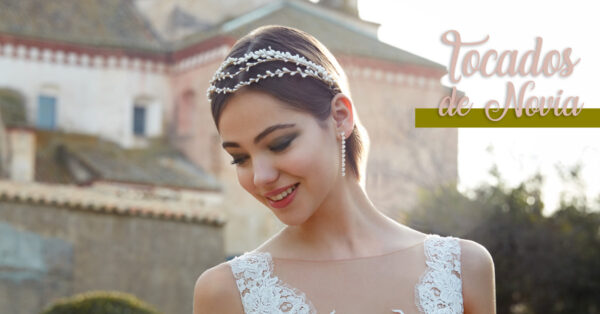 More and more brides decide to wear, as a highlighted accessory, a delicate headdress accompanying the veil, or a more original and more prominent adornment to replace it. That is why the headdresses have become an indispensable accessory.
The history of the headdresses dates back to Ancient Egypt, where both men and women adorned their heads with flowers and simple ornaments. But it is in the 20s and 30s, when the headdresses take on a great prominence. After the First World War, fashion resurfaces with great success.
Crowns, tiaras, barrettes, multiple options that you can customize to make your bridal look perfect. It will be a unique and exclusive piece for you, that will also transmit your personality.
An important advice that we give you is that, once you have found your ideal wedding dress, think carefully about this accessory. What do you like, which one will suit the wedding dress best, where it will be placed and what its function will be. That is, if you prefer it to be simple or more elaborate. If you have already decided on your hairstyle, you should choose a headdress that conforms to it. You will also have to take into account if it will help you to hold the veil,  whether it will adorn your hair once you remove the veil, or it will be the accessory that you will wear during that long-awaited day.
Therefore, when you do the hairstyle test, take your wedding headdress with you and agree with your hairdresser where and how it will be placed. And if you need someone to help you put it on, once the veil has fulfilled its function, ask this person to accompany you to the test. In this way you assure that you will continue to look perfect throughout the celebration.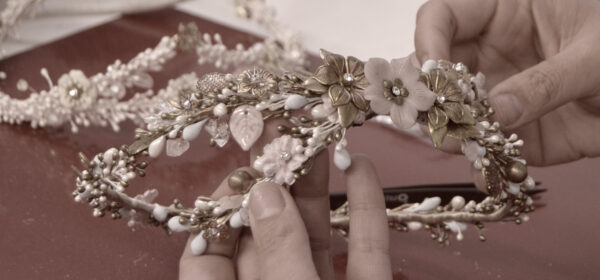 At HigarNovias we handcraft the ideal headpiece for your wedding dress. Let yourself be advised by our expert team, who will offer you multiple options, always adequate to the style of the wedding dress that you have chosen.
We show you a selection of these headpieces:
Pin-shaped
If you like minimalist and delicate pieces, opt for one of our bridal hair clips. You will find them in all styles and shapes, and they look great on semi-updos and hair up.
Double headband
If you are going to wear a veil, this type of headband is a very good option, because it is ideal both for collected and loose hair.
Thin headband
This headdress suits all brides and goes with any hairstyle. That is why it is one of the most demanded, for being as elegant as it is sophisticated.
Tiara effect
If you are a daring bride, you will love these stylish headbands. You can add it with a touch of color, giving originality and magic to your beauty.
Jewel headdresses
If you are a classic and glamorous bride, at HigarNovias you will find headdresses with crystals or rhinestones, that will make you shine.
Make your appointment at HigarNovias to choose your ideal wedding dress, along with the perfect headpiece for it. We'll help and advise you on everything that you may need.
Customer service telephone numbers:
HIGARNOVIAS
www.higarnovias.com/es/
C/ Portales Nr. 4. Fuente Palmera
Phone. 957 63 86 88
Whatsapp 673 329 646
info@higarnovias.com