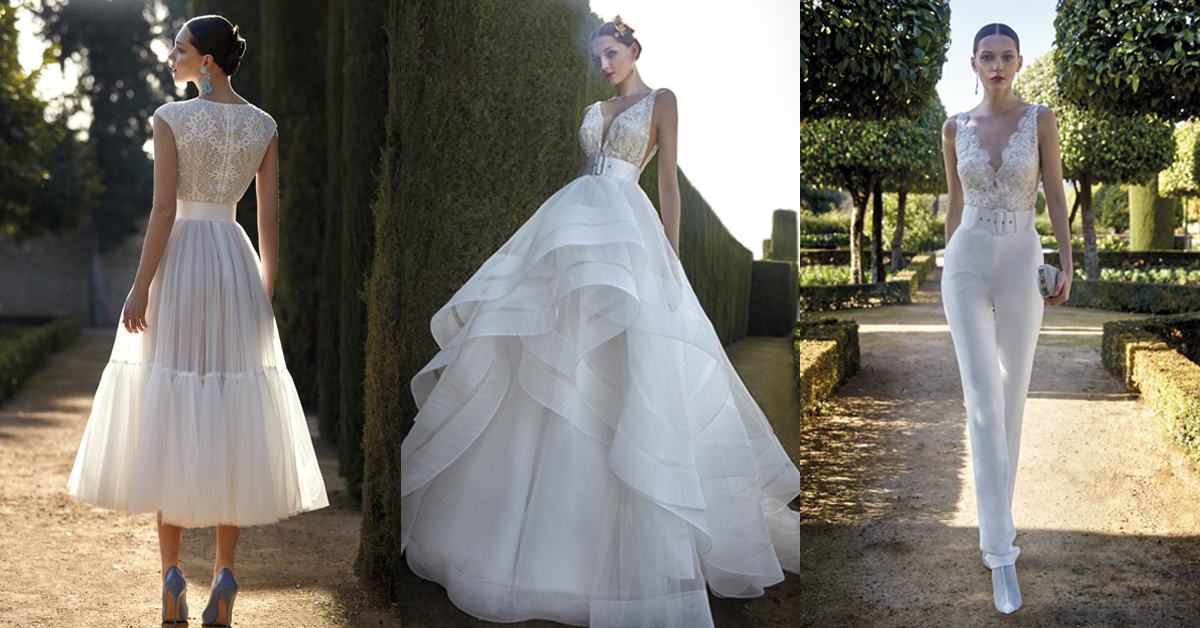 Today we can find wedding dresses of countless styles. From princess style to mermaid cut, passing through A-line ones. The most demanded wedding dresses are usually those with traditional designs. However, there are brides who want to go one step further and look for a more original option for this big day. Does it ring a bell?
There are brides who prefer that classic touch, provided by the mermaid or princess cut, ideal styles to be perfect on your day. But if what you are looking for is to say "yes, I do" to your partner by being the most groundbreaking and original bride, at HigarNovias we present you some outfits from the new "Azahar" collection by Valerio Luna, with which you will feel "love at first sight".
The first option with which to go mouth-watering, is a fabulous wedding dress with a wonderful tulle skirt. This is the Ficus Model, an ideal dress for those brides, who want a design full of fantasy. The spectacularity of its pattern, as romantic as it is unique, can be seen in its dreamy skirt, with a princess cut and asymmetrical ruffles. Its V-neckline, both at the front and at the back, ends in a tight belt, that will make you the most special bride.
If you want something lighter and more comfortable, with less volume but without losing the grace of movement, the Flavia Model is undoubtedly yours. A youthful princess-style midi dress with a lace bodice, it has everything you were looking for, without knowing it. Its elaborate pattern, embellished with floral motifs, combines perfectly with its tight silk piqué belt. A garment, that will undoubtedly attract the gaze of all the guests, thanks to its most original touch: a tulle midi skirt, with powerful volume.
And if the dresses are not your thing, and what you want is something more risky, you will find the best alternative in the Fergie-Set Model. A marvelous bridal ensemble, that unites a lace bodysuit, embellished with embroidered crystal appliqués, and straight crepe pants. The perfect design, with which you will succeed on your wedding day. A daring but elegant model, for a fun-loving and groundbreaking bride.
Did you think that you would not find a unique and personal model, that is ideal for you? After having seen these original designs by Valerio Luna, we are sure that you have felt a crush.
Request your appointment, and we'll advise you on everything that you may need to find the wedding dress of your dreams.
HIGARNOVIAS
www.higarnovias.com/es
C/ Portales núm. 4. Fuente Palmera
Tfno 957 63 86 88
Whatsapp 673 329 646
info@higarnovias.com
VALERIO LUNA
www.valerioluna.es
BARCELONA 932 922 451
MADRID 672 220 576
MÁLAGA 952 213 833
VALENCIA 963 943 672