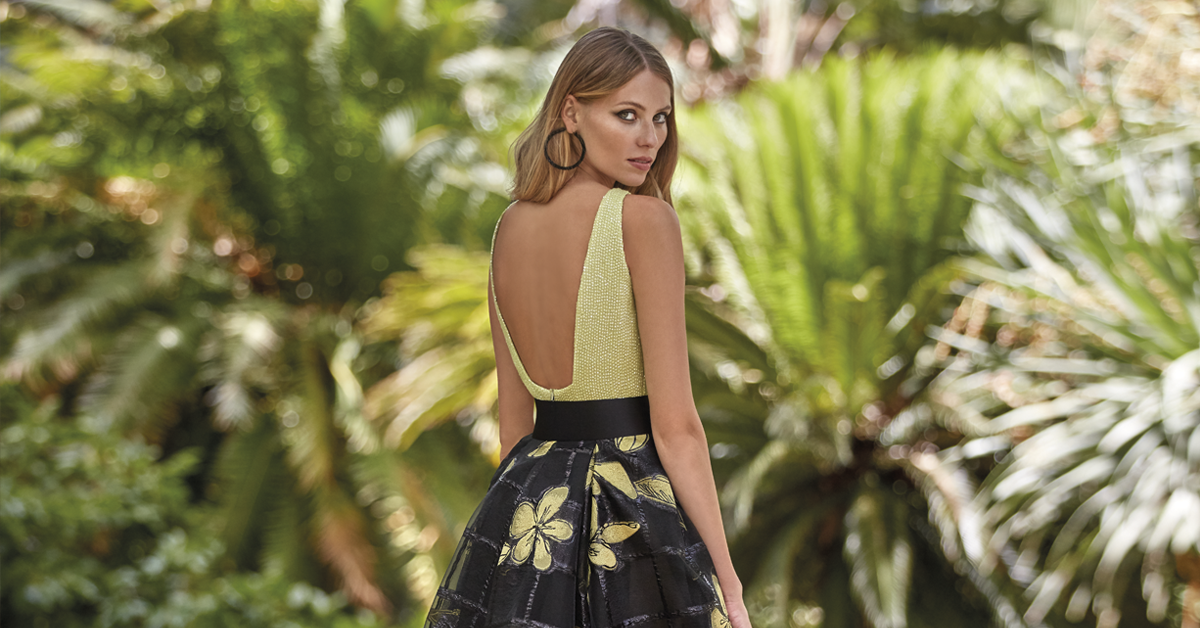 From the same exquisite and elegant fabric, we design not only a long cocktail dress for your evening event, but also a cocktail dress for a daytime wedding. We create two different models, but always impregnated with the essence of HigarNovias, in which we take care of all the details.
Craftsmanship and customization meet each other, to make our clients' dreams come true. Thus, today we present you dreamy designs that are based on two spectacular printed organza fabrics, for that very special occasion that you are so much looking forward to celebrating.
4 cocktail dresses, in which stands out the subtle elegance, provided by the top-quality fabrics and finishes, with which we make each of our pieces.
We start with the Model MG3316 by Manu García, from his Brisa collection. An A-line cocktail dress, made of brocaded organza, very silky and soft to the touch. An original design, suitable for any night celebration. Its asymmetrical neckline perfectly combines with large floral decoration on one of the shoulders. Its waist is finished off with a striking belt in a forest green tone, that will enhance your silhouette. A wonderful design, with which you will not go unnoticed.
In this same brocaded organza fabric, we show you the Model MG3317, the short design, with puffed sleeves and an open bateau neckline at the front, that is complemented by a spectacular opening at the back. It also includes the embellishment on the shoulder, which elevates this design to the category of haute couture, like the previous one.
For two of his creations, Valerio Luna chooses a dazzling floral fabric, to make two unique cocktail dresses.
The seductive cocktail dress, the Model VL5218, crafted in soft brocaded organza, stands out for the elegance of its sheathed cut, and is perfectly complemented by the cascade of ruffles on the skirt, that gives it a sophisticated touch. The belt, that adorns the waist, acquires a great prominence, because it will accentuate your figure, together with its open bateau neckline.
The long version is the Model VL5219, a captivating cocktail dress, that will make you feel very special due to its original bodice and its light skirt, made of brocaded organza. Its A-Line silhouette favours any woman, regardless of her figure. Its bateau neckline, adorned with a flower and feathers, gives it a very feminine style. You will simply shine with it.
And to be the perfect guest, choose a total look with our cocktail accessories.
Ask us for an appointment, and we will advise you on everything you need, so that you could wear the cocktail dress that best suits you.
HIGARNOVIAS
www.higarnovias.com/es
C/ Portales núm. 4. Fuente Palmera
Tfno 957 63 86 88
Whatsapp 673 329 646
info@higarnovias.com
VALERIO LUNA
www.valerioluna.es
BARCELONA 932 922 451
MADRID 672 220 576
MÁLAGA 952 213 833
VALENCIA 963 943 672
MANU GARCÍA
www.manugarciacostura.com
BARCELONA 932 922 451
MADRID 91 366 28 80
OVIEDO 98 523 17 20
VALENCIA 963 529 706