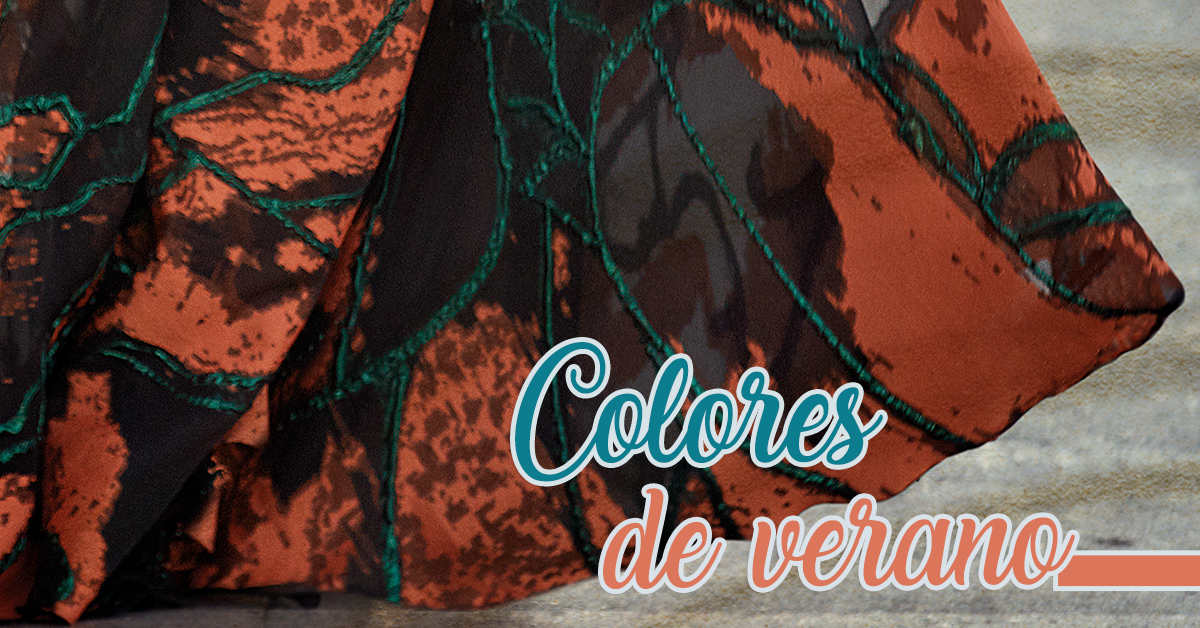 Today is already summer, a season during which the heat and the longer days make us want to wear bright colours and light fabrics. And so, the fashion catwalks show us vibrant, daring colours that invite us to party and to have fun.
After two years of the pandemic, more than ever we want to find happiness in a world that is changing every day. A good starting point for this is our own styling.
Are you looking for a cocktail dress for a summer event, in which you want to surprise? If so, stay tuned for today's blog post. We bring you the trendy colours that we like the most for this summer and 4 spectacular designs that, without a doubt, will make you fall in love with and you will want to try them on in one of our cocktail dress stores.
Butter or butter yellow
Yellow is a colour that arouses passions for the most daring. More simple girls like it less. However, the tone that we bring you – Butter, will delight all women, because it is a creamy tone that tends towards gold. A colour that comforts, that fills us with energy and that combines perfectly with intense pastels, as we propose in our Model VL5221.
Valerio Luna creates this sensational, romantic, and sensual cocktail dress. It is made of an original shiny mesh fabric adorned with a very showy embroidered tulle, that makes it special. Added to this is the sensuality, provided by the tight bodice with a deep neckline, that gives way to a full-volume skirt with an infinite side slit. This very special design is completed with a striking belt in an intense pastel colour in Malibu Blue, another of the trend colours that we propose.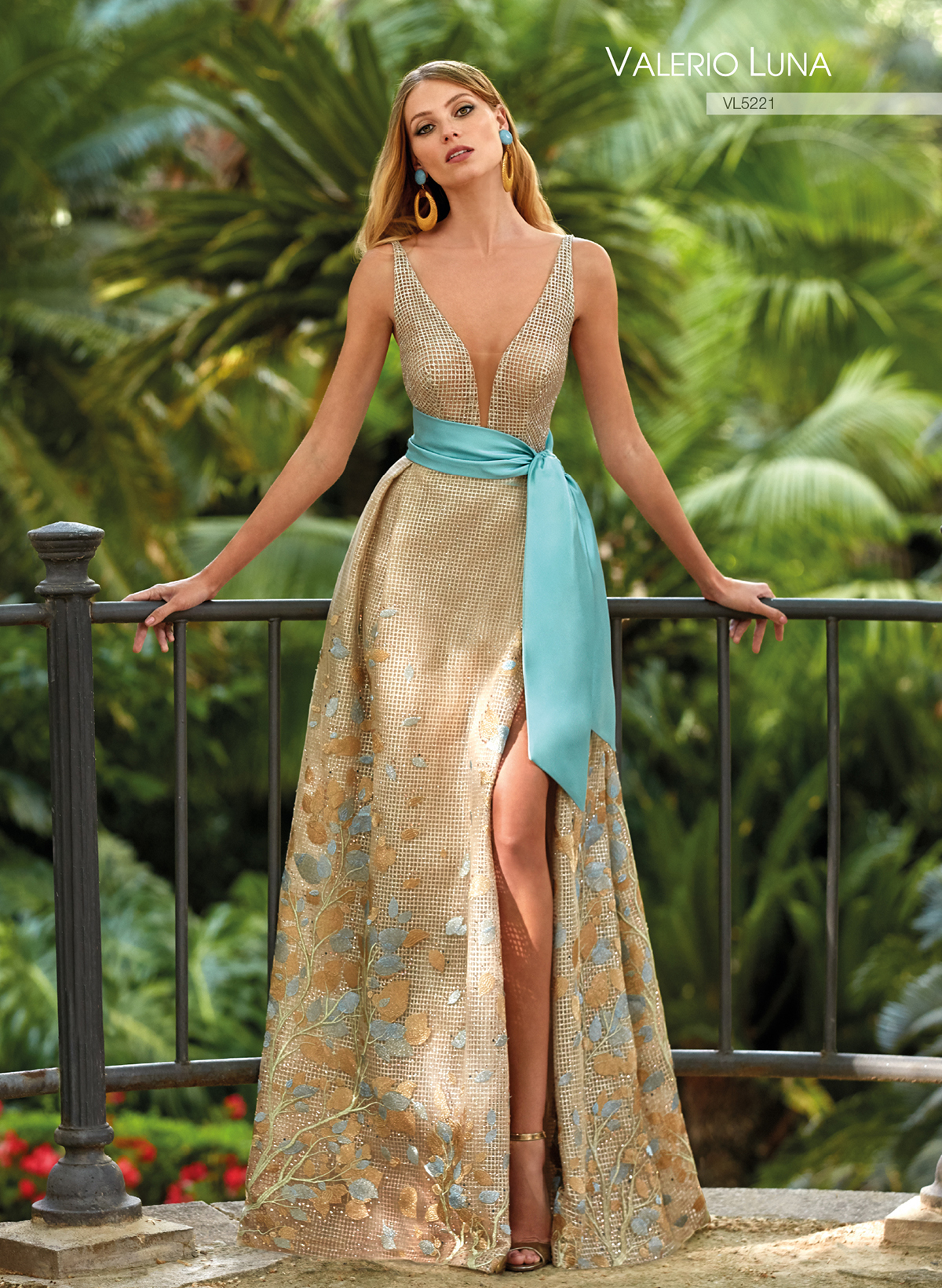 Malibu Blue
A very striking and fresh blue tone, ideal to wear in summer. This colour, from the turquoise family, is a colour with which you will not go unnoticed. It transmits serenity and positivity, making it ideal for a perfect guest dress.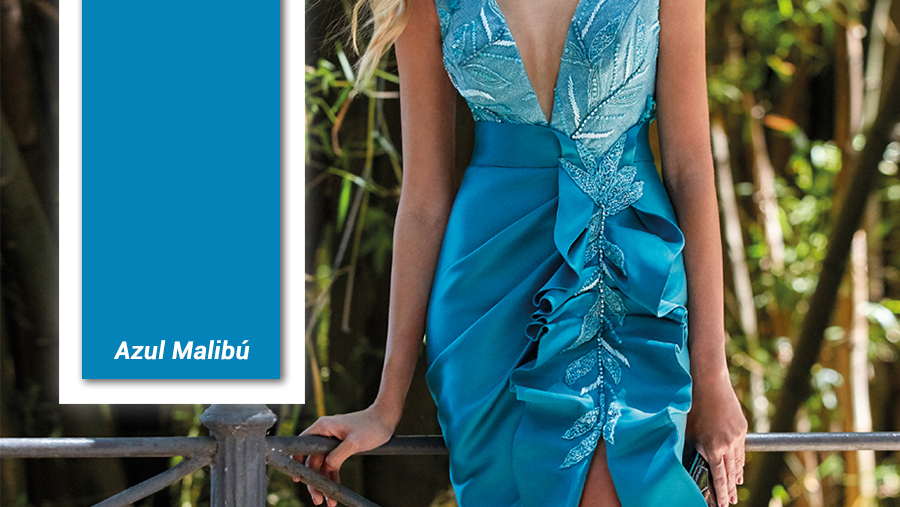 In this tone we propose the Model VL5206. A romantic and sophisticated design, made of exquisite, embroidered tulle with rhinestones. Its wide straps outline an exquisite back with spectacular neckline, giving way to a mermaid-style skirt in silk mikado. The finish on the front will flatter your silhouette thanks to the original draping, with ruffles in the same fabric.
Coral Rose
Another of the trend colours that we fall in love with is Coral Rose. An orange tone, revitalizing, romantic and floral. We say floral because some characteristic summer flowers show off this harmonious colour, such as begonias, snapdragons or marigolds, among others.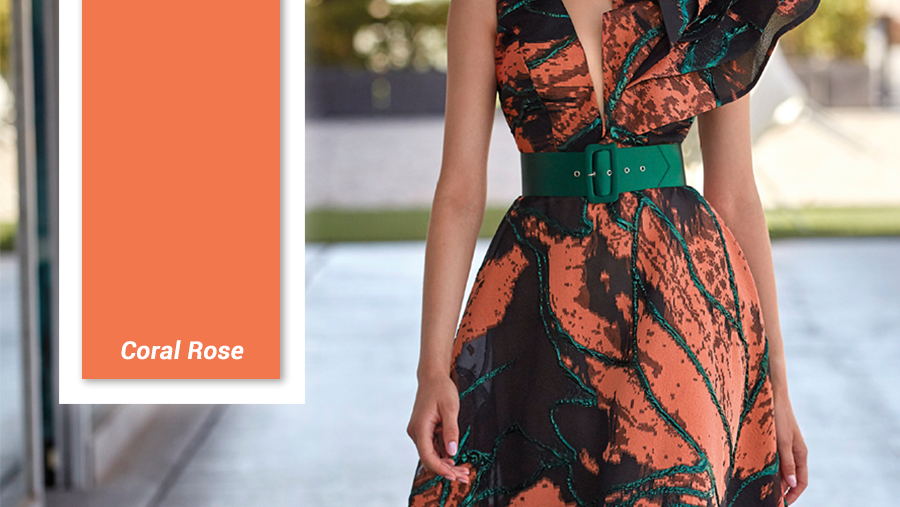 The coral colour combines perfectly with green in any of its varieties. That is why we propose the Model MG3316 by Manu García. An A-line cocktail dress, made of brocaded organza, very silky and soft to the touch. A perfect design for any summer event. Its V-neckline and asymmetric embellishment on one shoulder make the perfect combination. Its waist, finished off with a striking belt in a forest green tone, will define your silhouette. A design, with which you will captivate at first sight.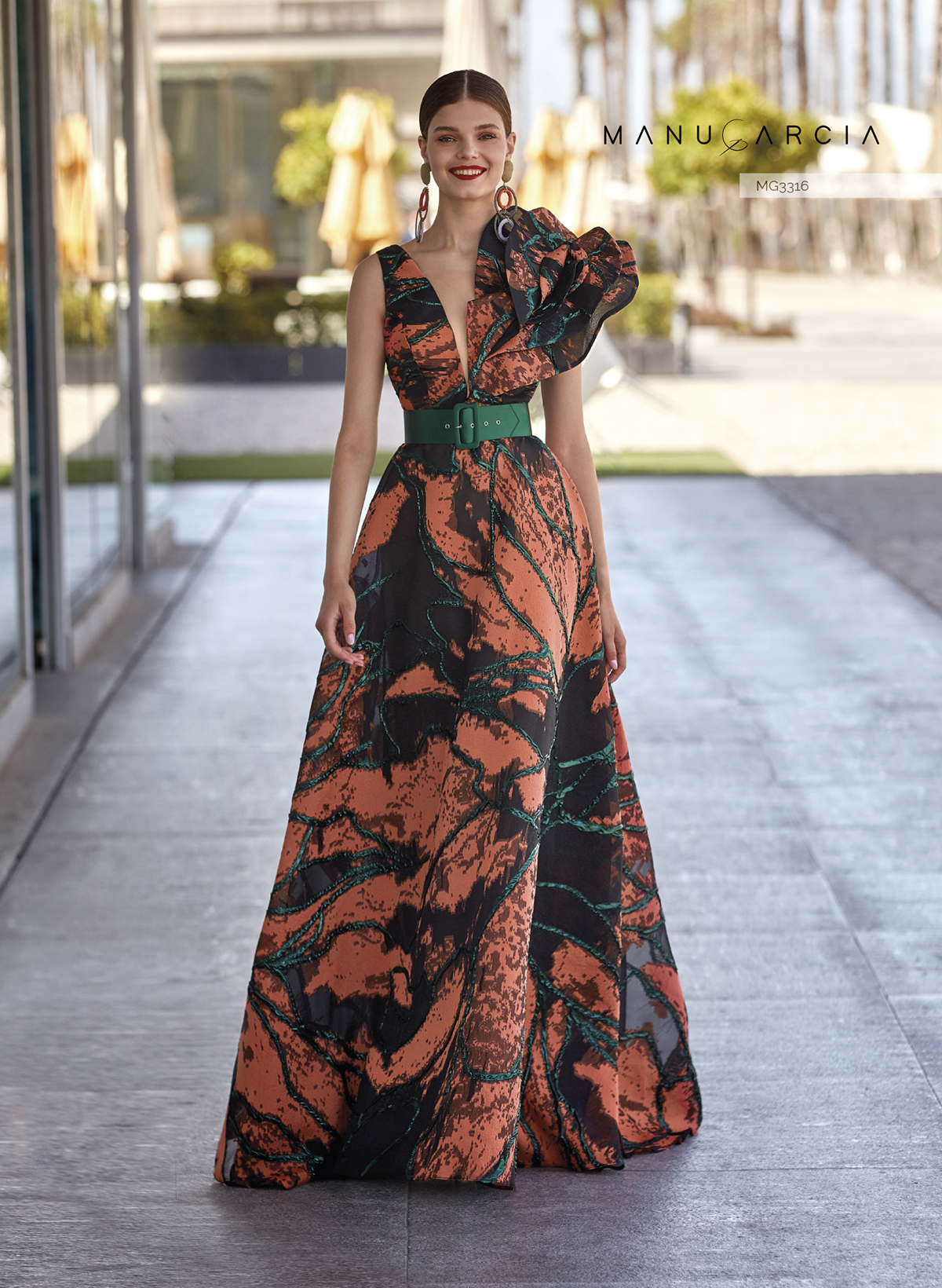 Red
And we finish with the red, one of the colours that arouses greatest passions and is the most flattering to the ideal guest. That is why it is so trendy. A colour that is always cheerful and full of vitality.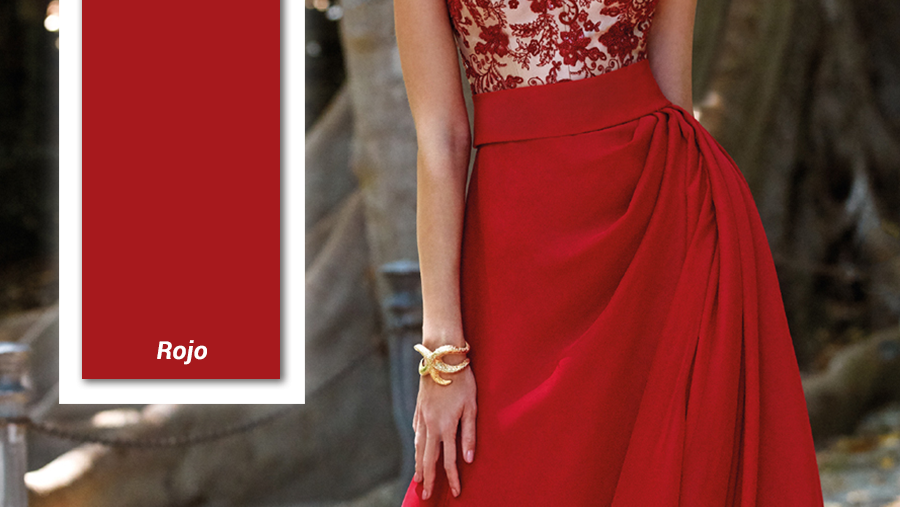 Red stands for love, energy, spontaneity, and autonomy. It is ideal for a woman with personality and daring. We propose the Model VL5220, a cocktail dress made of chiffon, with a flared skirt gathered on one side. It features a lace bodice with matching embroidered appliqués and a very elegant, round fantasy neckline with dropped sleeves, that make this dress a very special design, ideal for the groom's sister, who will turn heads.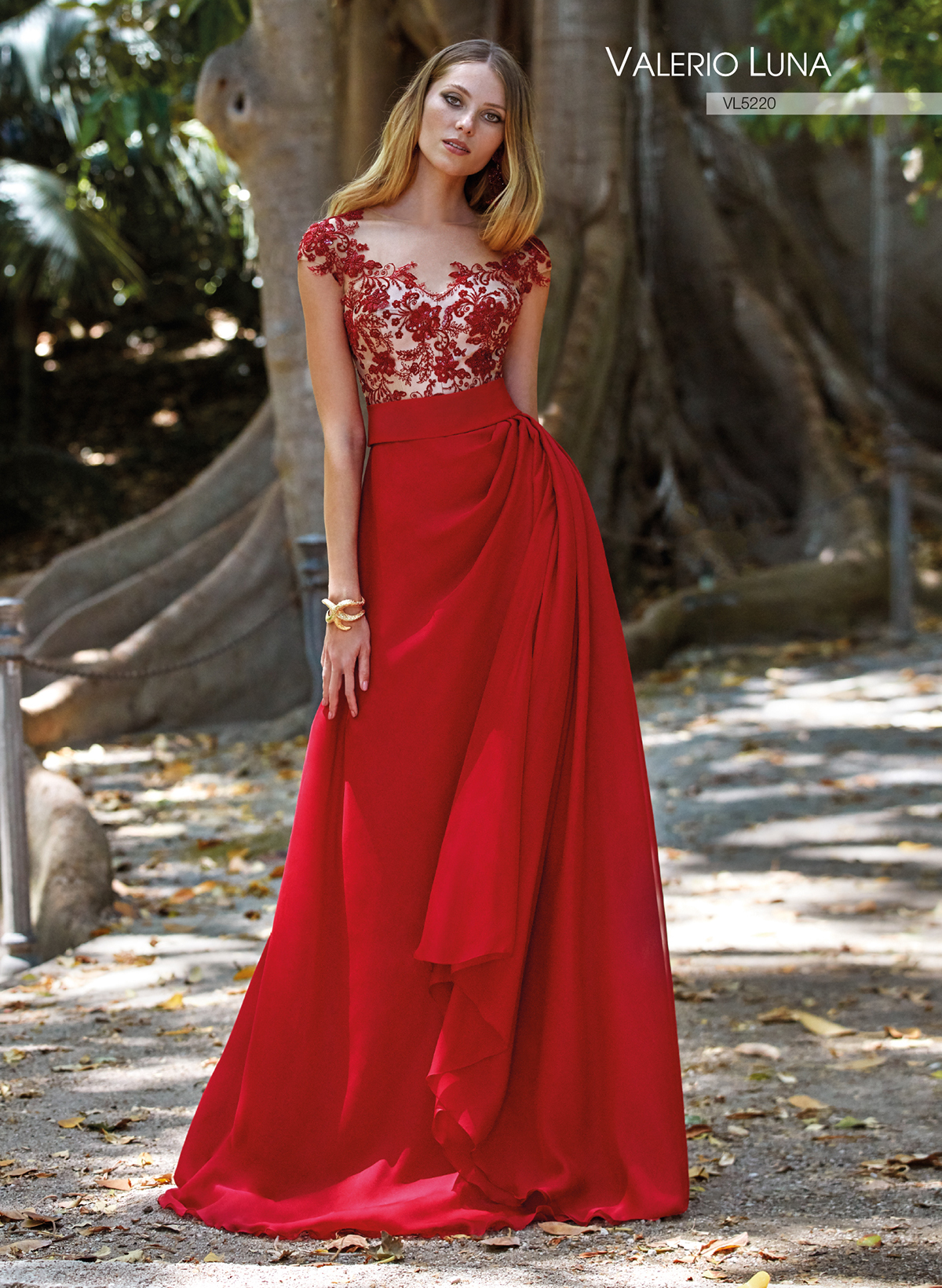 These cocktail dresses, designed and manufactured at HigarNovias, are customizable. We adapt them to your liking, so that you can find the cocktail dress that makes you the perfect guest.
Make your appointment at any of our stores, and we will advise you on whatever you need. We are looking forward to welcome you and to listen to your ideas.