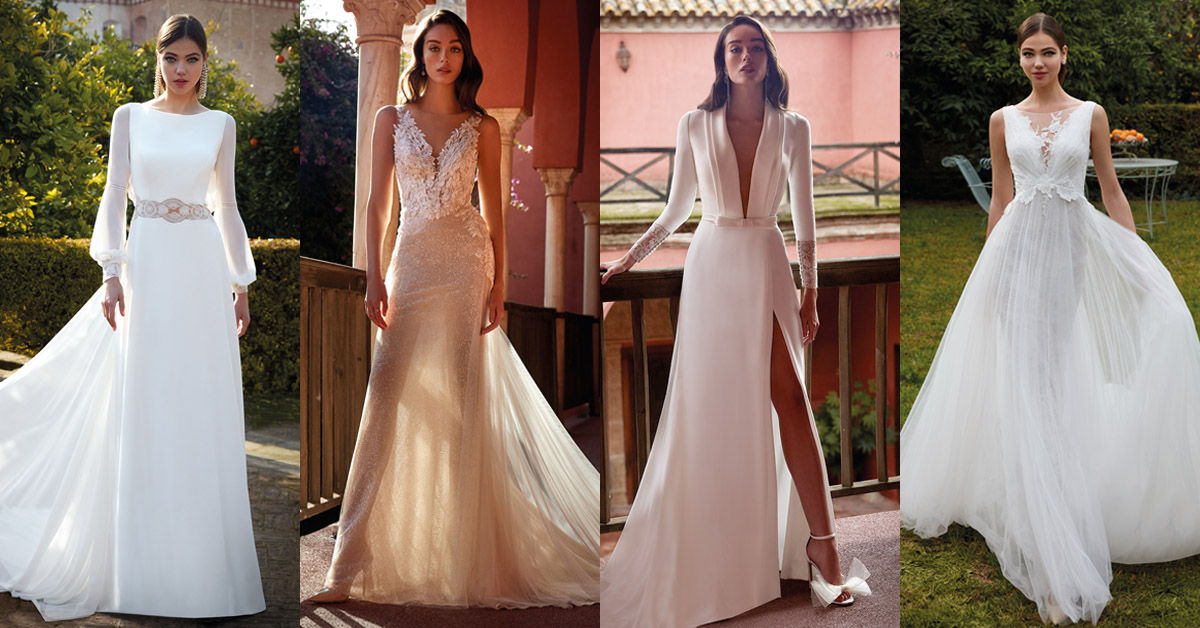 The pandemic has forced us to rethink our lives and our plans for the future. As it evolves, and we go through the different waves, one of the limitations that is always on the table is the reduction in the number of attendees at events and, of course, at the weddings.
For this reason, many couples who decide to get married at this time choose to have an intimate, more personalized wedding, where each guest is also the protagonist. Courageous couples have the ability to reinvent themselves and not to give up on making their perfect celebration come true.
Whether you decide to celebrate an intimate civil or religious wedding, do not think that you should give up your dream wedding dress because, as we always say, there is a wedding dress for every woman and for every situation. Without a doubt, the important thing is that you celebrate your love on that special day, reflecting your personality, with your loved ones and looking radiant.
Today we propose 4 romantic and very feminine wedding dresses for your intimate wedding.
We start with Dafne Model by Valerio Luna, a dreamy wedding dress fitted at the waist, with a mermaid skirt made of lace and a flared cape in soft illusion tulle. It combines perfectly with a bohemian-style V-neckline bodice, showing a creation of sweetness and seduction. A romantic dress with a daring touch.
The beautiful Palermo Model by Manu García is a mermaid-style wedding dress made in champagne-colored paillette and delicate overlapping lace applications, that contrast with the tonality of the dress. Its V-neckline and tattoo-effect back will stylize your silhouette, enhancing your femininity.
Feel the lightness with the Dominic Model by Valerio Luna, a modern A-line wedding dress that represents the purest romanticism. It has a clean finish, in which the small details shine with their own light. With this unique design you will bring a youthful touch to your intimate wedding.
And we finish with the Prince Model by Manu García. A unique and contemporary design with dreamlike details. Long sleeves beautifully offset the V-neckline and rounded illusion back. A wedding dress with great personality and sensuality, thanks to the daring front opening.
Today it is increasingly common to celebrate intimate and personalized weddings, where the bride and groom give free rein to their creativity, so that their wedding is unforgettable for all attendees. We give you some ideas in our blog post: Ideas to organize a very personalized wedding
And if you like any of the wedding dresses that we propose, do not hesitate to make an appointment at any of our HigarNovias Group stores.
We help you, advise you and customize your dress, so that you look radiant on your wedding day with a unique and exclusive wedding dress.
HIGARNOVIAS
www.higarnovias.com/es
C/ Portales Nr. 7. Fuente Palmera
Phone 957 63 86 88
Whatsapp 673 329 646
info@higarnovias.com
MANU GARCÍA
www.manugarciacostura.com
BARCELONA 932 922 451
MADRID 91 366 28 80
OVIEDO 98 523 17 20
VALENCIA 963 529 706
VALERIO LUNA
www.valerioluna.es
BARCELONA 932 922 451
MADRID 672 220 576
MÁLAGA 952 213 833
VALENCIA 963 943 672