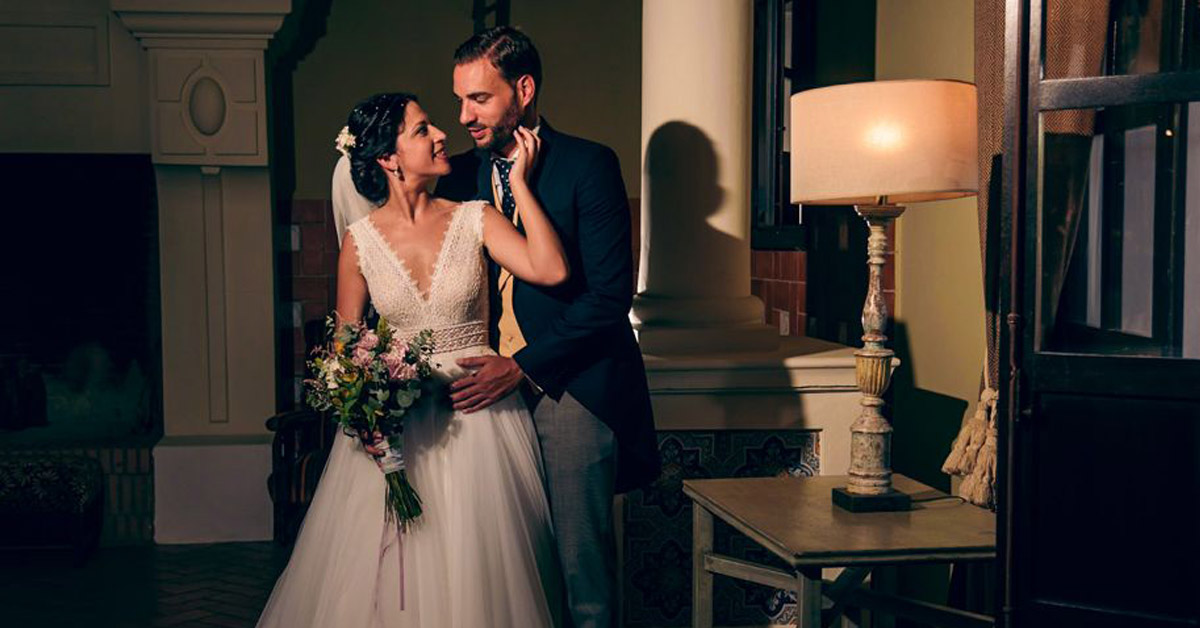 Making the decision to go to live in another country is never easy. But if you go with the person you love the most, making the relationship mature thanks to mutual support and realizing that you are made for each other, it is definitely worth a try.
This happened to our happy newlywed couple, Pili & Fran. Eight years ago they decided to make a living in London, where "we learned to be there for each other, to row in the same direction, and realized that we were made to walk together," Pili tells us.
They have returned home to start a new life with the family, and they have done it in style. With a beautiful and emotional wedding, surrounded by their beloved ones and with winks to the country that adopted them, on a splendid afternoon in June of this 2021, at Hacienda Timoteo de Fuente Palmera.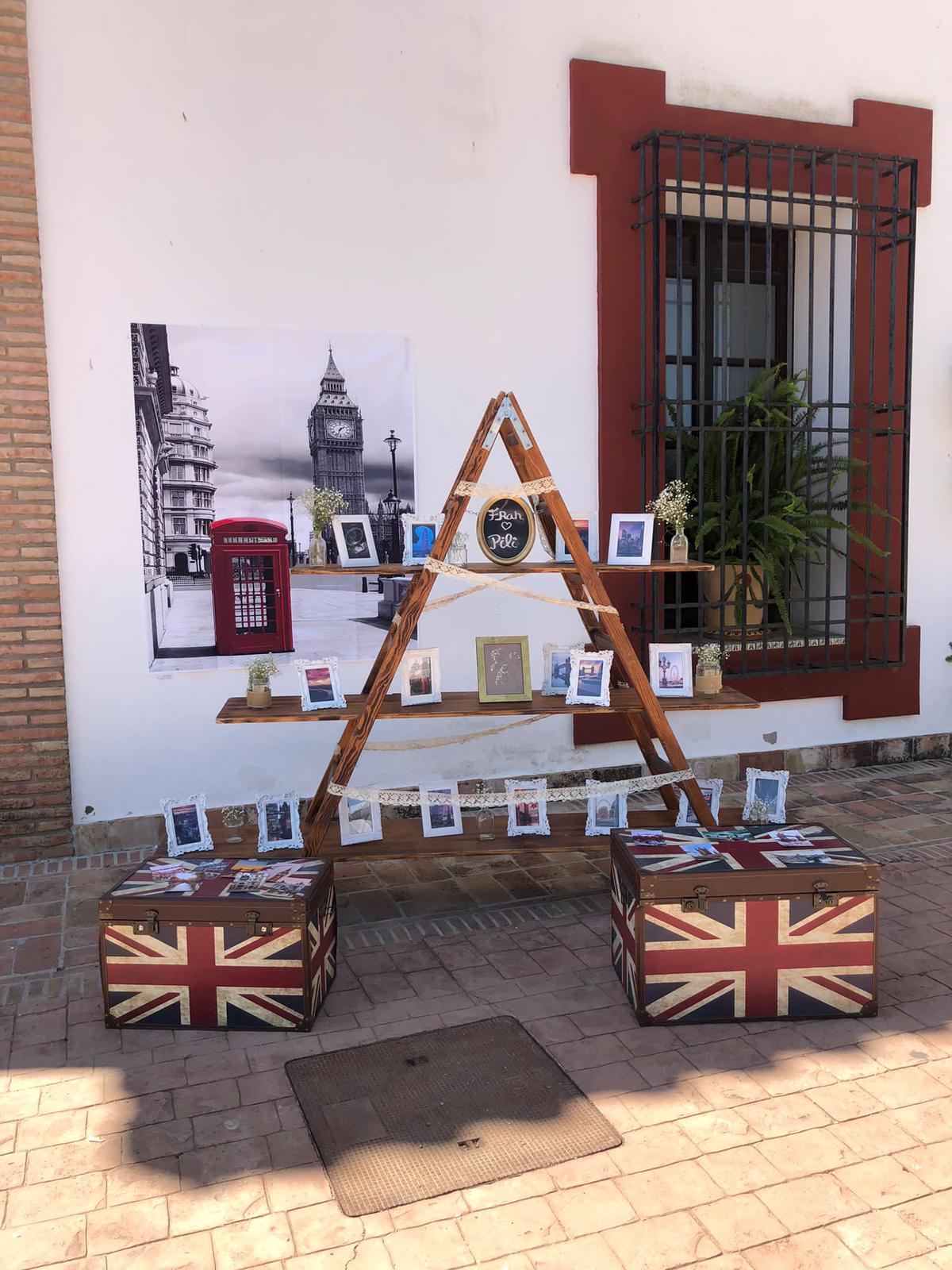 Choosing her wedding dress was a very special moment for Pili. On that occasion, she was accompanied by her mother and her cousins, Trini and Laura. Besides belonging to the bridal fashion sector, those are people who know our bride perfectly. "They advised me and helped me in everything, as well as Loli, the magnificent professional who attended us."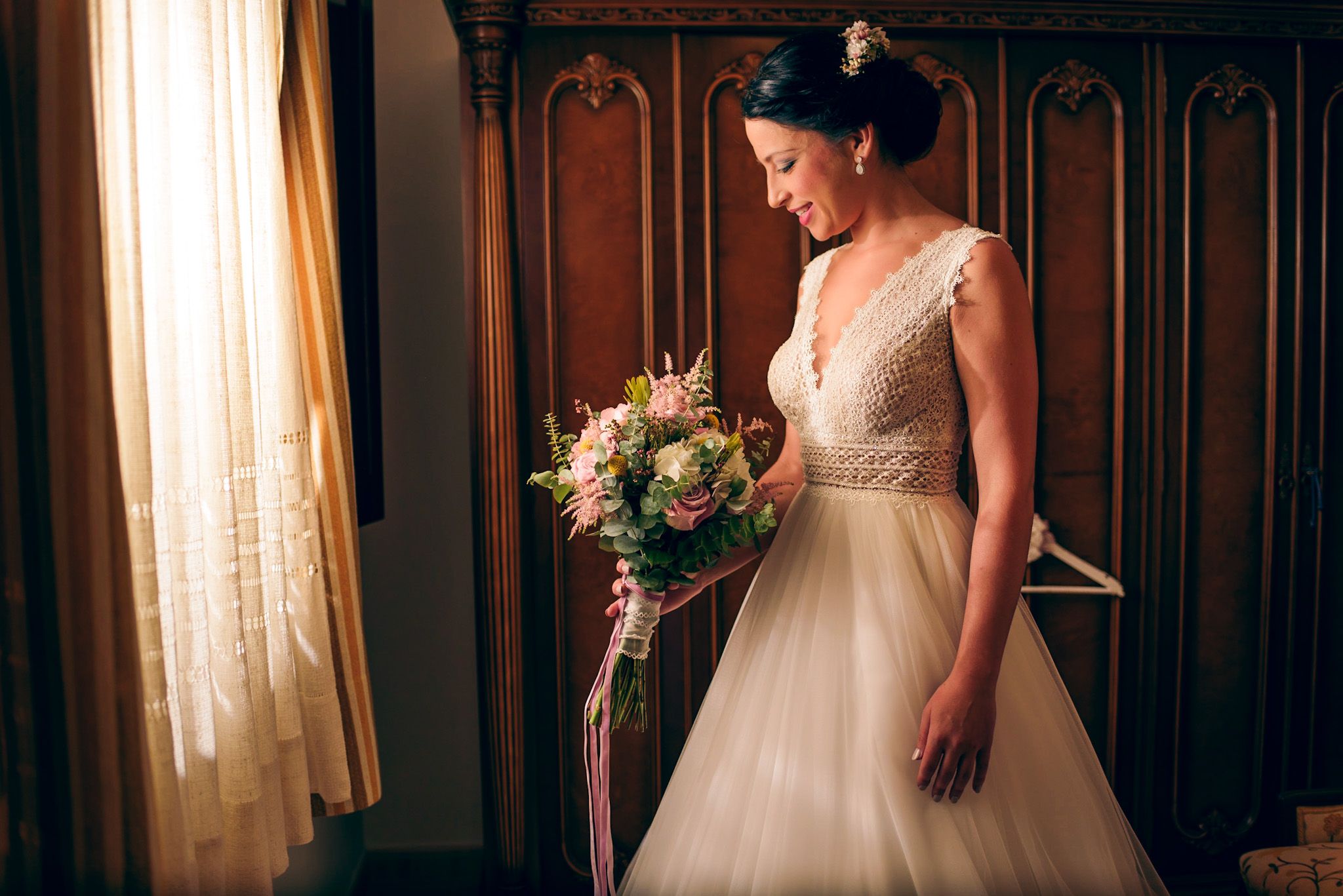 Pili confesses that when she goes to a wedding, she does not feel as comfortable and beautiful as on any normal day. So, "I was a bit nervous. in fact, I told myself that it was not critical to choose it on that particular day, that nothing will happen if I would ask for another appointment, and that helped me a lot ".
But it didn't go that way. Pili tried on four wedding dresses of different styles, but none had completely convinced her. Loli, at all times attentive to her reactions, immediately understood the tastes and preferences of our bride and showed her the Pompeya model from Manu Garcia. When Pili tried it on, she felt a tingle of happiness and security, and she knew immediately that it was HER dress. Tears came to the eyes of her cousin Trini, when Pili, so beautiful and radiant, told them "Yes, THIS ONE IS MINE".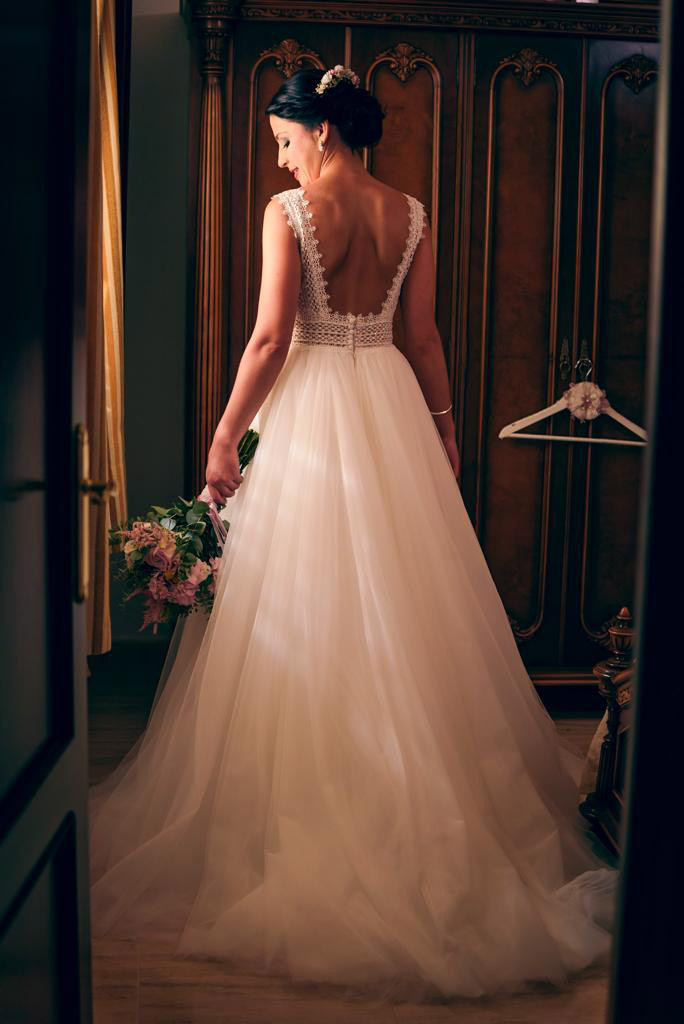 "I like EVERYTHING about my wedding dress. It is elegant, original, romantic and beautiful both in the front and in the back. Really comfortable and light ". This model is made in a perfect combination of lace and flowing tulle. They decided to remove the sleeves and add some shine to the waist. On top of that, in our store she also chose the headdress and the earrings.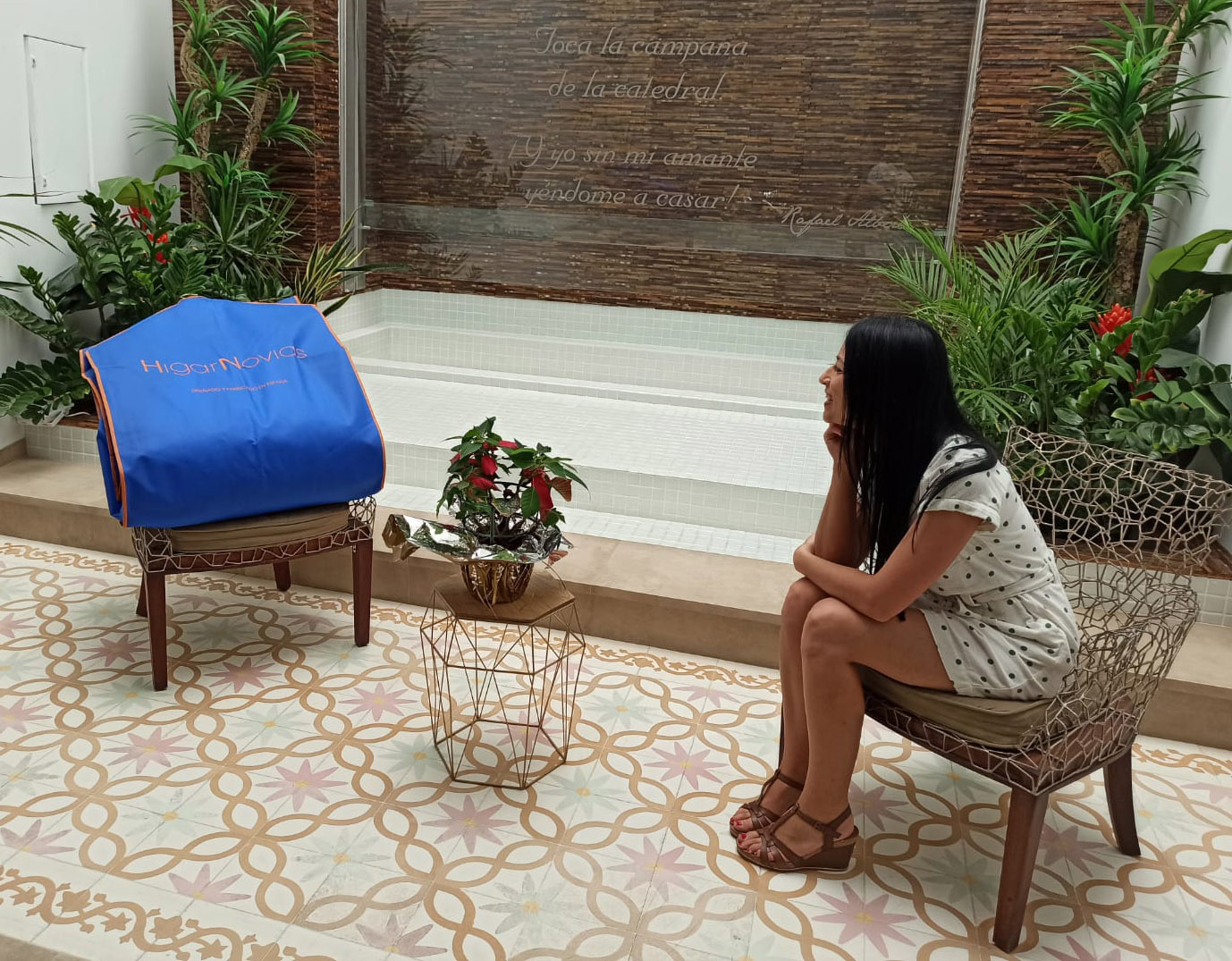 She picked up her wedding dress just the day before the wedding, very excited, thinking "tomorrow is our day." And the magical day arrived. With some nerves, that Pili was soothing with a lime in a cup that they gave her for the occasion, with a very special message "I can't keep calm, I'm the bride." Giving way to the pleasure of enjoying every detail prior to the wedding: "I finished my hair and makeup in time, which was perfect to enjoy every detail, gifts, dress, bouquet … I loved having a little time for myself".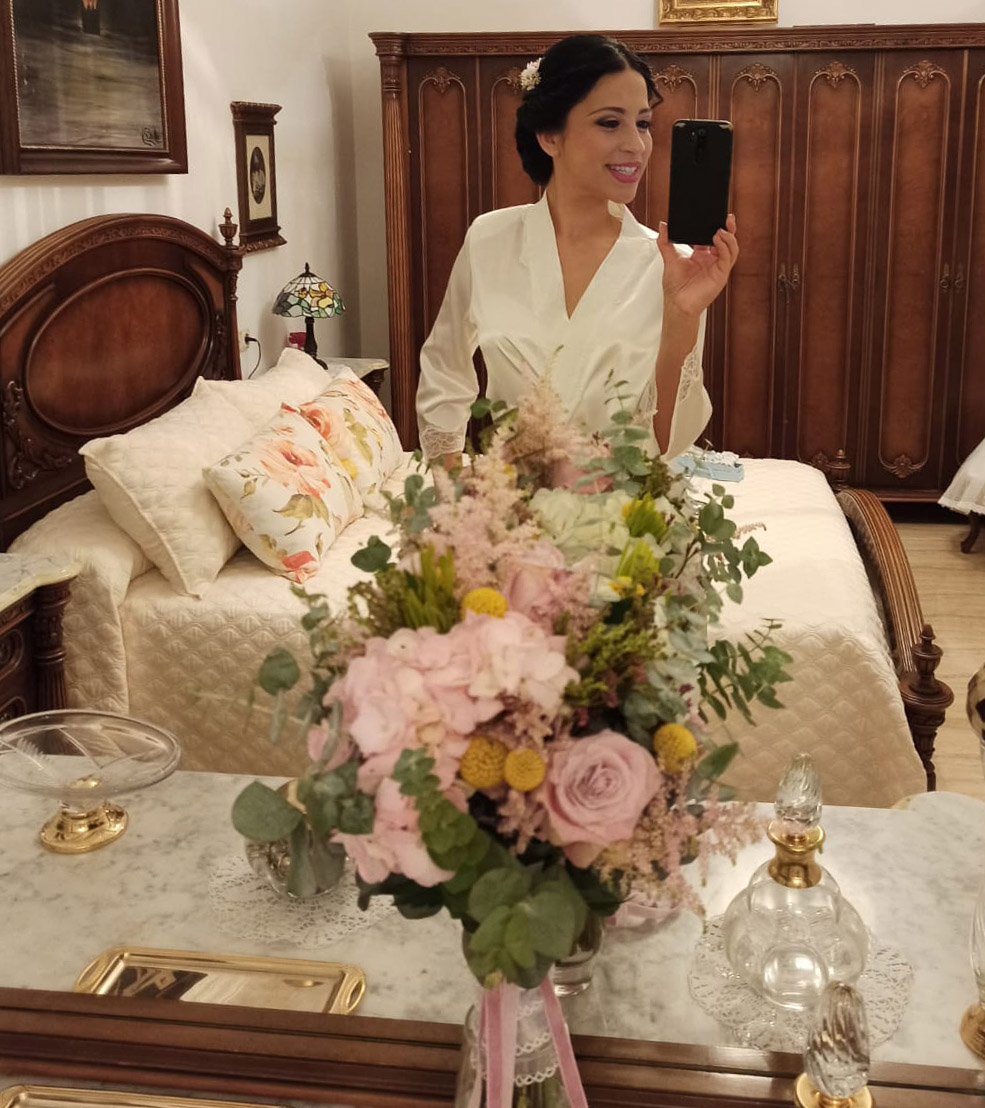 Not only Pili deposited her trust into HigarNovias. Fran, the groom, was dressed in an elegant two-tone suit, chosen in our Fuente Palmera store. Mother, sisters and cousins of our bride also chose their cocktail dresses for the wedding there, allowing themselves to be helped and advised by our professionals.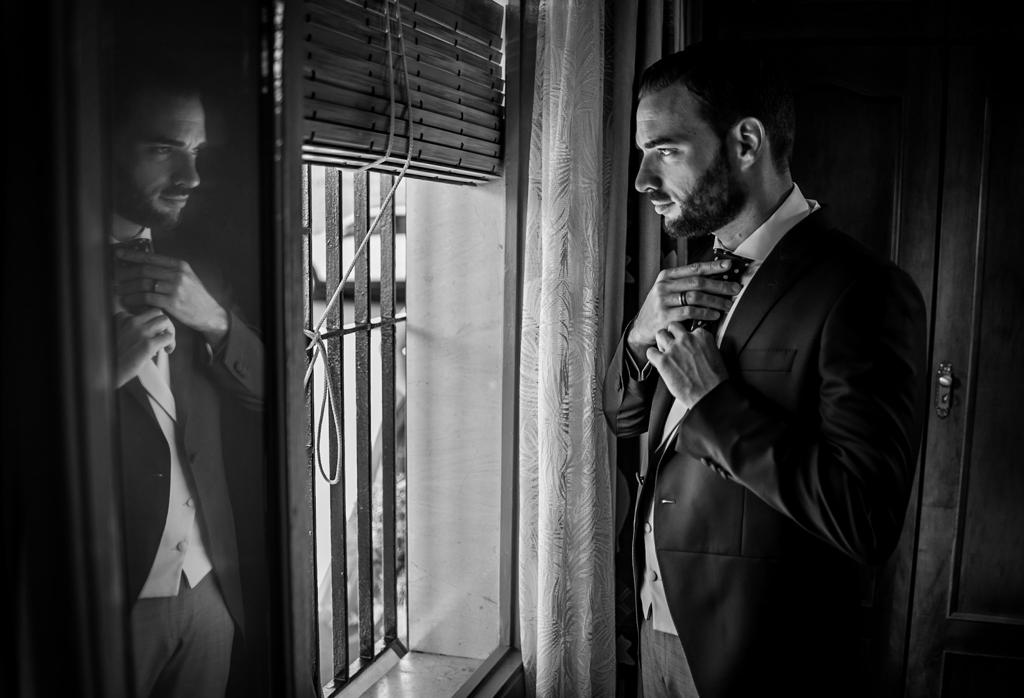 The arrival at the Hacienda was spectacular, under a splendid sun in a beautiful ceremony and some very affectionate guests. "Everything was incredibly perfect. We could never imagine that it would be so beautiful. The smiles, the enthusiasm, the desire to have a good time and the affection of each guest made us explode with happiness and enjoy every second ". There were some very emotional moments, such as Pili's gift to Fran, a dog like the one he had as a child.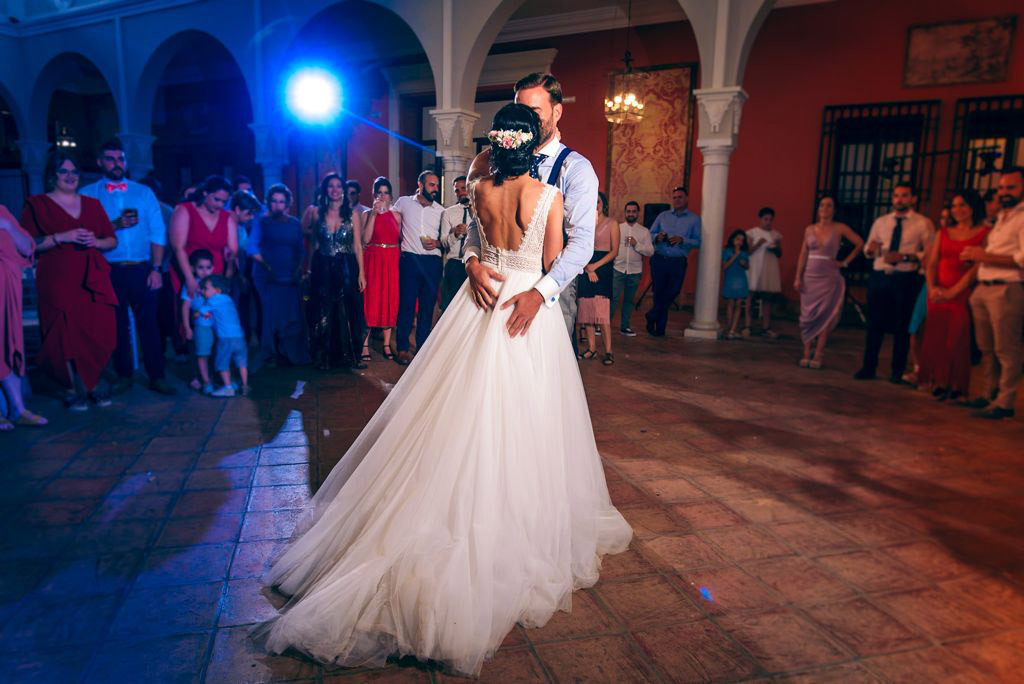 With the history of the wedding of Pili & Fran we confirm that love and enthusiasm can do everything and that it is possible to organize a wedding from another country and in the midst of a pandemic.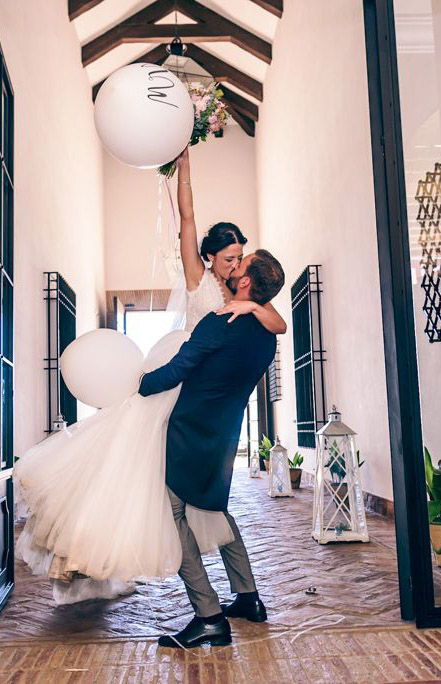 Excited to start a new chapter in their beautiful love story, Pili tells us that "we have returned home with enthusiasm to recover every moment with our relatives and continue living the life we want to live."
Congratulations to this beautiful and brave couple for their new life now, close to their beloved ones. For many years of happiness!