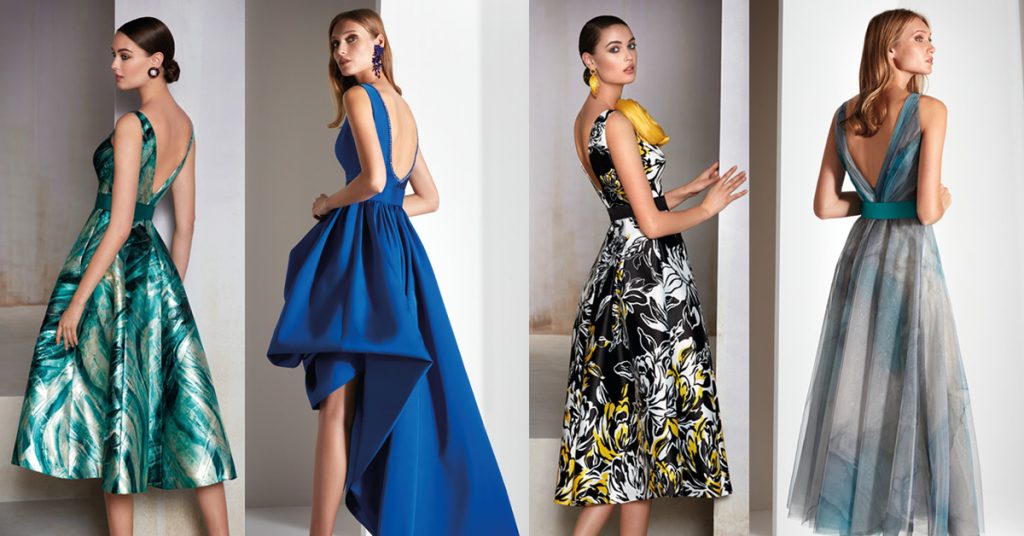 With good weather and longer days, the celebrations are postponed to the afternoon. And of course you want to wear a special, light cocktail dress that feels great.
Attending a wedding, communion or baptism, you always want to feel beautiful, elegant and at the same time comfortable. Above all in that event that is special, because of its proximity. Therefore, you are looking for a more original, different, stylish design, that makes you feel unique and radiant in front of your family and friends.
HigarNovias cocktail dresses are exclusive, designed and hand-made in Spain. We take care of even the smallest detail, creating custom, personalized and original designs, based on our own patterns.
Cocktail dresses for all types of women, in which we highlight your elegance and femininity, adapting each design to your silhouette and recommending the cut that will favor you most.
We propose you 4 very fresh and youthful midi length models:
We start with a flared design cocktail dress, made in soft printed mikado, the MG3203 model by Manu García. Its fitted bodice with a V-neckline will enhance your figure and its original flared skirt will give you a very natural movement while walking.
Another model that will make you fall in love with its lightness and original print is the VL5107 by Valerio Luna. A youthful cocktail dress in silky tulle, with a V-neckline bodice draped in the same fabric. You will make the right choice with this design, due to its flattering and comfortable skirt and its waist, that clings to the body with a lined belt full of glamor.
The MG3241 model by Manu García is a classic couture dress that boasts clean and elegant lines. It is made in a spectacular printed mikado, with a delicate bateau neckline and a sensual open back. You will be the perfect guest at that long-awaited event.
Another design that captivates us with its intense blue is the VL5108 model by Valerio Luna. A youthful cocktail dress made in mikado, with a V-neckline topped with crystal trimmings, that go down the lower back. The originality of the model is in the asymmetrically puffed flared skirt, that is light and comfortable in equal measure.
Make your appointment at any of our stores to live the HigarNovias experience. We use the highest quality fabrics and we customize your cocktail dress, if you wish. Our goal is to make you happy, and thus you will be the perfect guest.
Customer service telephone numbers:
HIGARNOVIAS
www.higarnovias.com/es/
C/ Portales Nr. 4. Fuente Palmera
Tfno. 957 63 86 88
Whatsapp 673 329 646
info@higarnovias.com
MANU GARCÍA
www.manugarciacostura.com
BARCELONA 932 922 451
MADRID 91 366 28 80
OVIEDO 98 523 17 20
VALENCIA 963 529 706
VALERIO LUNA
www.valerioluna.es
BARCELONA 932 922 451
MADRID 672 220 576
MÁLAGA 952 213 833
VALENCIA 963 943 672