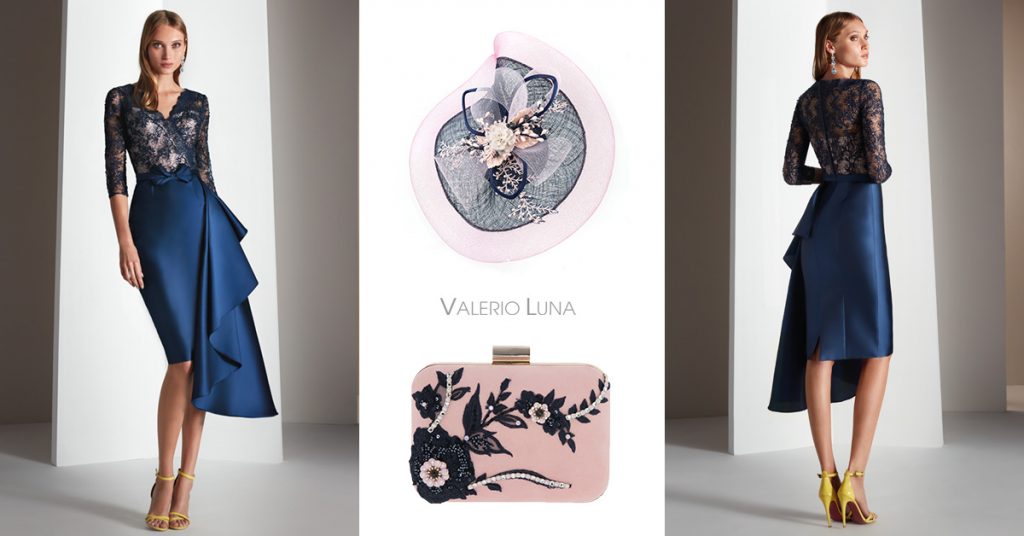 At HigarNovias, we love mothers-of-the-bride because of the prominence they acquire at the wedding. The emotion on her face is always present at the time of the ceremony. And when they come to our stores to choose their mother-of-the-bride dress, the one they have been thinking about from the moment they learn the important role they will play in that special wedding, as well.
With your cocktail dress you should feel beautiful and radiant, and for your look to be perfect, accessories are essential: a personalized headdress to match your handbag, both in the tone of the dress, are a guarantee of success.
At HigarNovias we know this, and that is the reason we design and handcraft the ideal accessories for each cocktail dress. And if you wish to add something else, we are unique in customizing, because we take care of every detail.
Our goal is always to make happy each mother-of-the-bride who purchases one of our dresses, like the ones we propose:
The MG 3217 model by Manu García, a mermaid silhouette cocktail dress made in piqué, that will make you fall in love with its imposing lorcian bodice, adorned with beaded appliqués on one shoulder, and the sophistication of its French sleeves. The headdress chosen for this model is a simple barrette made with the same 3D flowers as the dress, and the clutch features unique feathers, very trendy nowadays.
The model VL 5117 by Valerio Luna is a spectacular long mermaid silhouette cocktail dress made in silk mikado. With a simple line, its open bateau neckline contrasts perfectly with the French sleeves, finished off with a small puffed cuff. A very flattering green tone mother-of-the-bride dress for an elegant woman. We complement it with a delicate jeweled barrette and a modern geometric-shaped handbag, both in the tone with the dress.
The MG 3245 model by Manu García is a wonderful mother-of-the-bride dress in hypnotizing gold, made of exquisite piqué, with beaded appliqués on the front neckline. If you want to show off your silhouette, this design is ideal, since the waistline and the lined belt will enhance your torso. To be the perfect mother-of-the-bride, we recommend this cute handbag and its matching headdress.
And finally, the VL 5133 model by Valerio Luna, for a morning mother-of-the-bride. A short cocktail dress in embroidered tulle, with a wide V-neckline that gives it a very seductive air. The skirt, made of the same embroidered tulle in a piped line, will accentuate your figure. The dress is complemented by a beautiful fitted jacket, made of silk piqué with French sleeves, adorned with feathers in the same tone, very modern. To contrast with this design, we propose accessories in a pale pink tone, a subtle headdress with a very elegant mesh, accompanied by a clutch that features the same feathers as the jacket.
And if your idea is different, tell us about it. At HigarNovias your personalized accessories will be unique, exclusive and, above all, adapted to your taste.
You can find these and many other combinations in our wedding and cocktail dresses store in Fuente Palmera, between Córdoba and Seville.
Do not hesitate to ask for your safe appointment, we are looking forward to assist and to advise you.
HIGARNOVIAS
www.higarnovias.com/es/
C/ Portales Nr. 4. Fuente Palmera
Phone: 957 63 86 88
Whatsapp 673 329 646
info@higarnovias.com