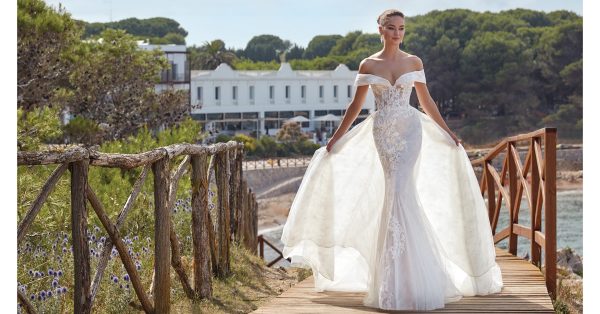 In the year of celebration of our 40th anniversary, at HigarNovias we have prepared a very special collection of wedding dresses with seductive and sophisticated designs. In addition, this time we have chosen a place with a very special charm, such as the Costa Brava, for the photo shoot of this new collection.
With these wedding dresses, the team of professionals that form HigarNovias reflect the current moment of the Group and our determination to improve every day in the artisan world of haute couture.
Our goal is always to transform each woman into the most beautiful bride. For this purpose, in this 40th Anniversary Collection we present wedding dresses in mermaid and princess silhouettes, made with flowing tulle, crepes and lace, in which predominate textural contrasts and embossed applications.
Exquisite details, tight waists, sensual semitransparencies, jeweled ornaments are some of the elements of these exuberant designs, for a very modern bride.
You will find unique designs, such as wedding dresses that convey the essence of romanticism through their sweetheart neckline. Princess-silhouette wedding dresses adorned with delicate details, ideal for a luxurious ceremony. Boho chic wedding dresses, in which the bohemian spirit is united with traditional charm, or mermaid wedding dresses, full of glamor and sensuality.
A bridal collection designed and manufactured in Spain, in which we have recovered our most emblematic patterns. We adapt them to the most current trends, to enhance feminine charm.
As we always tell you, we are manufacturers. It means that you can make all the modifications you want, and even combine elements of various models, until you achieve your dream wedding dress, personalized and totally exclusive for you.
Your wedding day will be one of the most special of your life, one that you will always remember, because you seal your love with the person you are in love with, surrounded by your beloved ones, who will be the witnesses of your happiness. It is a day on which feeling beautiful and comfortable, internally and externally, is essential. It is a challenge that we set for ourselves with each and every bride who visits us at any of our HigarNovias Group stores.
Customer service phone numbers
HIGARNOVIAS
www.higarnovias.com/es
C/ Portales Nr 4. Fuente Palmera
Phone 957 63 86 88
Whatsapp 673 329 646
info@higarnovias.com
MANU GARCÍA
www.manugarciacostura.com
BARCELONA 932 922 451
MADRID 91 366 28 80
OVIEDO 98 523 17 20
VALENCIA 963 529 706
VALERIO LUNA
www.valerioluna.es
BARCELONA 932 922 451
MADRID 672 220 576
MÁLAGA 952 213 833
VALENCIA 963 943 672