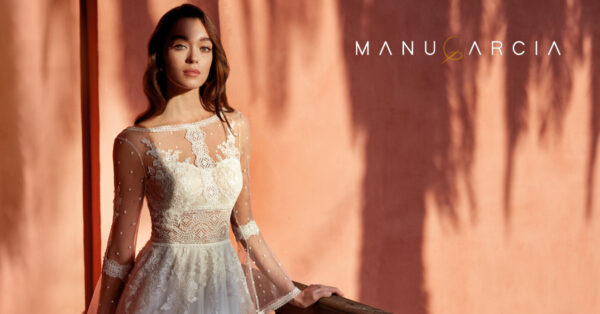 When we think of a bohemian person, we describe it as modern, artistic, emotional and in love with nature and the freedom that it exudes.
This is how Manu García's boho-style wedding dresses are, designed for a natural woman, who values the simplicity of things.
In the Legacy collection by Manu García you will find versatile, comfortable designs, created with light fabrics, with great fall and transparencies that favor any type of female figure, in which details are the protagonists.
If you consider yourself a bohemian woman and you are looking for a dress that transmits your personality, pay attention to these three bohemian wedding dresses from this Manu García collection, that will make you fall in love with.
The Palmera model is a boho wedding dress, very romantic, light and of great sensuality, thanks to its puffed chiffon sleeves, the tattoo-effect bodice and embroidered Chantilly appliqués. You will be intoxicated with a true sense of freedom as you walk.
The Paisaje model is an elegant bohemian dress with geometric crystal embroidery that runs along the bodice with strips of Venetian lace. The sheer tulle back adds a feminine flair to this A-line design with a flowing pleated tulle skirt, that is as comfortable as it is flattering.
The Pompeya model stands out for the combination of lace and tulle. In this boho-style wedding dress, its V-neckline is perfectly complemented by an open back. The romanticism of the lace straps and the three-quarter sleeves give a great majesty to this design.
For sure you would like to try on these three bohemian wedding dresses. Ask for your safe appointment at any of the Manu García stores of the Higar Group, or at authorized points of sale. And if you have questions about any of them or would like to apply any kind of changes to the design, we are experts in that, since we are manufacturers and we will advise you to find the wedding dress that you have always dreamed of.
Contact us!
HIGARNOVIAS
www.higarnovias.com/
C/ Portales núm. 4. Fuente Palmera
Tfno 957 63 86 88
Whatsapp 673 329 646
info@higarnovias.com
MANU GARCÍA
www.manugarciacostura.com
BARCELONA  93 292 24 51 – 649 49 55 88
MADRID  91 366 28 80 – 648 739 571
OVIEDO  985 231 720 – 615 33 91 79
VALENCIA  963 529 706- 637 669 141