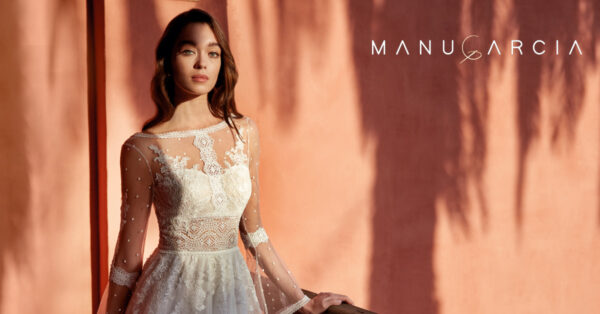 At HigarNovias we have been making our bride's dreams come true for over 40 years. The choice of the dress is a unique experience and a very special moment for that woman who, together with her partner, takes another step in her relationship and decides to celebrate her wedding. 
It is common that on that day the emotion, nerves and doubts flow in equal parts. At HigarNovias we have it very present, that is why our professionals will advise and help you from the first moment.
Our designs are made in Spain. They are 100% national product, because we truly believe in the added value that the Made in Spain label provides us with.
Wedding dresses handcrafted by a great human team and with the latest technologies in embroidery, ruffles, bows, etc. This allows each bride to choose her dress and personalize it to her liking, to have the wedding dress she had always dreamed of.
In Manu García's Legacy collection you will find wedding dresses of all styles, which we classify as Classic, Modern, Boho and Romantic. You can choose the skirt of one model with the bodice of another and the neckline that you were always in love with. We completely adapt ourselves to your taste and style, so that you find the ideal design and we produce it in a short period of time in our factory.
In this gallery we show you some of our models, so that you can choose the ones you like most, and adapt them to your style:
And if you are an indecisive bride, do not worry. Our professionals will advise you, because our wedding dresses are totally modifiable: change from long to short, choose the neckline and sleeves with which you feel most comfortable and beautiful, etc. In this way the exclusivity of your design is guaranteed.
And of course we pay the utmost attention to details. Therefore, once you have chosen your wedding dress, if you wish, we will handcraft your matching headdress, veil or any other detail you may have chosen, to assure that your bridal look is unique.
What do you think of the designs in this gallery?
If you want to learn more about the brides who have lived the HigarNovias experience in choosing their wedding dress, we encourage you to visit our Real Brides section. You will love reading their stories.
Find your dream dress in the nearest Manu García store in Spain, or in over 90 authorized points of sale in more than 25 countries where we are present.
Do not hesitate and ask for your safe appointment. Adopting all the security measures, our teams will advise you and will help you to choose your perfect wedding dress.
Customer service phone numbers
HIGARNOVIAS
www.higarnovias.com/es/
C/ Portales Nr. 4. Fuente Palmera
Phone: 957 63 86 88
Whatsapp 673 329 646
info@higarnovias.com
MANU GARCÍA
www.manugarciacostura.com
BARCELONA 932 922 451
MADRID 91 366 28 80
OVIEDO 98 523 17 20
VALENCIA 963 529 706