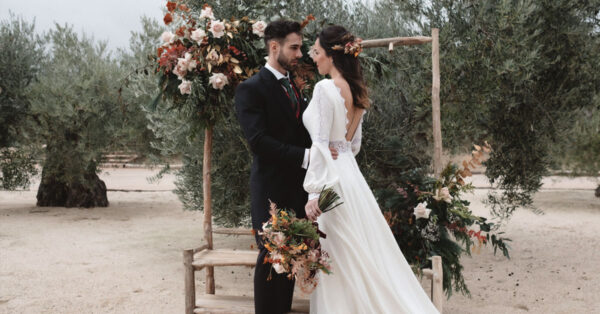 With the beginning of the year, our brides have resumed the search for their dress with all the enthusiasm. We hope that the weddings will be back very soon! On this, and for that reason, we are working. 
One of our initiatives is to participate in shootings organized together with other suppliers of the bridal sector,  with the objective to showcase our proposals in wedding dresses.
Thus, a few weeks ago we were talking about a shooting with Valerio Luna's Cuba model as the protagonist at the Olivar de Santa Teresa farm in Toledo. This week, we show you the snapshots taken in the same place, this time with one of our most subtle wedding dresses from the Love Sewing collection by Manu García, the Olenka model.
The photo shoot, starring the models Sara Ruiz and Ignacio L., has been organized by wedding planner Natalia Ortiz and photographed by Kaleidos Wedding.
Sara has looked spectacular with this boho-style wedding dress that evokes nature, sensuality and freedom at the same time. The simplicity of its "box" neckline combines perfectly with the modernity of the puffed sleeves and the delicacy of the lace at the waist, that defines the silhouette. This same lace can be seen on the flying sleeve, framing the neckline on the back.
Its rear V-neckline allows you to show off your hair in a semi gathered ponytail, as flattering as Sara's, prepared by Irene Mayuelas.
Find inspiration in the photos we show you with our Olenka model.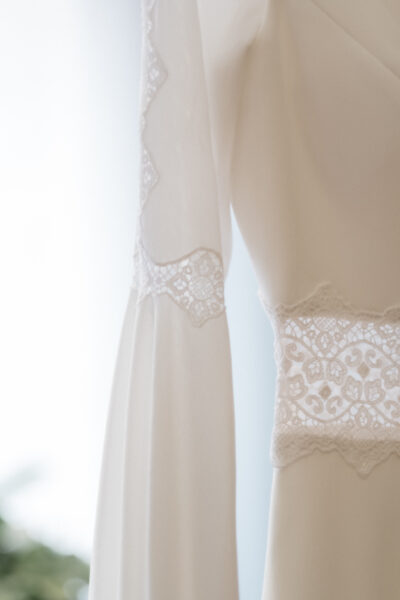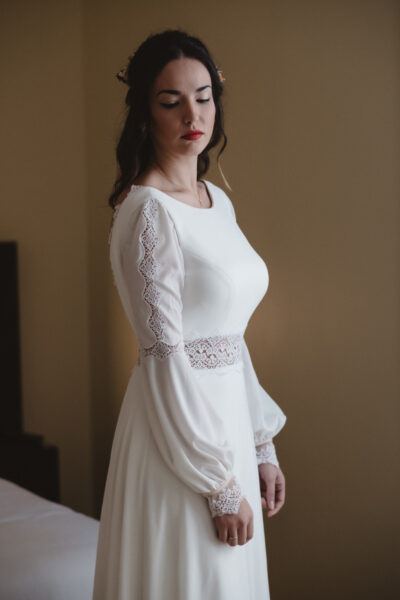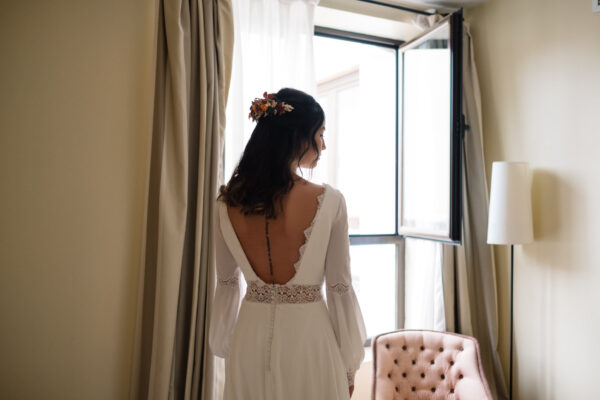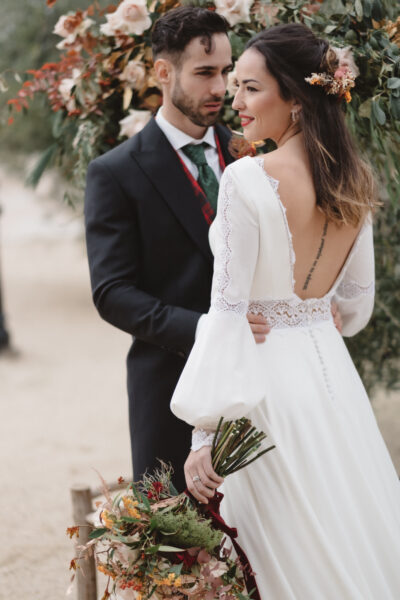 Do you like bohemian style wedding dresses? In our Manu García stores of the HigarNovias Group you will find this model and many others. All our models are designed and manufactured in Spain. What is more, you can modify them to your liking to have the wedding dress of your dreams.
Wedding Planner: @nataliaortizwed @perfectvenue
Photographer: @kaleidoswedding
Venue: @olivarstateresa
Bride dress: @manugarciacostura@higarnovias
Groom suit: @berecasillasoficial
Muah: @ireneamayuelas
Bride & Groom: @saara_rm_ & @ignacio_l_c
Flowers: @pecciartefloral