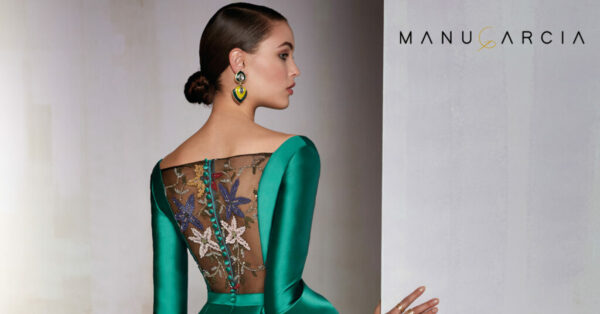 When you are searching for original cocktail dresses, do you think about how would you prefer your back to block like? Covered, uncovered, with a tattoo effect, with a V-neckline…? There are many types of back necklines that you can choose for your cocktail dresses. 
And it is so that these necklines are very fashionable, especially those that contribute elegance and sensuality to the design.
You will be the sensation of the event with any of the Manu García cocktail dresses, that we present to you. Unique backs, with which you will boast of silky skin, subtly adorned in a totally handmade way or with very careful singular shapes.
We start with a style that we love because of the cut of its back, the MG3120 model. A spectacular long crepe party dress in an intense blue, one of the trend tones in 2021. With a mermaid silhouette and simple lines, it highlights its square neckline, the over-train and the flower adorned with matching crystal, on one of the shoulders. You will be the sensation of the party.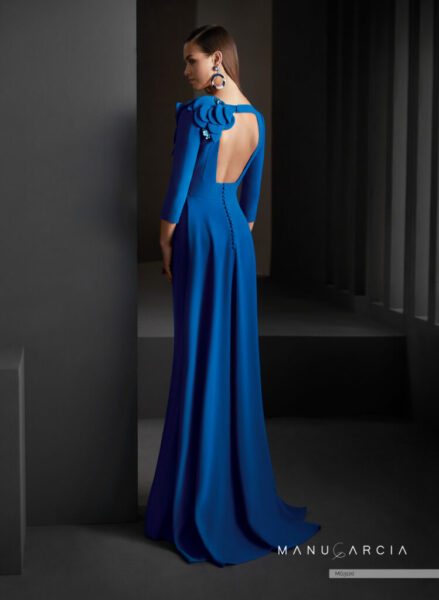 You will fall in love with the lace and color back of the MG3212 model. A short, clean-cut cocktail dress with an open bateau neckline and original sleeves topped with a small puffed cuff. The tubed skirt gives it a glamorous and subtle finish, with which you will enhance your figure.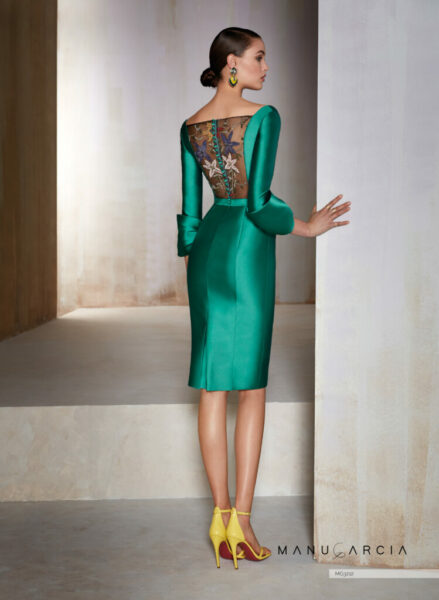 The fantasy rhinestone back, like one of its sleeves, brings absolute femininity to the MG3230 model. A classic cut cocktail dress that winks to timeless fashion. Its piqué fabric is so soft to the touch and so comfortable to wear, that it will be an ideal choice for any event.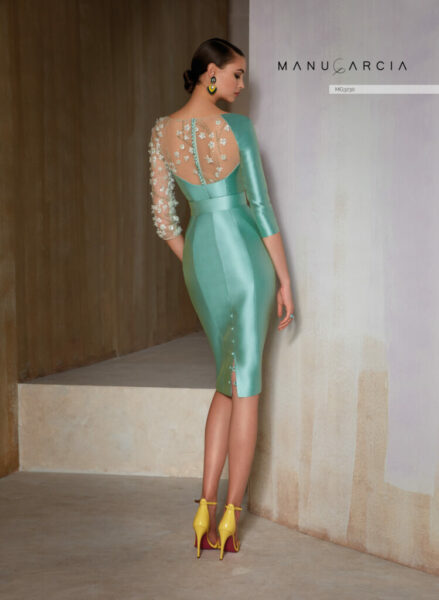 And we finish with the MG3123 model, a cocktail dress that plays with different volumes. The back looks like a reflection of the exquisite lace bodice with boat neckline. The crepe mermaid skirt, with a wide opening, enhances the feminine figure thanks to the thin belt and the stylish ruffled peplum. You will captivate the rest of the guests with this elegant design.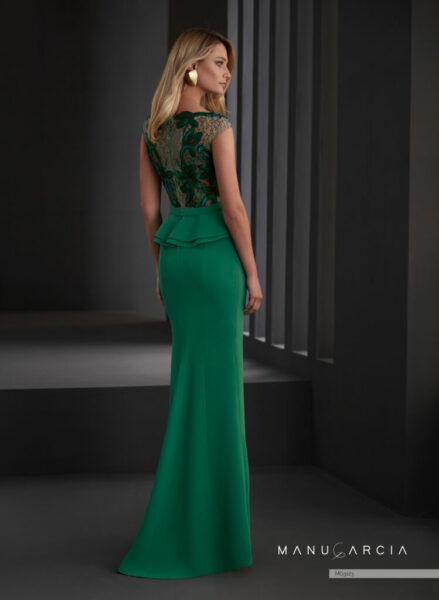 With any of these cocktail dresses with original backs you will feel unique and special, and you would have fully hit the mark for that event, that you are so excitedly waiting for.
As we always remind you, you can customize your cocktail dress to suit your style, introducing the changes you consider. Our expert team will advise you at all times.
Visit us, requesting your safe appointment, at any of our Manu García stores of the HigarNovias Group and at authorized points of sale.
HIGARNOVIAS
www.higarnovias.com/es/
C/ Portales Nr 4. Fuente Palmera
Phone: 957 63 86 88
Whatsapp 673 329 646
info@higarnovias.com
MANU GARCÍA
www.manugarciacostura.com
BARCELONA 932 922 451
MADRID 91 366 28 80
OVIEDO 98 523 17 20
VALENCIA 963 529 706