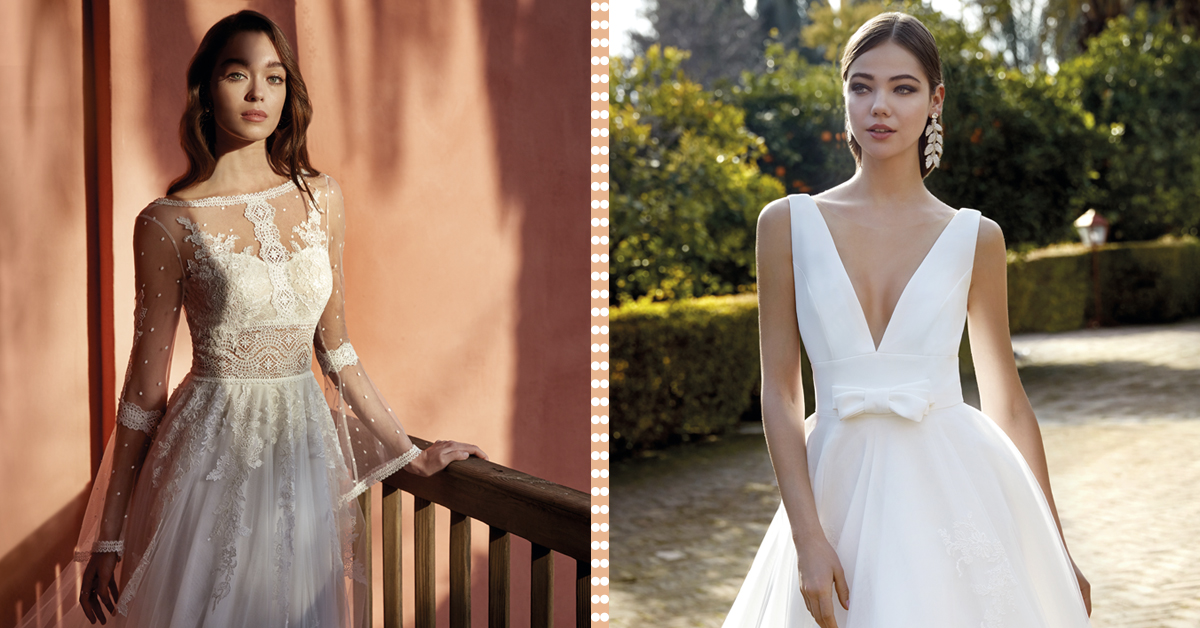 In our stores of the Higar Novias Group you will find a wide catalog of wedding dresses that are designed and manufactured in Spain. There are so many  of them, that sometimes it is difficult to choose.
Today we will talk about five of the most popular types of wedding dresses, so that you can incline for the style that you like and that will favor you the most.
No one knows you better than yourself, what you like most about your body, what you like to highlight about it, so think that with your wedding dress you should feel beautiful, exulting and reflect your personality.
We'll describe the most common silhouettes of wedding dresses, and we'll show you an example of each type.
A-Silhouette Wedding Dress
This type of dress is characterized by being fitted from the bust to the waist. From the hip, the skirt acquires an increasingly wide drop, opening in the shape of a triangle. This cut greatly favors and stylizes the silhouette.
The Model Paisaje by Manu García from the Legacy collection is a sensational bohemian wedding dress with an A-line design, with geometric crystal embroideries, that cover the body with Venetian lace straps. The transparent tulle back gives a very feminine air with a pleated tulle skirt.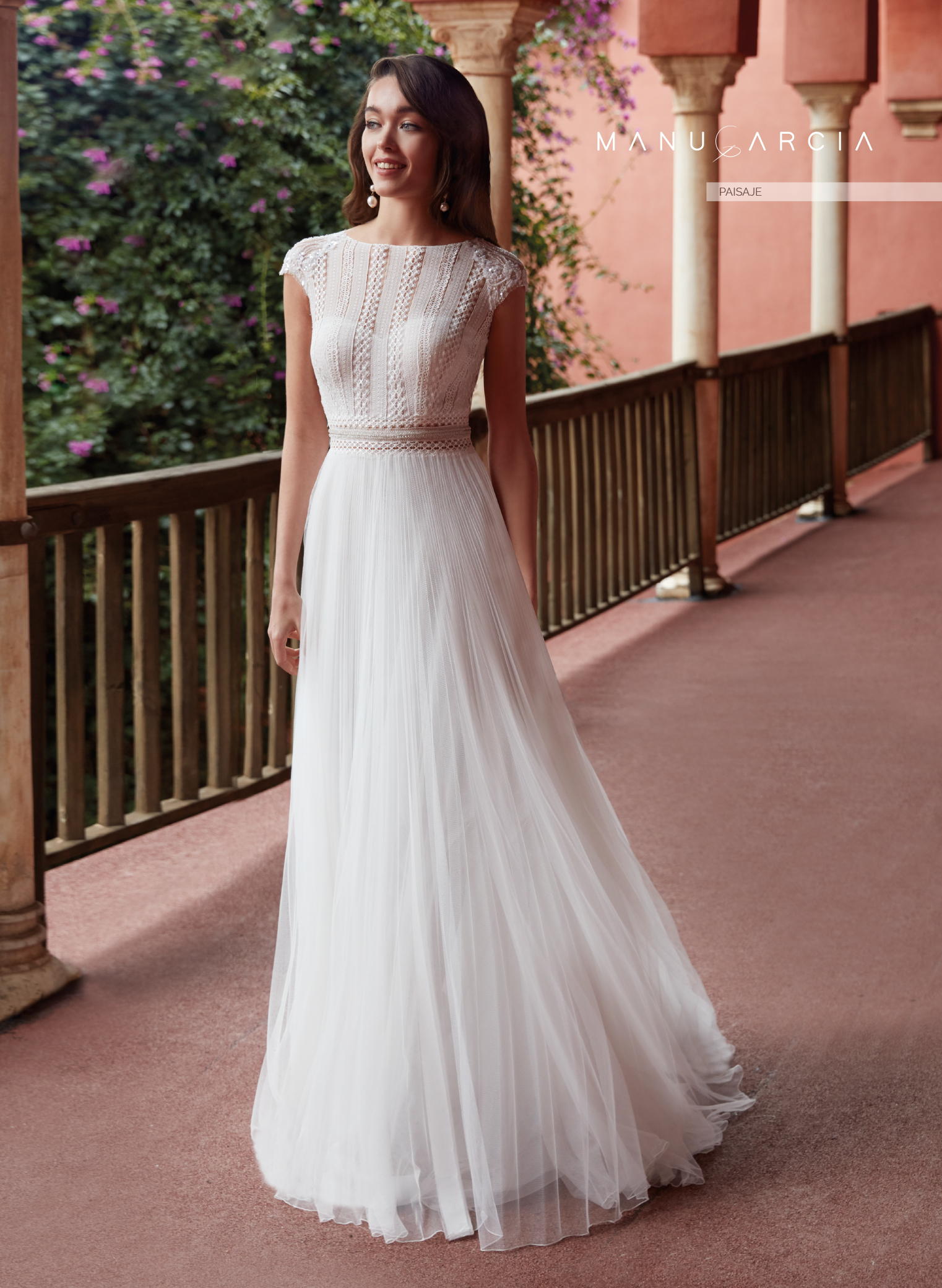 Mermaid Silhouette Wedding Dress
One of the most elegant and most sensual bets. It adjusts to your body until the knee, where the flight of the skirt begins to fall. An ideal dress for you if you are tall, slim and wish to highlight your waist, hips and bust.
The Óptima Model by Manu García from the Love Sewing collection is a very feminine wedding dress with soft butterfly-style sleeves, inspired by the 50s. With a sensual v-shaped neckline, the waist marked with a fine belt, and its mermaid-cut skirt in crepe, this wedding dress has a great personality.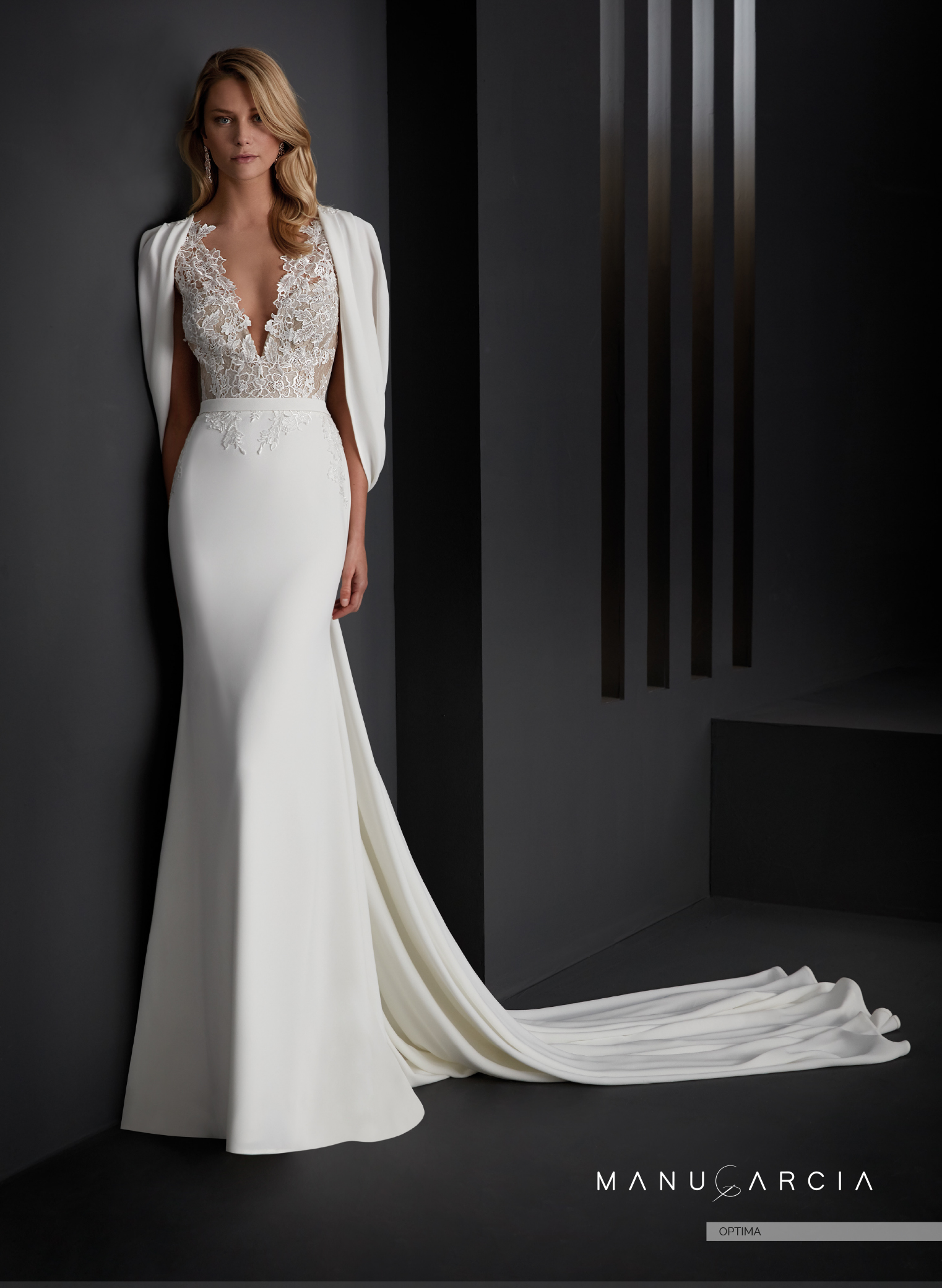 Empire Silhouette Wedding Dress
It is one of the most traditional silhouettes, that never goes out of style. With a bodice that is short in length, that ends below the bust giving way to the drop of a wide skirt that does not mark, you will look like a true Greek goddess. If you are a slim bride with small breast, it is an excellent choice, because it manages to generate greater visual volume. Or if you are one of those women who does not like to mark her body, this is your design.
The Valero Luna's Dubai Model from the Atlantis collection awakens the bohemian goddess you carry inside with this very special design. The romantic combination of lace with tulle and the transparencies creates a truly unforgettable design, highlighted by its puffed sleeves.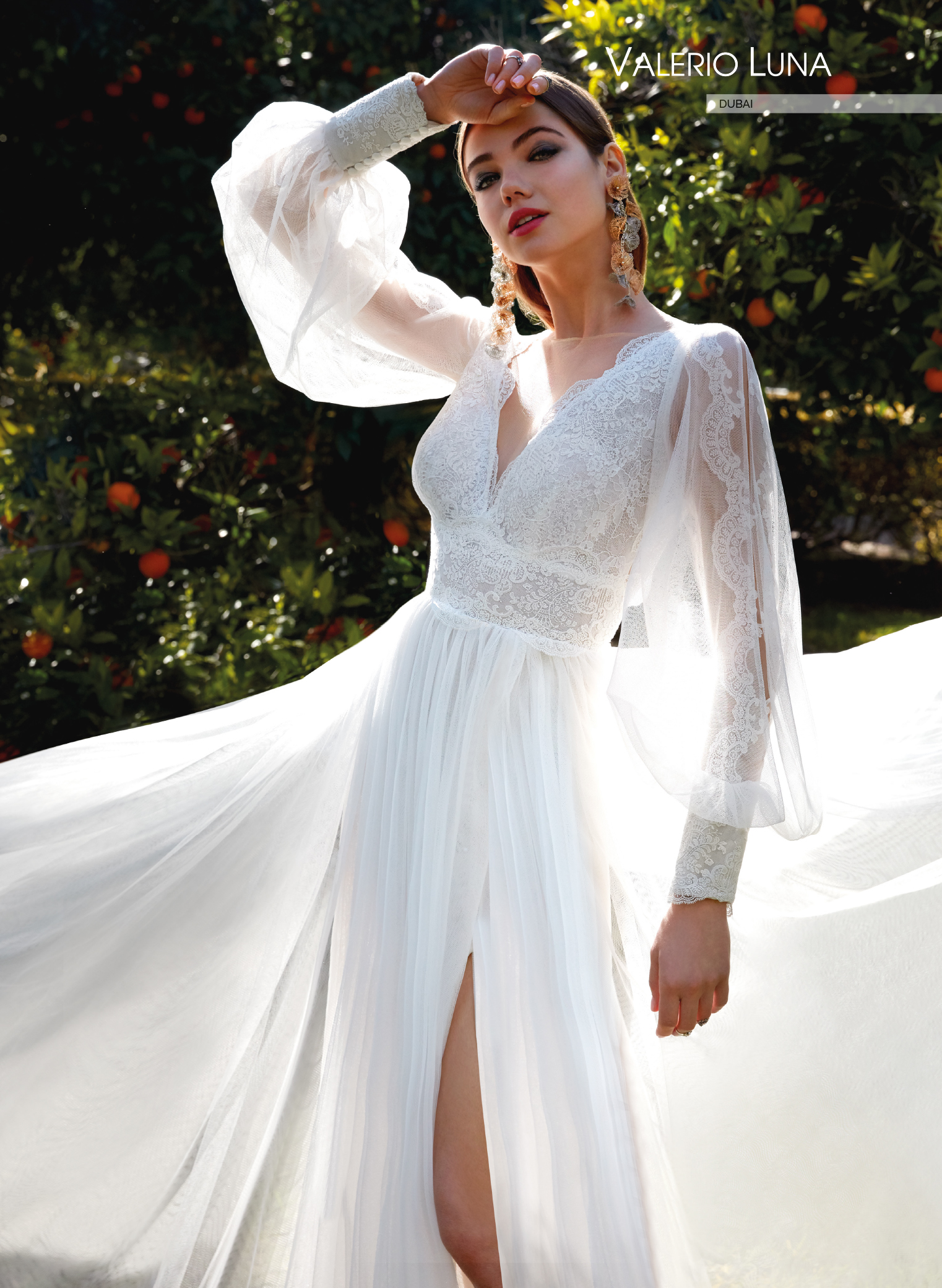 Princess Silhouette Wedding Dresses
If you have dreamed of a fairytale wedding, this is your style. Elegant and romantic, this design is characterized by a bodice fitted to the waist, from where a very voluminous skirt is born, that will conceal your hips and make you feel like a real princess. A classic cut that adapts to current trends.
Of this type of silhouette, we highlight the Valerio Luna's Delicia Model from the Atlantis collection. A distinguished classic cut wedding dress is a nod to a timeless fashion. The piqué is so soft to the touch and is so comfortable to wear, that it becomes an ideal choice. The clean bodice and simple finishes are perfect for a natural look, that gives off a touch of glamor.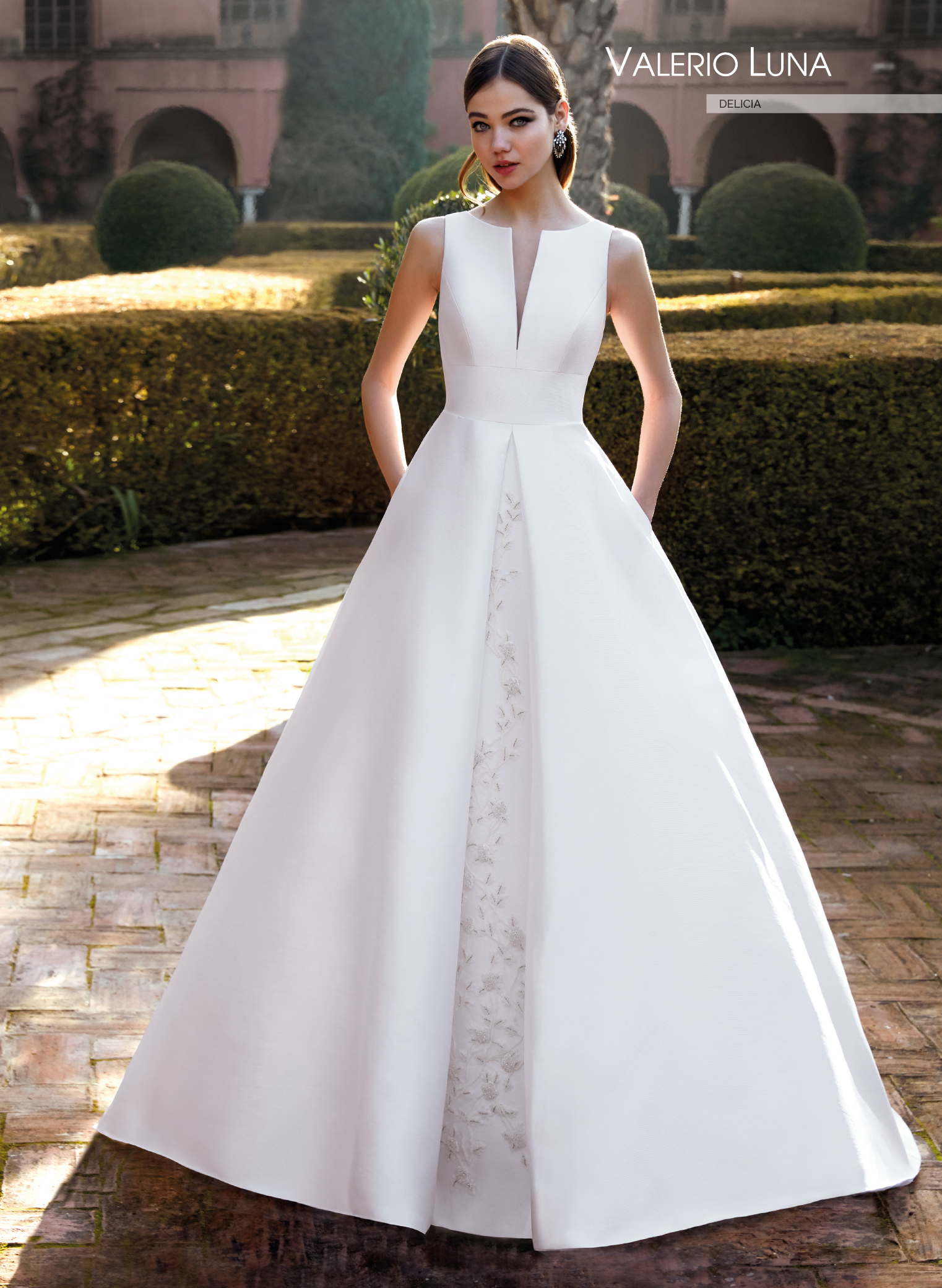 Straight or Fitted Wedding Dress
A comfortable wedding dress that falls vertically from the shoulders, with which you will show off your figure without complexes.
You can check it with the Model Cerezo by Valerio Luna from the Mimí collection. An elegant straight cut crepe wedding dress, that marks the waist with guipure applications, that merge with a bodice with a wide rounded neckline and tulle sleeves. It is finished off with the same applications, that follow towards a pretty back, adorned with these motifs, creating a dress that shines on its own.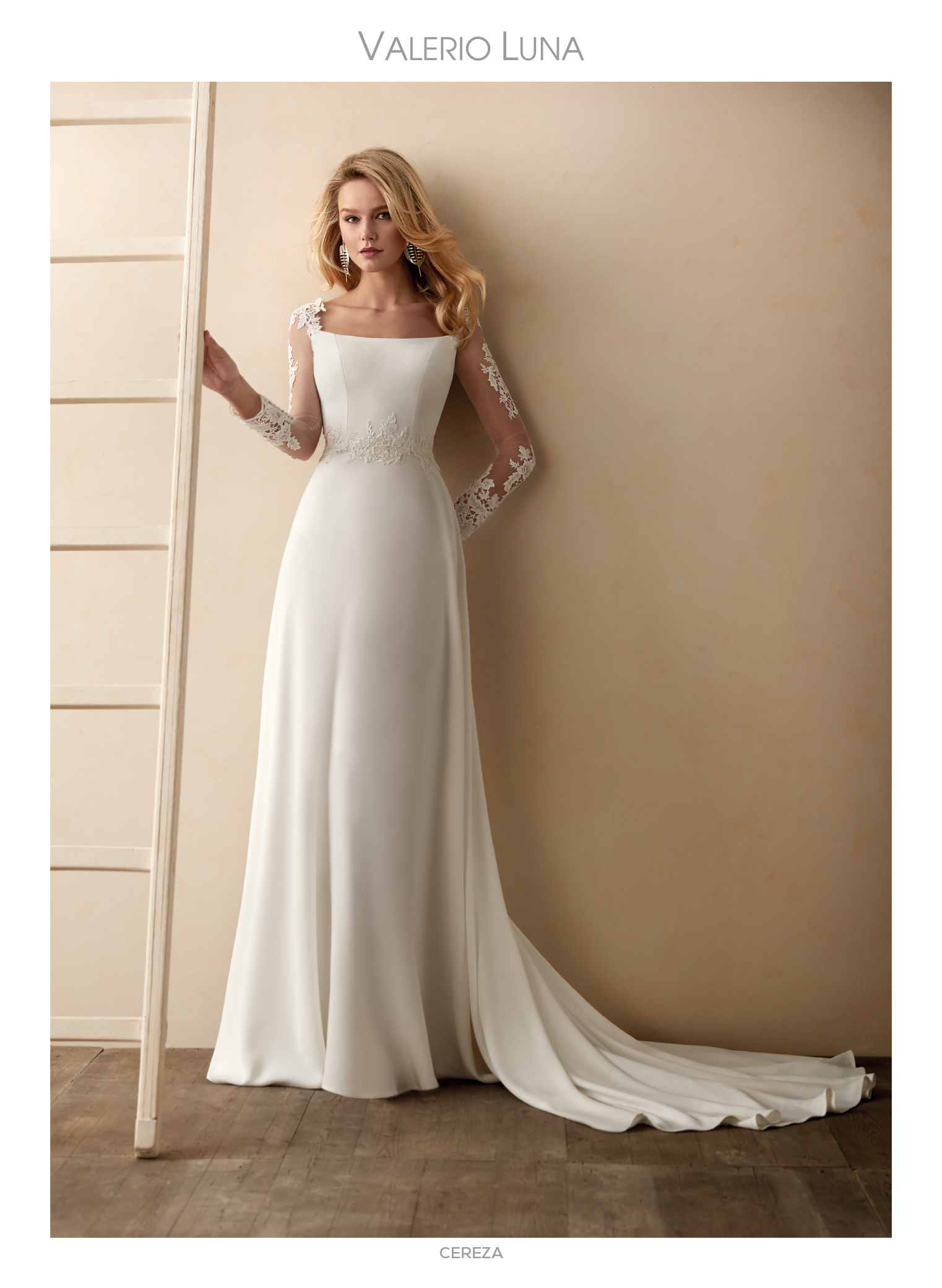 Are things more clear for you now? At Higar Novias and our stores of Manu García and Valerio Luna we like to listen to you, to be able to advice you and to help you to choose your ideal wedding dress. We customize each dress, in order to fully adapt it to your liking, and thus to make it unique and exclusive. Come to see us, and we will make your dreams come true.