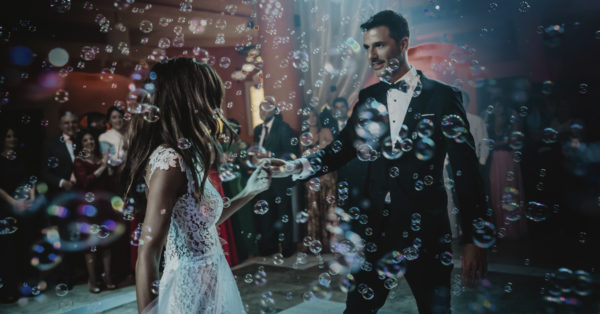 The rain on the afternoon of October 19, 2018 did not prevent our couple from enjoying their great day, in a beautiful and very tender ceremony
After several months of very exciting preparations – glass and candles for the garden, the perfect moment of light for the photographs, the music, the beautiful garden of the Finca Paloverde in Alhaurín de la Torre … but when the most special day of their lives has arrived, the rain did not want to miss Estefanía and Víctor's wedding.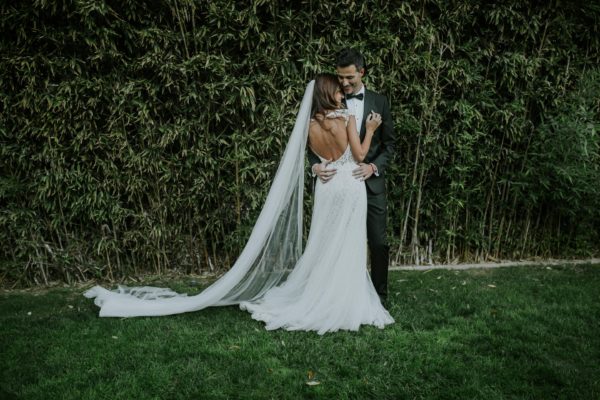 You always think about how difficult it is for a bride when it rains on her wedding day. However, Estefanía tells us that "I couldn't help but smile, I didn't care. They called me from the venue while I was at the hotel with the makeup artist, and it was raining quite heavily. They told me that we have to change our plans, it couldn't be done in the garden. But I was on a cloud, kept looking at my dress, thinking about Victor and how exciting that day was with or without sun ".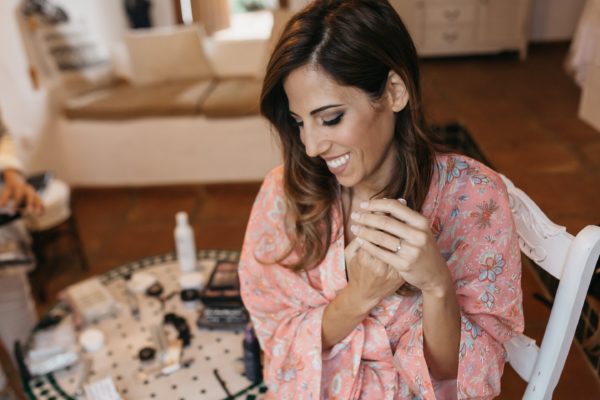 She had a clear idea of the wedding dress that she wanted – "something smooth and simple in the skirt, and deep but elegant cleavage". She tells us that "she had always heard that everything changes when you start trying dresses on" and in her case it did. Estefanía chose the Batista model by Valerio Luna, a wonderful lace dress. She still remembers that "I had not been convinced by any dress, I looked beautiful in all of them, but none filled me entirely. I wanted a dress that would be different from those worn by all the brides. Suddenly Susana from the Valerio Luna store in Malaga told me – I have one that you are going to love, and I really did."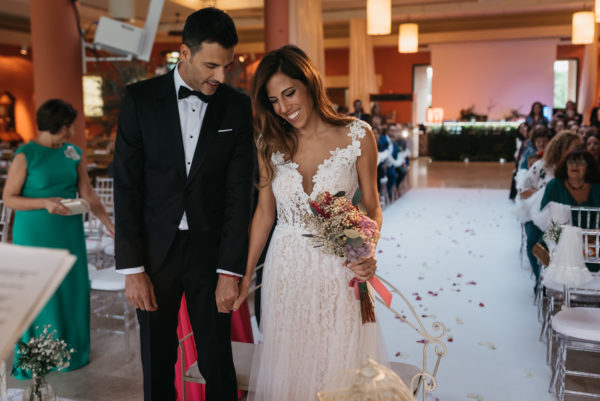 She fell in love with the tulle overskirt, the lace, the flower and stone decorations, the subtle interior in a beautiful nude color. "I really loved it and I still love it, it was me and it was what I had imagined." Estefanía did modify the cleavage. "They understood how to make changes to my dress just by showing them a couple of photos, and they advised me when I was getting stubborn on certain things".
After asking for the changes in her dress, she spent a few months very nervous. And when the day of the fitting finally arrived, "I didn't want to look and when I tried it on, I was really surprised." She does not forget how well they treated her, and she is so grateful, that she does not stop recommending her friends, future brides-to-be, to go to the Valerio Luna store in Malaga.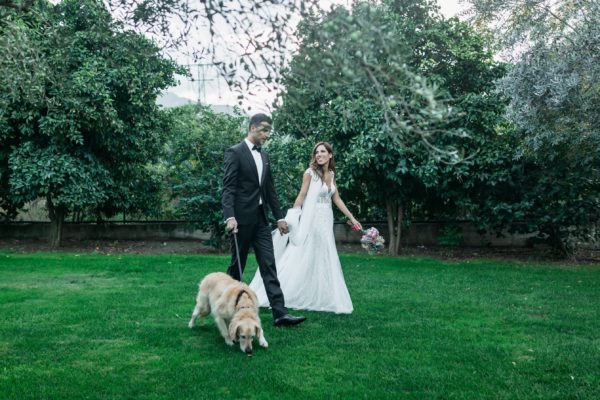 On that long-awaited day, they were accompanied by Travis, a nearly 11-year-old golden retriever. With him at all times by her side and with Victor, there was no reason to think of anything, just to enjoy. The meeting between the bride and groom was very tender and emotional, from the hand of her father, and with their favorite song in the background. Estefanía remembers – "when I took my hand, Victor said to me in the ear –  you look spectacular. At that moment it seemed that we were alone. He looked at me and said – you are beautiful, the dress is a mold to your body… He was fascinated and me as well".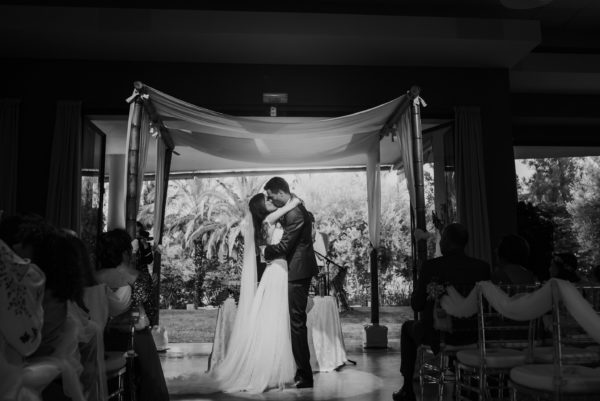 The entire wedding was joyful and tender. Everyone enjoyed, although as always happens, "everything happened very quickly".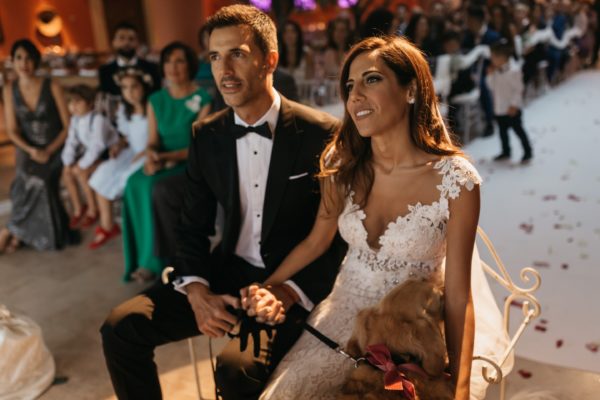 Estefanía & Travis & Víctor, this is how their wedding rings were engraved, because they are 3 inseparable in a love story based on trust, without permissions or restrictions, and with the freedom to do what they like. Almost always together.
Estefanía and Víctor, we hope that you are very happy.
Our most sincere congratulations!
Photographs by Miguel Márquez