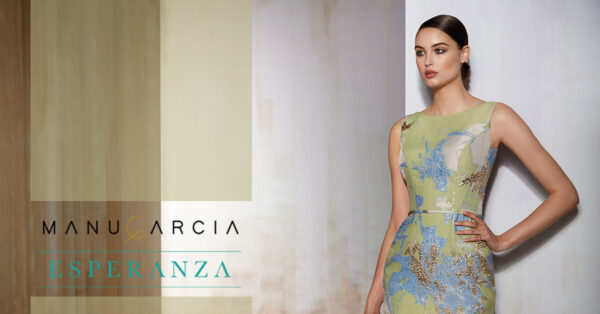 Spring is already knocking on our door and although we continue with sanitary restrictions, more and more events are taking place, and this makes us very happy.
Communions return, and with them the illusion of our boys and girls who will live it with all their enthusiasm and joy, even with a mask and with the closest family only. The important thing is to smile and to enjoy again.
For that beloved guest, and more importantly, the mother of that beauty who is going to receive her first communion, we show you these cocktail dresses that are ideal for spring communions from the Legacy and Esperanza collections by Manu García.
We have chosen 5 short cocktail dresses that are ideal for you to be the sensation of the celebration, together with your son or daughter.
The E1406 model from the Esperanza collection is a sophisticated and elegant cocktail dress made of crepe. Its cheerful color and the  cape with bateau neckline, adorned with delicate floral appliqués, embroidered on the shoulders, are striking. The dress is a basic couture tubed line, that will define your silhouette by adapting to your contour, for an enterprising and self-confident woman.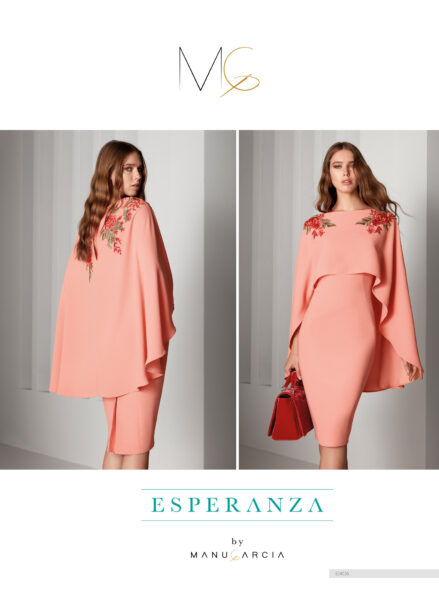 The MG 3220 model from Manu García's Legacy collection is for lovers of the most classic looks. Made of mikado, it stands out for its vibrant color and the perfection of its rounded neckline, that sculpts the shoulders. The embroidered floral trim at the center front is a subtle detail that complements this short, tubed-line dress. For spring, the jacket is essential. The one of this style is distinguished, fitted, with French sleeves, organza ruffles and crystal trimmings in the very flattering tone.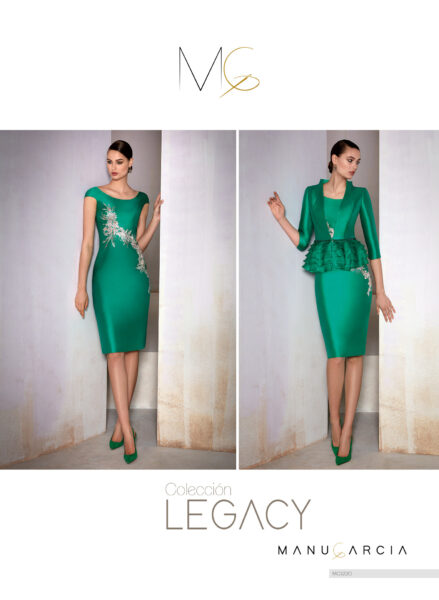 We have chosen the model E1404 from the Esperanza collection for the exquisite elegance of the nude floral lace on its torso. Ideal for a morning event, where you will also be the protagonist. This short crepe fitted dress with a roll neckline, French sleeves and a discreet flower-embellished belt is complemented by a double frill on one side, that features a subtle slit. For a positive mother who likes to live in harmony.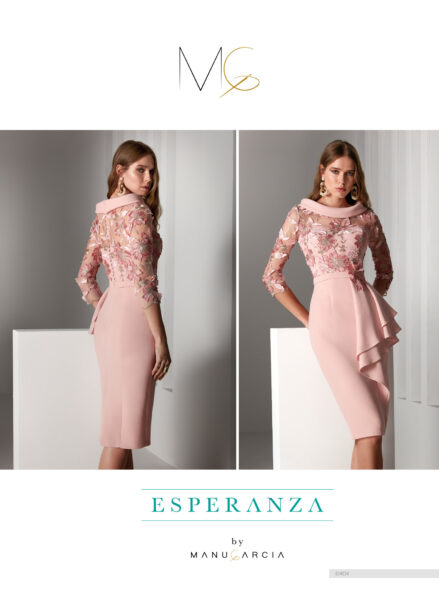 The MG 3223 model from Manu García's Legacy collection is a perfect cocktail dress for lovers of elegance. Be daring with this intense color and its V-neckline that will enhance your body. The short sleeves provide an extra dose of femininity and balance the shape of the shoulders. The finishing of this dress is reinforced with the lace pencil skirt. The slim-fit jacket with French sleeves, raised collar and peplum in the same gathered fabric, made of silk mikado, will make you look splendid. For a woman who knows how to give the necessary importance to everything.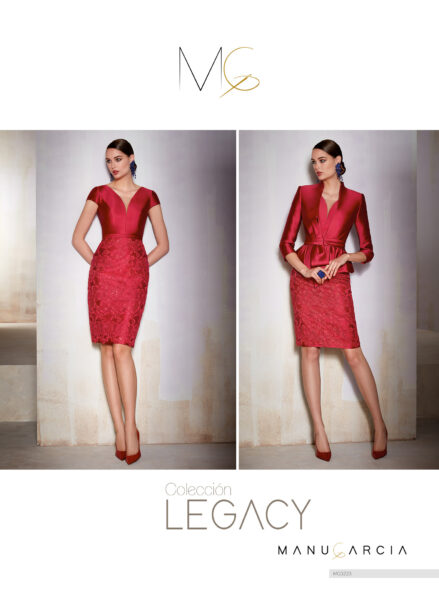 And we finish with a short cocktail dress made of an original Jacquard organza, in very spring colors, the MG3239 model by Manu García. Its clean bateau neckline will enhance your shoulders and the V-shaped neckline on the back will give you a subtle sensuality. The set is complemented by an original and beautiful French sleeve jacket with a draped cuff.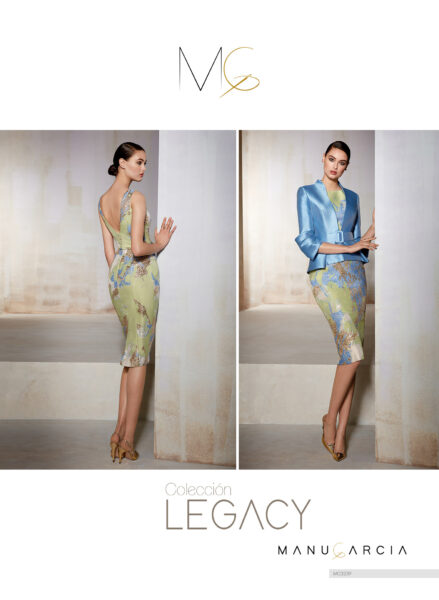 We encourage you to visit our Fuente Palmera store or any Manu García store of Higar Group, and try one of these models on. You will look wonderful in the communion of your boy or girl, a celebration in which all of you will enjoy more than ever, after the intense wait.
We remind you that a prior appointment is essential:
HIGARNOVIAS
www.higarnovias.es
C/ Portales núm. 4. Fuente Palmera
Tfno 957 63 86 88
Whatsapp 673 329 646
info@higarnovias.com
MANU GARCÍA
www.manugarciacostura.com
BARCELONA  93 292 24 51 – 649 49 55 88
MADRID  91 366 28 80 – 648 739 571
OVIEDO  985 231 720 – 615 33 91 79
VALENCIA  963 529 706- 637 669 141