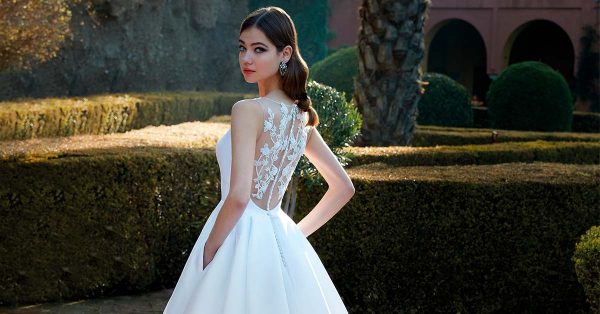 This year resulted very complicated for many wedding couples, who were looking forward to celebrate their wedding. That special day has either been different, or they have had to postpone it, because in 2020 the Covid19 has crossed our path .
Uncertainty, fear, emotions, all these feelings have become more visible in our lives. At the same time, love, gratitude and kindness have become more powerful to overcome these difficult moments.
At HigarNovias we have it crystal clear that "love can do everything", therefore, our couples have known how to adapt to this new normality, and either courageously continued with their wedding, or have postponed it to 2021.
And since we know that our romantic brides look for their wedding dress with as much nerves and enthusiasm, as they would do in more favorable times, today we propose four princess-silhouette designs, that will make you feel like the most special bride.
Princess-style wedding dresses are flattering, elegant, and enhance your silhouette. As versatile as they come, they are a classic no matter if the wedding is in winter or in summer, during the daytime or in the evening.
We start with the Delicia princess wedding dress, from Valerio Luna's Atlantis collection. This distinguished, classic-cut wedding dress is a nod to timeless fashion. Made of piqué, it is an ideal design for its softness and comfort. You'll love its exquisite styling thanks to the bateau neckline and its princess skirt, adorned with a beaded detail on the front, using the same tattoo-effect ornament on the back. A natural look, with which you will give off a touch of glamor.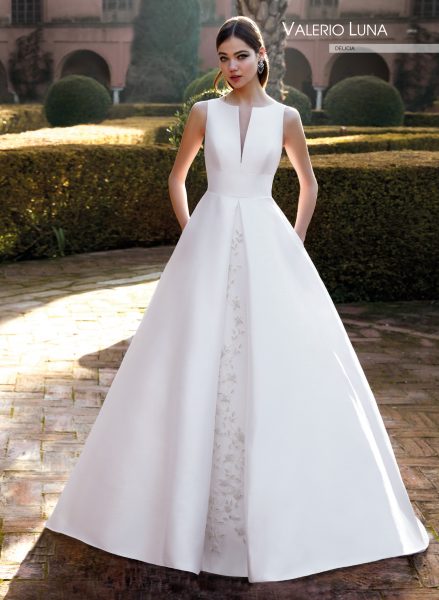 We continue with a sophisticated wedding dress for a woman with character, who seeks the femininity of princess-style designs. It is the Plácido model from Manu García's Legacy collection. This classic wedding dress perfectly combines the lace bodice with piqué princess skirt, and the long sleeves add an extra bit of romance. Thanks to its seductive back, you will feel the most beautiful and sensual bride.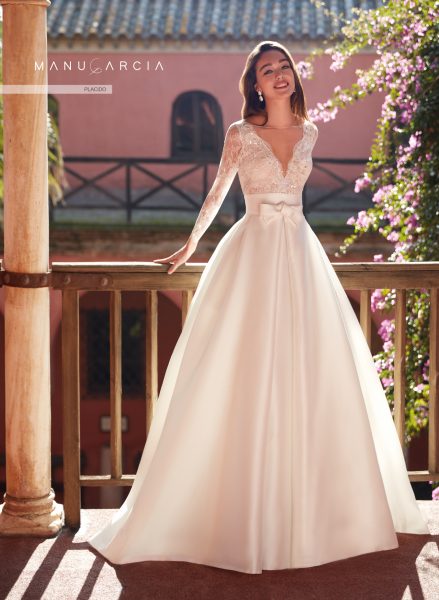 The Claudia model from Valerio Luna's Mimi collection is a princess-style tulle wedding dress with beading, a very flattering combination for a dreamy woman like you. A design featuring a lace bodice with a boat neckline, long sleeves and an open back, that will make you shine on your big day.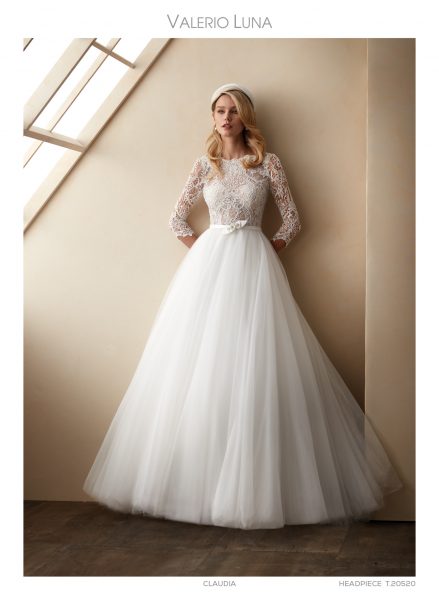 And we finish with the Oxford model from the Love Sewing collection by Manu García. A princess-style tulle wedding dress with exquisite details. Lace in the voluminous skirt gives it a delicate romantic appearance, and a captivating bodice in crepe, fitted with a turned neckline, will enhance your silhouette to make you the perfect bride.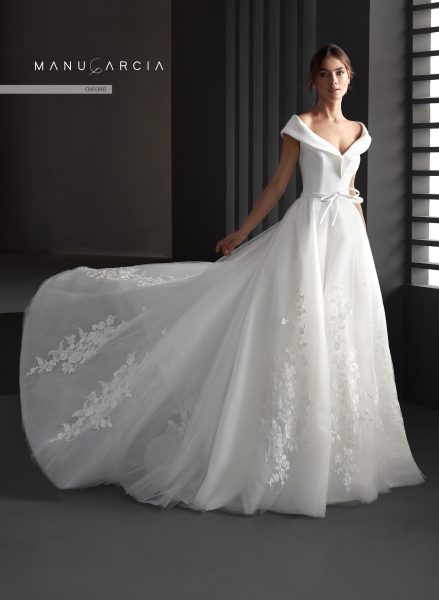 The princess-style wedding dresses, that you can find in our Fuente Palmera store, will captivate you with their timeless magic. Classic wedding dresses, manufactured and designed in Spain, are ideal for you, a woman with a very romantic personality.
Valerio Luna and Manu García from HigarNovias Group offer you these and other models, that you can customize to suit your taste and to create a unique and exclusive wedding dress.
Ask for your safe appointment and enjoy the HigarNovias experience: we listen to you, we help you, we advise you and we enjoy you.
Customer service phone numbers:
HIGARNOVIAS
C/ Portales Nr. 4. Fuente Palmera
Phone 957 63 86 88
Whatsapp 673 329 646
info@higarnovias.com
VALERIO LUNA
BARCELONA 932 922 451
MADRID 672 220 576
MÁLAGA 952 213 833
VALENCIA 963 943 672
MANU GARCÍA
BARCELONA  93 292 24 51 – 649 49 55 88
MADRID  91 366 28 80 – 648 739 571
OVIEDO  985 231 720 – 615 33 91 79
VALENCIA  963 529 706- 637 669 141