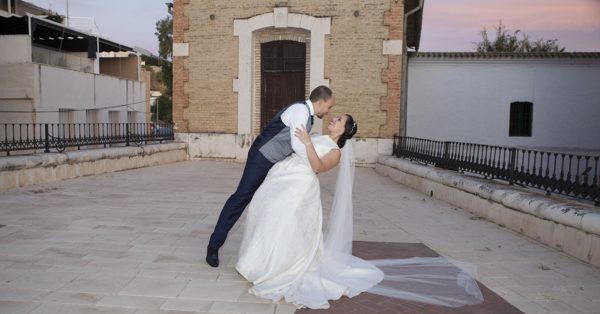 On a beautiful afternoon in early October, Raquel and José Antonio lived one of the most magical days of their relationship.
They got married in Puente Genil, and celebrated it with family and friends in Aguilar de la Frontera. The celebration was ideal. It was full of surprises, singing and dancing and everyone enjoyed it like never before.
To choose her dress, one of the most anticipated and important decisions for a bride, Raquel came to HigarNovias accompanied by her sisters, her mother, her sister-in-law and her godmother. Together they lived a special experience, full of sensations. On many occasions, it happens to us that the people who accompany our brides get excited when they see them in one of the dresses, and just at that moment… they know it is hers!
Raquel tells us that she was clear about the wedding dress she wanted, the Aroma model from the Satine Novia collection by Valerio Luna. She reveals to us that "since I saw it on the Internet, I fell in love with it". In fact, she did not make any changes to it, because she liked it as it is, "it was made for me, it was love at first sight." And so it was, when she tried it on, she felt that unforgettable and special feeling that you have when you know that it is the dress chosen to say "yes, I do."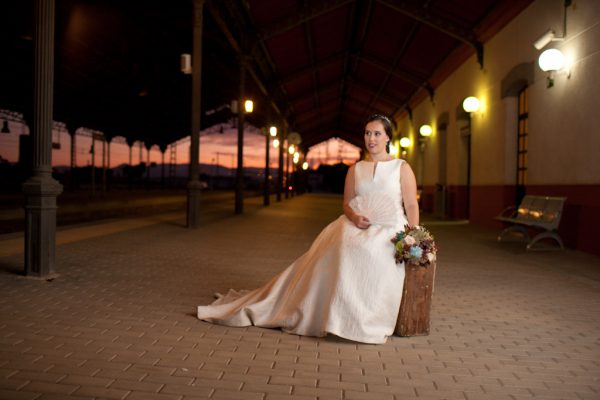 The Aroma model is a couture dress made of silk jacquard. It is cut at the waist, and is adorned with a small belt of the same fabric. The boat neckline is open at the front and is cut below the chest, stylizing Raquel's torso, while making her feel comfortable and the most special girl in the world. She accessorized it with a simple diadem and her veil.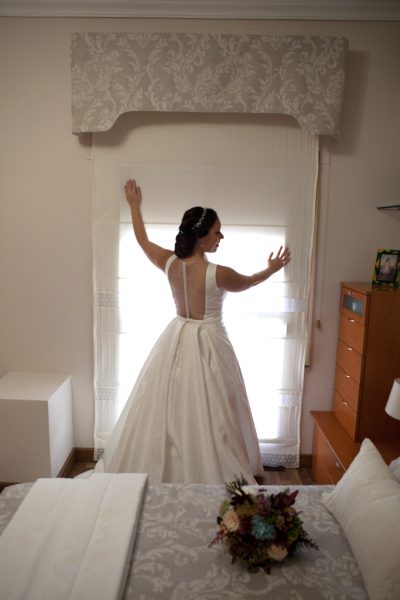 It was a wonderful day, on which the nerves before the wedding day disappeared. José Antonio, the groom, dared to sing a carnival pasodoble to his beloved Raquel in the church, surprising all the guests and especially the bride. "He picked up his guitar and began to sing, with the embarrassment of singing in public! It was beautiful ", she tells us. And it is so, that the details that the bride and groom prepare with all the illusion to surprise their partner, leave the memories of that day so wonderful, making each wedding exclusive.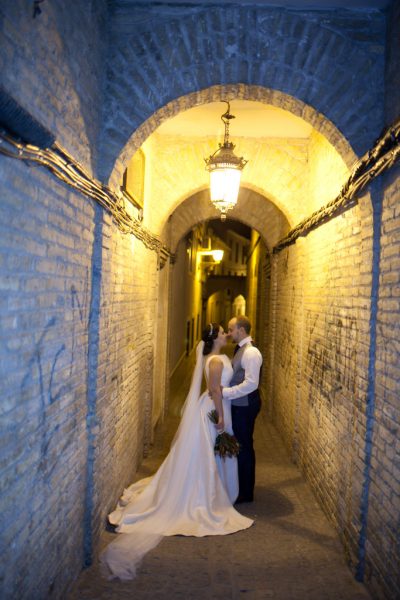 Despite the fact that life puts us to the test, as in these moments of change and uncertainty, we must adapt and live with the circumstances that affect us. You have to keep living and celebrating. In HigarNovias we bet on love, because it has no limits. We are committed to your health and above all, to your dreams.
Raquel and José Antonio, we wish you eternal happiness, and that all your wishes are fulfilled.
Our most sincere congratulations!
Photography: Joaquín Luna